Speeches
President Reed and Diane Wilcox: Lessons from Africa
Before becoming president of Southern Virginia University, Reed N. Wilcox's career took him across the globe. In a recent University Convocation, President Wilcox and his wife, Diane, shared lessons they learned from people in Ghana, where they lived with their family several years ago.
The Wilcoxes and their family moved to Ghana in 2006 in connection with President Wilcox's role as the co-founder and chief development officer of a startup pharmaceutical company, Clene Nanomedicine. While in Ghana, he oversaw pre-clinical research for a new treatment for malaria at the Noguchi Center for Tropical Diseases at the University of Ghana.
President Wilcox noted how those living in places like the United States benefit from institutions and infrastructure that they often take for granted, such as free education, access to transportation, credit, clean and accessible water, sanitation and the rule of law.
"I believe if you were to switch places and put [those of us here today] in Ghana, I think you would see that the people living there now are overachieving," President Wilcox said. "And as the [infrastructure] changes, you will see a new Africa."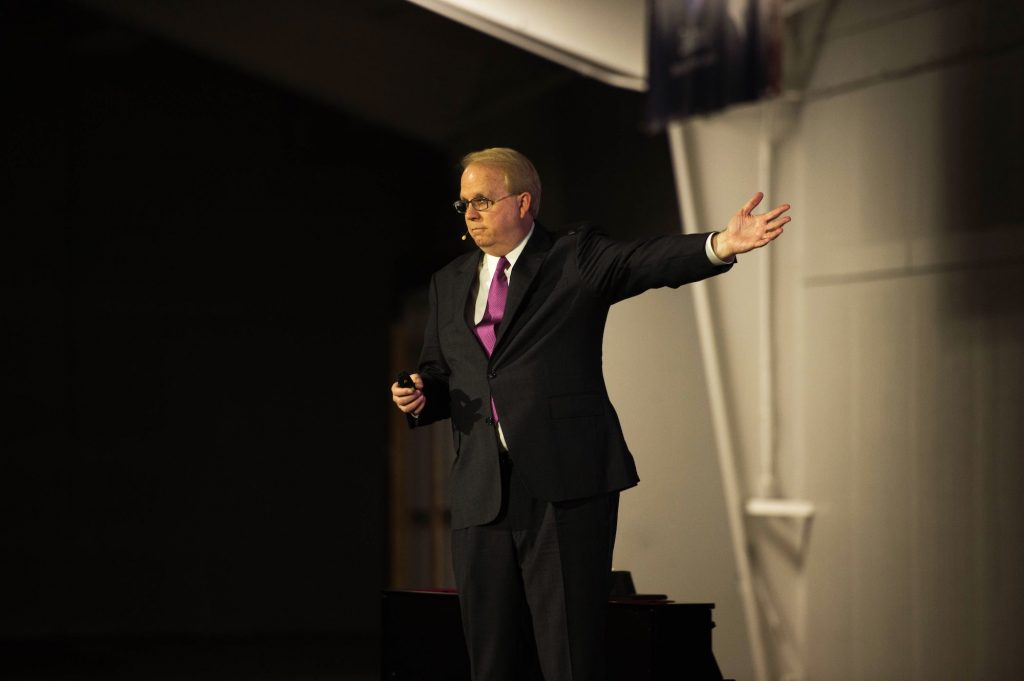 "A lot of people have a perception that Africa is underachieving – what I believe after living there is that the people of Africa are overachieving," President Wilcox continued. "They often have very little, and they do everything with it."
President Wilcox also highlighted common values that Southern Virginia students share with those he met in Ghana. "What we found were very clean, self-reliant, kind, grateful people – those are important words for us here," he said.
Diane Wilcox based her remarks on a favorite quote from Lucy Mack Smith.
"'We must cherish one another, watch over one another, comfort one another and gain instruction, that we may all sit down in heaven together,'" Sister Wilcox said, quoting Lucy Mack Smith. "I learned what this meant while I lived in Ghana."
Sister Wilcox shared a number of stories about women she came to know while living in Ghana, including Sarah Wilson, a midwife in a rural village called Asutsuare who was responsible for the healthcare of 25,000 people in the surrounding area and often worked without basic resources like running water or electricity.
"She would tuck a flashlight under her arm to deliver babies at night when there was not electricity," Sister Wilcox said. "She was never too busy to take care of anyone, and she felt so grateful for her work and that she knew how to be helpful."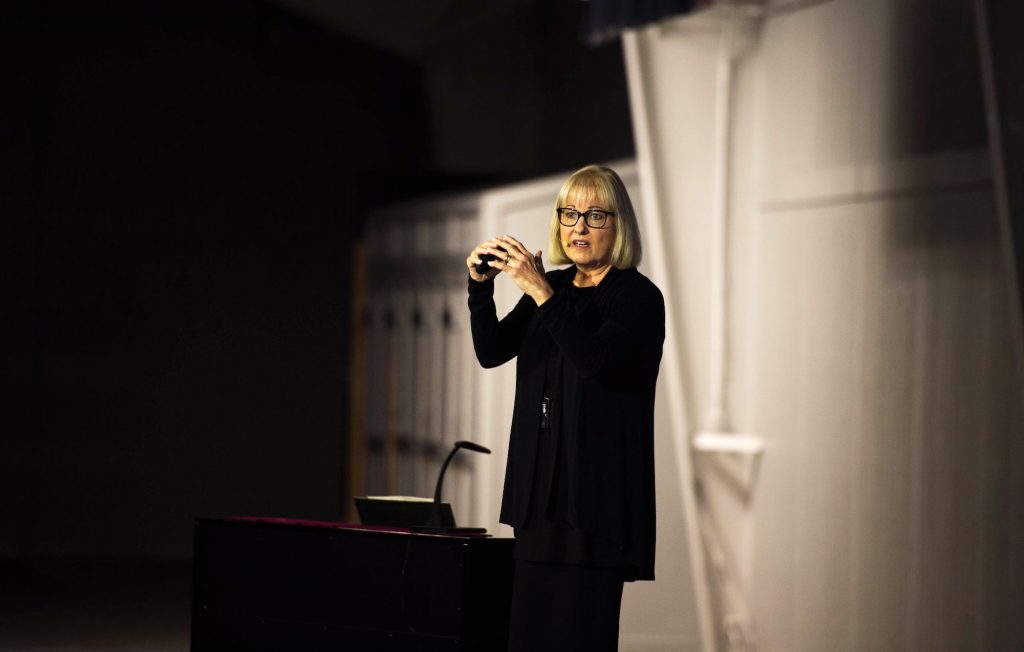 The Wilcoxes had the opportunity to film a short documentary about Sarah Wilson's story and used it to help raise money to refurbish and provide new equipment for the medical clinic that Sarah operated. They had the opportunity to return a year later for the dedication of the new facility.
The presentation ended with the Wilcoxes noting how the Ghanaian spirit of lifting and helping one another is a core attribute they have also found in the Southern Virginia University community.
"We feel the same spirit here at the school," Sister Wilcox said. "We feel like this is a place where people are watching over each other, comforting each other, helping each other to learn, and that we're all in this together, and everyone is helping lift and take care of each other. It's why SVU works."