News Release
Elder and Sister Dudley to Speak at Southern Virginia University on March 2
Elder Michael M. Dudley and his wife, Michelle Dudley, will speak at University Convocation this Friday, March 2 at 11 a.m. in Southern Virginia's Knight Arena.
Elder Dudley was named an Area Seventy and a member of the Sixth Quorum of the Seventy of The Church of Jesus Christ of Latter-day Saints on April 4, 2015.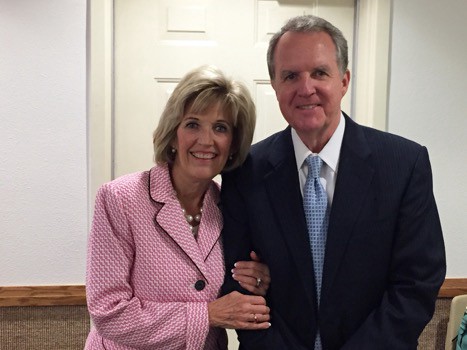 Elder Dudley received a bachelor of arts degree in English from Brigham Young University in 1976, a master's degree in health administration from the University of Colorado in 1978, and an executive management program at Stanford University in 1983. After working in health-care administration with Kaiser Permanente from 1978 until 1996, he served as the president of Sentara Health Plans/Optima Health and senior vice president of Sentara Healthcare from 1996 until the present.
Since serving as a full-time missionary for the Church in Japan, Elder Dudley has served as a ward Young Men's and Elders quorum president, a counselor in a bishopric, a branch president and bishop, and twice as a stake president, first in Hartford, Connecticut and then in Chesapeake, Virginia for a total of 16 years.
Michelle Dudley is an accomplished pianist, student and teacher. She accompanied her daughter for performances at Time Out for Women, BYU Women's Conference, the Washington DC Temple Visitors' Center and the Supreme Court. She has also appeared in several TV commercials and documentaries.
Sister Dudley has served in the Church as a ward and stake Young Women's president, Seminary and Sunday School teacher and ward Relief Society and Primary counselor.
Elder and Sister Dudley married in 1974 and are the parents of six children and grandparents of 23 grandchildren. They reside in Chesapeake, Virginia.
The Buena Vista, Virginia Young Single Adult Stake will also hold a special face-to-face-style fireside with Elder and Sister Dudley on Sunday, March 4.