Speeches
Elder and Sister Dudley: Priorities for a Leading a Blessed Life
Elder Michael M. Dudley of the Sixth Quorum of the Seventy of The Church of Jesus Christ of Latter-day Saints, and his wife, Michelle Dudley, taught students about principles for prioritizing their lives during University Convocation on Friday, March 2.
The Convocation marked the Dudley's first time back at Southern Virginia University since September of 2016 when they accompanied Elder Ronald A. Rasband of the Quorum of the Twelve Apostles for University President Reed N. Wilcox's inauguration.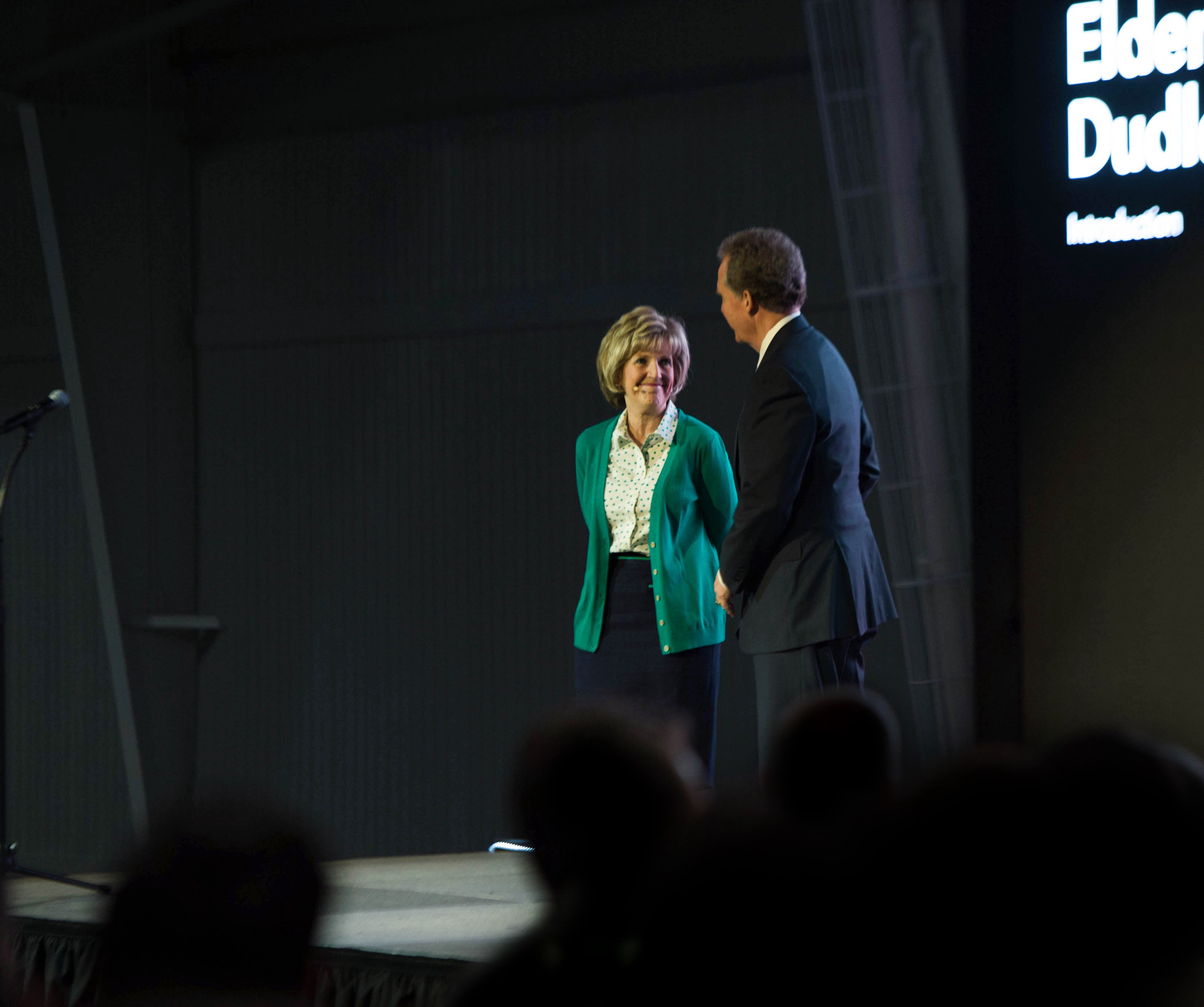 "We are delighted to be returning to Southern Virginia University," Elder Dudley said. "We have a special place in our hearts for you."
The Dudley's remarks focused on ways students and young adults can structure their priorities in order to allow Heavenly Father to bless their lives, including following the prophet, putting family first, pursuing righteous passions and keeping an eye on the Savior.
Follow God's Prophet
Sister Dudley began by discussing the importance of following the prophet. She recalled a personal experience when Spencer W. Kimball, then president of the Quorum of the Twelve Apostles, visited her family while her parents presided over the Church's South African mission.
At that time, Sister Dudley was planning to marry Elder Dudley, who was living in Utah. There was no temple in Africa at the time, and her parents would be unable to leave their duties in South Africa if the marriage took place in the United States. Sister Dudley had to choose between a civil marriage in South Africa or a temple marriage without her parents.
President Kimball took Sister Dudley on a walk and encouraged her to prioritize marrying in the temple. "You come back [to Utah], and, if you would like, I would be happy to seal you two in the temple," President Kimball said. The Dudley's followed President Kimball's counsel and were married in Utah.
"[Now] we have 23 grandchildren — they know this story; they know my testimony of the power of following the prophet," Sister Dudley said. "We truly sustain a prophet by listening to and following his counsel."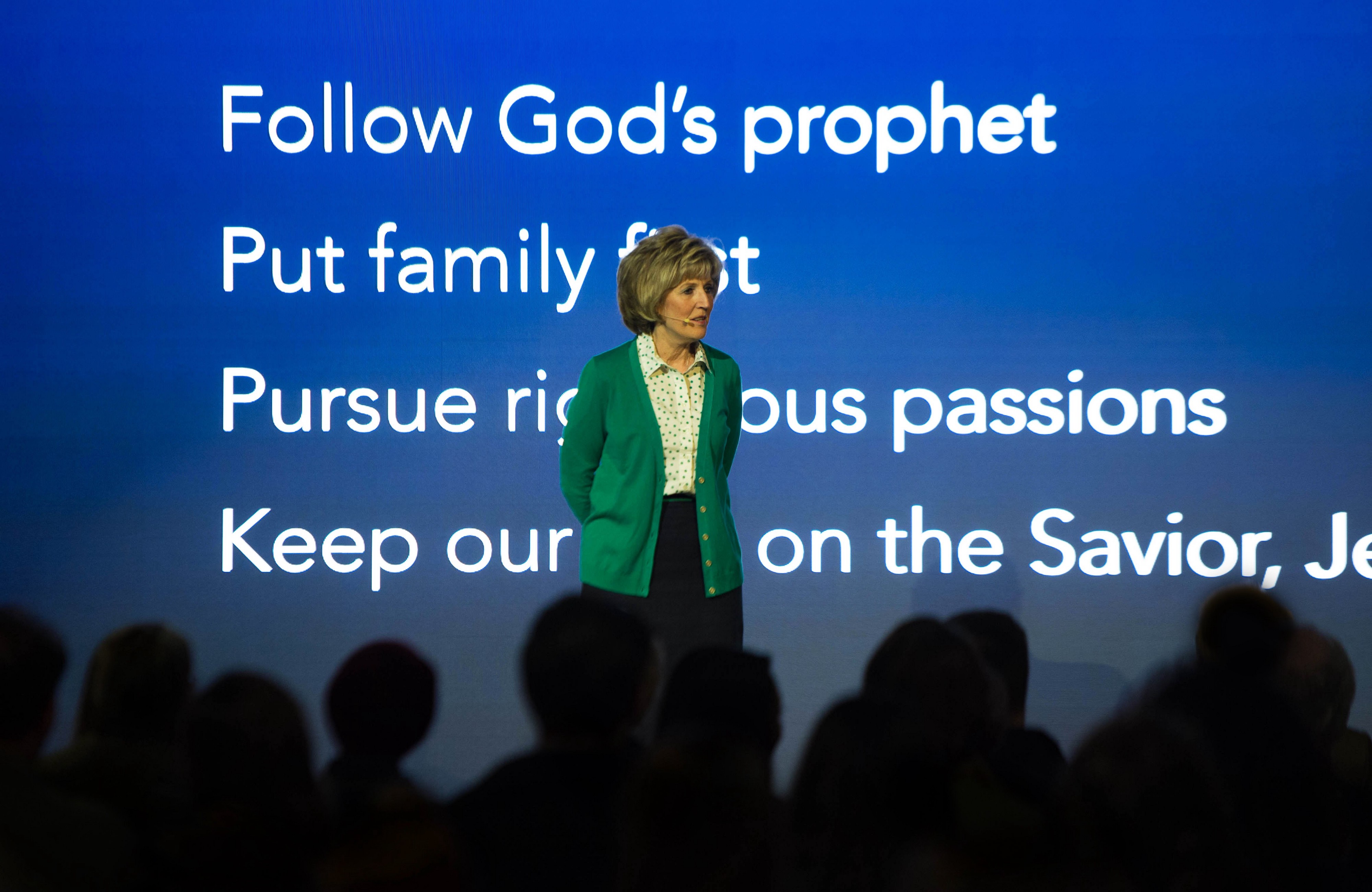 Put Family First
Elder Dudley then spoke about the need to prioritize family. According to him, after your relationship with God, your relationship with your eternal companion and your relationship with your children should be your life's most important considerations.
"Here's something I say when young people ask me, 'how do you possibly fit it all in?'" Elder Dudley said after describing his busy daily schedule. "The answer to that question is: setting and establishing proper and appropriate priorities."
Pursue Righteous Passions
While it is important to find a good job that will provide for financial needs, Elder Dudley counseled that a career should ideally have more meaning.
"My advice for you this morning is that if what you do is look for [just] a job, your heart won't be filled with passion — look for an opportunity," Elder Dudley said. "It's important to know what you're supposed to do in a job, but it's even more important to know what you will become by being in that job."
Even more important than a career, Elder Dudley advised students to become passionate about their spirituality. "If you can become passionate about knowing who Jesus Christ is, His love and His influence will fill your soul, and you're going to become something that you never dreamed you could possibly become," he said.
Keep our eye on the Savior
Elder Dudley concluded the Convocation by emphasizing the importance of maintaining focus on the Savior in our lives.
He shared the story of Jesus and Peter walking on the Sea of Galilee, found in Matthew 14 in the New Testament. He recounted how Peter began to sink into the water when his focus shifted from Jesus to the wind and storm around him, and how Jesus then reached out to save Peter from drowning.
"Jesus Christ was there to save Peter. He's been there to save me. He will be there to save you," Elder Dudley said. "Whatever the storm in your life is, if you stay focused on the Savior, He's there for you, and He will reach out, and He will pull you up just when you think you're ready to sink."
Following the Convocation, Elder Dudley, who has worked as a senior executive for Kaiser Permanente and Sentara Healthcare, met with students interested in healthcare management. He and Sister Dudley also participated in a fireside on Sunday night for young adults from several stakes surrounding Buena Vista.