News Release
Ahmad Corbitt to Speak at University Convocation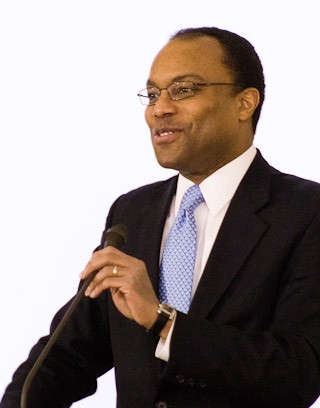 Ahmad Corbitt, former director of the New York Office of Public and International Affairs for the Church of Jesus Christ of Latter-day Saints, will speak at University Convocation on Friday, January 19th at 11 a.m. in the Knight Arena.
The title of Corbitt's presentation for Friday is, "Was the Rev. Dr. Martin Luther King Jr.'s Civil Rights Movement Empowered By a Book of Mormon Principle?"
A regular speaker and panelist on religious freedom and interfaith relations, Corbitt has lectured at academic conferences and briefings at a variety of universities and on the UN campus in New York.
While serving as director at the Church's New York Office of Public and International Affairs, Corbitt managed aspects of the Church's public affairs domestically and oversaw the Church's relations with the vast international community based in New York. He has hosted numerous United Nations ambassadors, consuls, heads of state and other international dignitaries on behalf of the Church.
Prior to his work with the Church, Corbitt was the executive director of corporate communications and associate general counsel at Corporation Service Company, and vice president and general counsel of the New York public communications firm Coltrin & Associates. His accounts included Burger King and the 2002 Salt Lake Winter Olympics.
Corbitt earned a Bachelor of Arts in sociology from Richard Stockton College of New Jersey and Juris Doctorate from Rutgers University School of Law, and was a successful trial and appellate attorney. He is a member of the bars of New York, New Jersey and Pennsylvania. He is also a member of the Public Relations Society of America and the International Television and Radio Society.
Corbitt recently returned from serving as the president of the Church's Dominican Republic Santo Domingo East Mission with his wife, Jayne L. Corbitt. They are parents to six children and grandparents to nine grandchildren.