Speeches
Ahmad Corbitt Speaks About Dr. Martin Luther King Jr. and the Book of Mormon
Ahmad Corbitt, former director of the New York Office of Public and International Affairs for The Church of Jesus Christ of Latter-day Saints, spoke on Friday to Southern Virginia students, faculty and staff at a special University Convocation commemorating Dr. Martin Luther King Jr.
Corbitt's presentation, which he entitled, "Power Behind the Reverend Dr. Martin Luther King Jr.'s Successful Equality Movement: A Key Principle of the Book of Mormon," discussed how the principle of faith, as taught in the Book of Mormon, is the same principle that Dr. King used while leading the civil rights movement.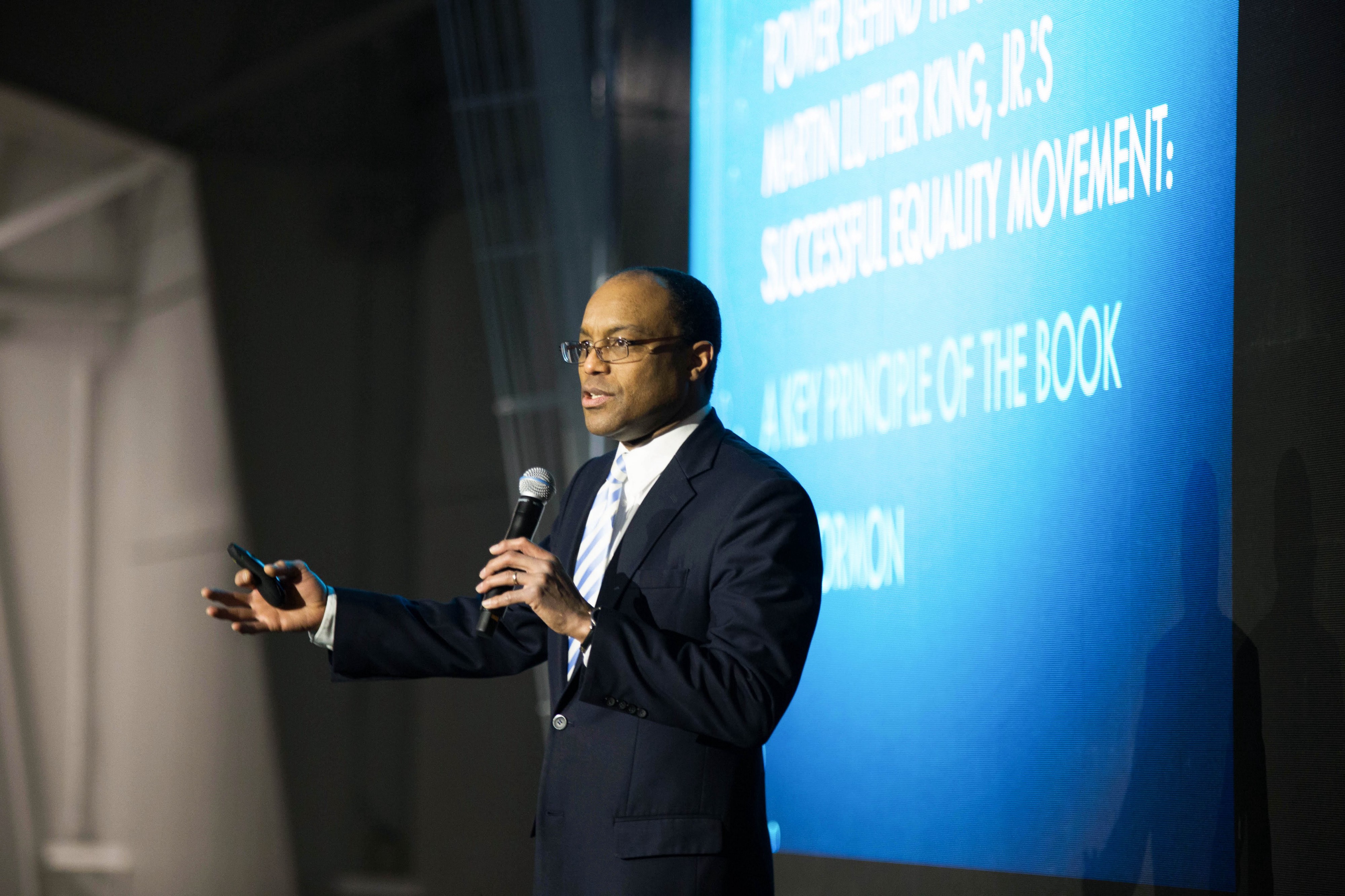 "The first and foremost precept of the Book of Mormon is faith in the Lord Jesus Christ," Corbitt said. "It teaches us to look forward and see his promises as if they are already fulfilled, and act accordingly."
Corbitt played video segments of Dr. King's "I've Been to the Mountaintop" and "I have a Dream" speeches, noting specifically how Dr. King visualized the movement's success prior to achieving it.
"He's allowed me to go up to the mountain. And I've looked over. And I've seen the Promised Land. I may not get there with you. But I want you to know tonight, that we, as a people, will get to the promised land!"
– From Dr. Martin Luther King Jr.'s 'I've Been to the Mountaintop' speech
"With this faith we will be able to work together, to pray together, to struggle together, to go to jail together, to stand up for freedom together, knowing that we will be free one day."
– From Dr. Martin Luther King Jr.'s 'I Have a Dream' speech
Corbitt pointed out the similarities between Dr. King's statements and scriptures from the Book of Mormon, such as 1 Nephi 5:5, when Lehi states, "But behold, I have obtained a land of promise," even though he and his family had only just begun their journey from Jerusalem.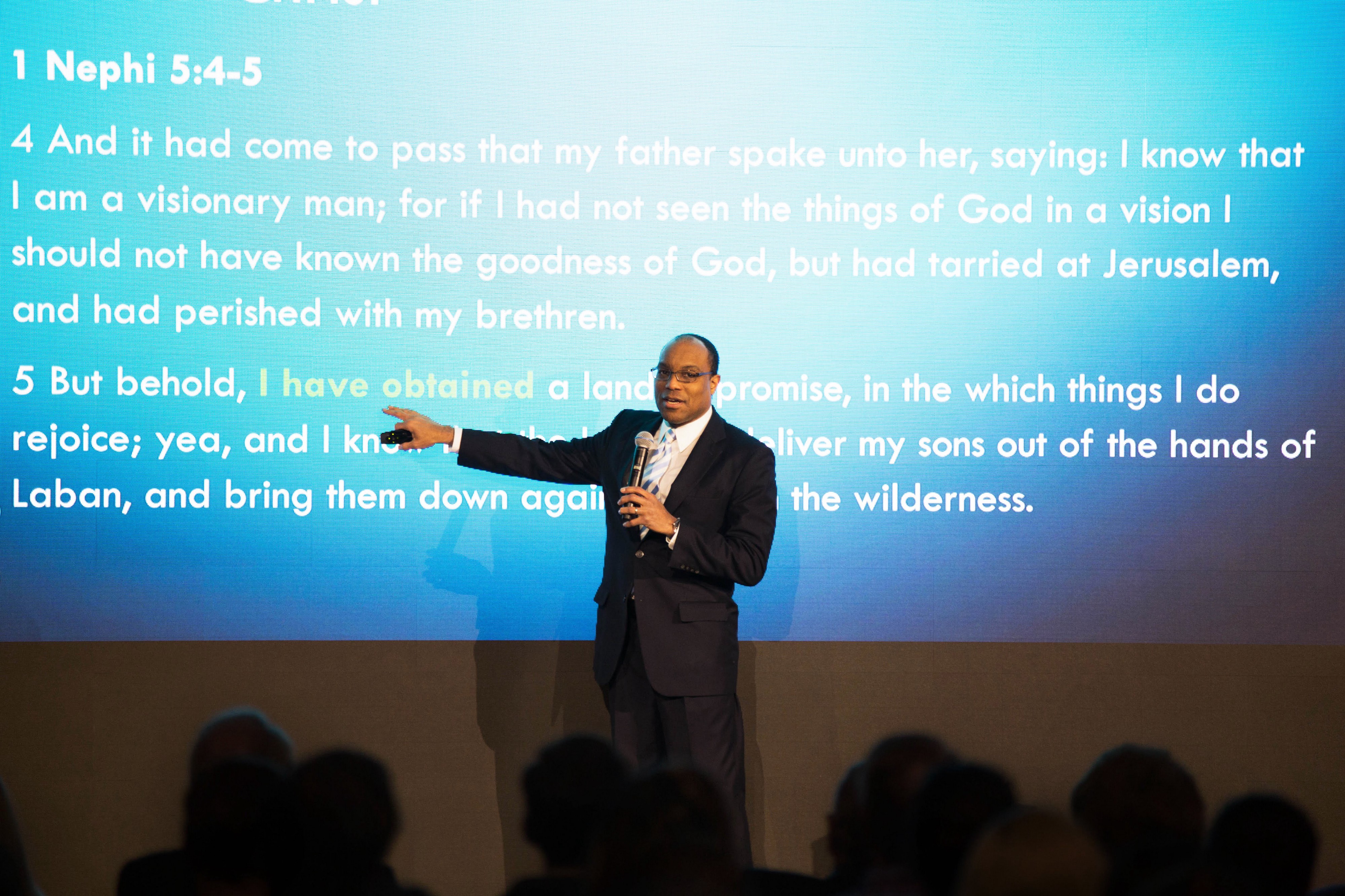 Corbitt also recounted a story told to him several years ago by Russell M. Nelson, who this month became president of The Church of Jesus Christ of Latter-day Saints. While visiting China, President Nelson met Dr. Zhang, a surgeon. Although it was illegal to share the gospel in China, President Nelson envisioned the man dressed in white baptismal clothes, and later, upon meeting Zhang's wife, envisioned the couple dressed in white temple clothing.
Years later, the Zhang family emigrated to Canada. Zhang called President Nelson and told him, "We've researched philosophies, and your philosophy in life is the one that most resonates with us, and we want to know if we can join your church." The Zhangs were baptized, and one year later, President Nelson was able to seal the family in the temple.
"To quote Ether 12:19, President Nelson 'saw with his eyes they things which he beheld with an eye of faith, and was glad,'" Corbitt said.
"It's great to hope for it; it's great to long for it. But the Book of Mormon teaches us to see it as if it has already come to pass," Corbitt explained. "When the Book of Mormon says, 'with an eye of faith,' that means we see the promised blessing as if it has already happened."
"The scientific world is amassing a body of study and learning upon this subject, which proves that people are generally more successful as they visualize themselves being successful, and I find it interesting that that principle is stated here in 83 B.C. by a Book of Mormon prophet, as part of faith in Christ," Corbitt said, quoting Alma 5:15–17.
Corbitt, who recently returned from serving as the mission President of the Dominican Republic Santo Domingo East Mission, is a regular speaker and panelist on religious freedom and interfaith relations. He has lectured at academic conferences and briefings at a variety of universities and on the United Nations campus in New York.