News Release
TORN-ADO: Barbara Crawford Art Installation Opens Mar. 21 at Southern Virginia University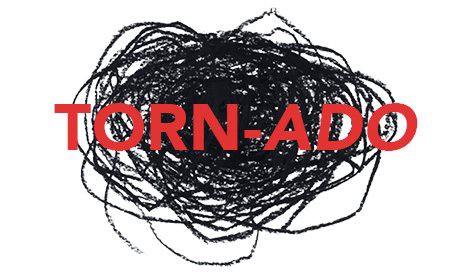 Beginning Mar. 21, Professor Barbara Crawford and a team of contributing artists will open a stunning art installation entitled TORN-ADO in the Stoddard Center at Southern Virginia University. This first installation of TORN-ADO will be open for two weeks before moving to the Museum Gallery of Carnegie Hall in Lewisburg, W.Va., for a second installation starting May 5.
TORN-ADO will be presented in a room specially constructed to house the installation, enabling visitors to experience three-dimensional artwork that incorporates and transforms the surrounding space. The artwork will use a variety of media to convey a message of human resilience in the face of disaster and chaos.
"Often, in a disaster, medical or environmental or man-made, it takes team work to get through it," said Crawford, an acclaimed artist and professor of nearly forty years. "This can be family and friends or stranger — either may give the support one needs to survive.
"Yet, there is also the strength of an individual's spirit that can carry one through," Crawford continued. "Work for this exhibition reflects both of these: individual and team efforts to develop and create this concept."
TORN-ADO is the inspiring result of months of brainstorming, planning, and setup performed by Professor Barbara Crawford and the following team of contributing artists:
Benjamin Ansted
Sarah Austin
Whitney John
Kristen Jones
Heather Madsen
Hannah Mortenson
Ayla Stebbing
Melissa Branin Wheeler
The project was inspired by a series of Professor Crawford's paintings entitled "Black Rose," made in response to her observations of the devastating effect of cancer on her husband's life. TORN-ADO is an expansion of Crawford's "Black Rose" series — both physically, in becoming a collaborative work that fills an entire room, as well as conceptually, addressing the concept of disaster not just in regard to cancer but to the many forms of disaster that humans encounter.
"Too often we forget that you can't have peace without the existence of chaos," said Ayla Stebbing, a member of the artistic team. "A big part of our goal is to help people get through chaos and know that there is going to be something different yet beautiful at the end. I'm glad to be part of creating that reminder for people."
"We're creating kind of a tribute to hope and perseverance amidst all the destruction," said Heather Madsen, another artist on the team. "Our end goal is actually very uplifting. Humans stick together and we survive."
In addition to the collaborative effort of the installation itself, there will also be a series of "field-note" pieces made by the individual artists. The pieces will be similar to the style of written and illustrated notes taken by an artist or scientist in an observational setting and will address specific "disaster" topics, such as tornados, floods, cancer, and child abuse.
Selected writers will also compose a series of essays about disaster and resilience, and the essays will be displayed as part of the exhibit:
Orson Scott Card
David Cox
Scott Dransfield
Roger Thompson
Jon Wallin
Rachel Wilcox
"Our team has faced challenges, and, by working together, built a strong statement about the power of the human spirit," Crawford explained. "We hope visitors will ponder these challenges and reflect on how they impact their lives."
Come join us Tuesday, Mar. 21 at 6 p.m. as Professor Crawford offers TORN-ADO's opening lecture at the Stoddard Center. The installation will remain open until April 3, 2017.