Spotlight
Students Travel to the Washington D.C. Temple for Service Day
Students took a break from classes to participate in Southern Virginia University's Service Day on Tuesday, Oct. 10. A large group traveled to the Washington D.C. Latter-day Saint Temple, while others remained in the local community, serving at senior centers, schools and on the University's campus.
"I think service is what creates this special spirit at SVU," said Chalae Logan, a junior from Cedar City, Utah. "I have [watched] as people here serve, even in the smallest ways, and that is what changes lives here. So, I think it's great that SVU offers a day off to go and serve."
Three buses full of students departed in the pre-dawn darkness to make the three-hour journey north to Washington D.C., joining others who drove their own vehicles. Students served inside the temple as well as on its grounds, where they did garden work and strung Christmas lights in preparation for the temple's upcoming Festival of Lights during the Christmas season.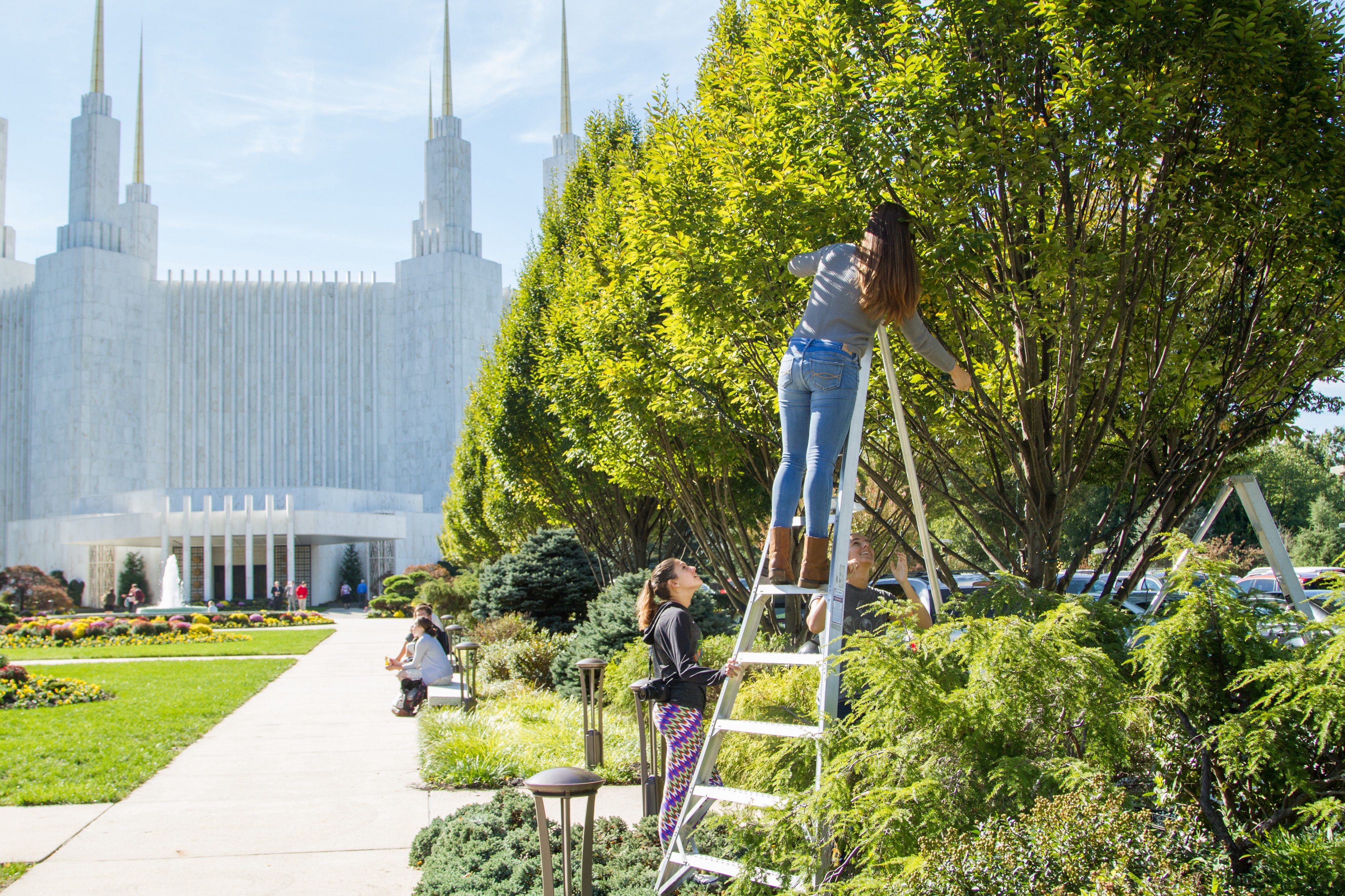 "I think my favorite thing is just seeing everyone here," said Jessica Brotherson, one of the students who traveled to the Washington D.C. Temple. "You see everyone on campus, but it's different here because everyone's united with the same purpose."
Back in Buena Vista, the University also scheduled two open volunteer times for students to help with cleanup projects on campus, while Southern Virginia athletics teams tackled other projects around the community.
The cross country, track and field and wrestling teams painted at a local park, women's volleyball served at a local senior center, and men's basketball and lacrosse did on-campus projects. The football team split into four groups, two of which volunteered at senior centers, while the other two partnered with the YMCA to serve at local schools.
"Altogether, that makes at least 500 people that were participating [in school-sponsored service activities], out of about 900 students on campus" noted Bobbe May, a Senior from Spanish Fork, Utah who works in the service office. "It was a great day."