Spotlight
Students Present Papers and Win Awards at VMI Research Symposium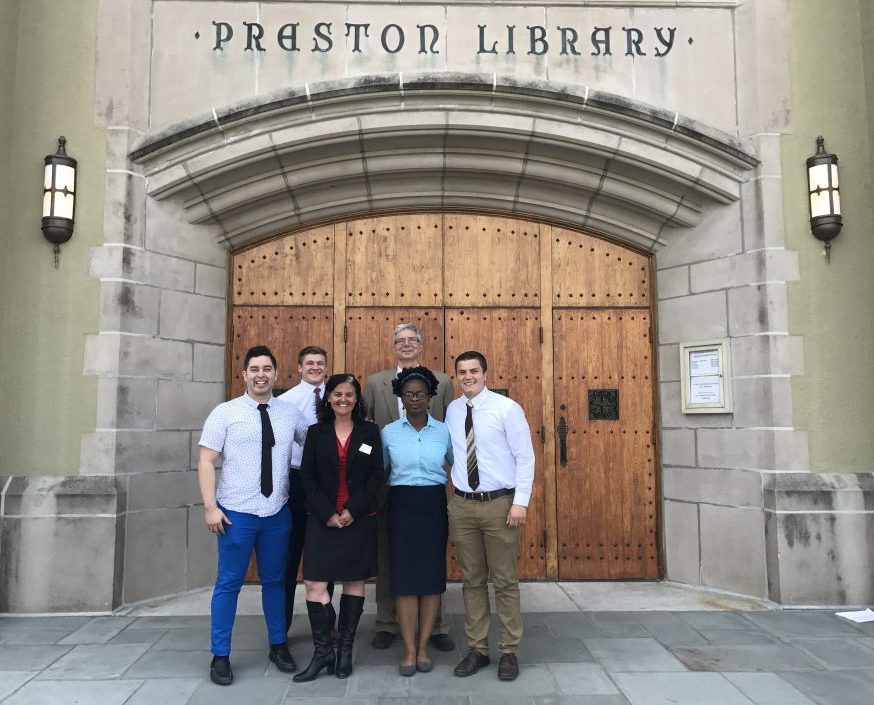 For the second consecutive year, Southern Virginia University students made a clean sweep at the Annual Symposium of the Virginia Military Institute's Center for Undergraduate Research, taking first, second and third place in the liberal arts category.
Students presented papers in Spanish, history and family and child development. Jared Attridge won first place with his paper, "El Efecto de la Amada"; Erik Flores placed second with "Exploring the Development Gap between El Salvador and the United States"; and Cody Barnes and Uzoma Nwobi tied for third place with their papers, "José Martí y el Nacionalizmo" and "How to (Not) Train your Dictator: The CIA and Carlos Castillo Armas in Guatemala, 1952–1954." Desiree Gentry also presented her paper, "Adjusting Teaching and Studying According to Learning Styles: How to Make it Work."
Dr. Iana Konstantinova, an associate professor of Spanish who mentored Attridge, Flores and Barnes, explained that her students benefitted from Southern Virginia's focus on good writing in all academic disciplines. "The level of student work is quite high in critical thinking and analytical categories," she said. "The professors at the university all work towards the same goal to develop thinking, reasoning and writing skills."
Attridge's paper was about Pablo Neruda's portrayal of romantic love in his poems; Flores drew conclusions about why El Salvador fell behind the U.S developmentally considering its comparative wealth in the 18th century; and Barnes discussed the nationalist agenda of poet and revolutionary, José Martí. Mentored by Dr. Francis MacDonnell, Nwobi explored the dysfunctional relationship between the CIA and its handpicked Guatemalan rebel.
Southern Virginia students also excelled at presenting their papers. Judges awarded prizes in the liberal arts category based on oral presentations, so it was vital that students effectively communicate the main points and the originality of their research. "With the skill and poise of a long-time classroom teacher, Nwobi demonstrated how smart people at the CIA made a very dumb decision with unfortunate consequences for American foreign policy and even more dire results for the Guatemalan people," Dr. MacDonnell said.
Flores attributed his success to the individual attention he received from Dr. Konstantinova, made possible by Southern Virginia's small class sizes. "We had intimate counsel," he said. "Through the personal and insightful discussions that could only happen at Southern Virginia, I was able to figure out what I wanted to do."
Attridge agreed that Dr. Konstantinova's counsel was a large part of his success, adding that Southern Virginia's liberal arts education contributed to his newfound ability to explore other perspectives. "I had no interest in literature before coming to Southern Virginia," he said. "It was here that I learned to connect to Neruda's poetry, consider other people's perspectives and remain open to new ideas."
VMI cadets also presented papers and won prizes in engineering, math, social science and science. Southern Virginia students and professors were impressed with the symposium and the efforts of VMI's Undergraduate Research Center. They expressed their gratitude for the Institute's invitation. "The VMI conference offered a wonderful opportunity for Southern Virginia students to share ideas and research with cadets," Dr. MacDonnell said. Likewise, Attridge said that the judging panels of VMI professors were welcoming and supportive. "They had good comments and constructive criticism that allowed me to feel even more confident in my work," he said.
"It was such a great experience to be able to participate in the symposium; I hope other Southern Virginia students also get a chance to do so," Flores said.