News Release
Southern Virginia University to Hold Annual Honor Forum on Friday Jan. 27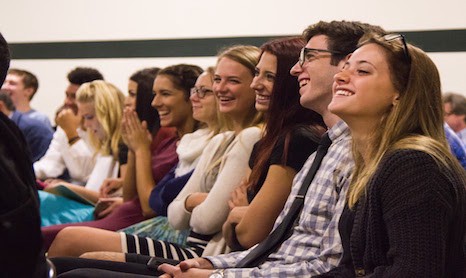 Southern Virginia University will hold its annual Honor Forum on Friday, Jan. 27, at 11 a.m. in the Stoddard Center as part of the university's Honor Week. Speaking this year will be freshman Olivia Ekberg and Class of '07 alumna Bethany Anderson.
Ekberg, a business major from Gilbert, Arizona, spent ten years of her life training and competing in synchronized swimming at an international level. After qualifying for the 2016 Olympic Games in Rio, Ekberg was forced to withdraw due to illness. Friday, she will speak on "Redefining the Olympic Dream." She plans to complete her degree in business and English, and pursue a career in communications.
Anderson graduated from Southern Virginia with a degree liberal arts alongside her mother who graduated the same year — the university's first mother-daughter graduating pair. Following her graduation, Anderson completed a master's in social work at Brigham Young University, then accepted a position as a family therapist in Arizona.
As a licensed clinical social worker and registered play therapist, Anderson specializes in sand tray therapy and currently works at the ANASAZI Foundation — the oldest operating wilderness therapy program for troubled teens and adults. Throughout her busy life, Anderson has always considered Southern Virginia to be the "home of her heart."
In addition to Friday's Honor Forum, Southern Virginia will host its annual Honor Ball on Saturday, Jan. 28 at 8 p.m. in the Stoddard Center. Tickets for the Honor Ball are available in the Mail Center.
Community members and Southern Virginia faculty, staff, and students are invited to attend campus forums and devotionals each Friday morning at 11 a.m. in the Stoddard Center. Recordings of past forum and devotional speeches may be accessed on svu.edu.