News Release
Southern Virginia Theatre Presents "The Music Man"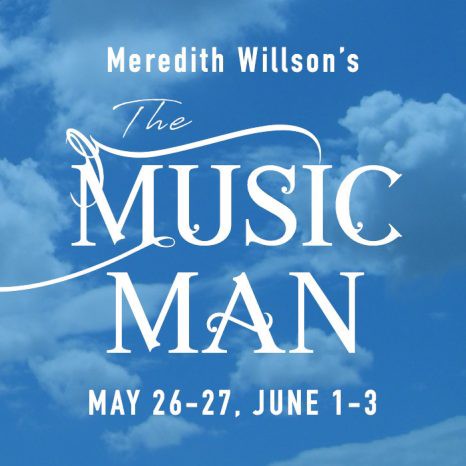 The Southern Virginia University Theatre Program will present Meredith Wilson's Tony-winning musical "The Music Man" on May 26–27 and Jun. 1–3 at 7:30pm in the Performing Arts Center.
The production, featuring a cast of 30, is composed of Southern Virginia students, community members and children from Buena Vista and Lexington.
"The Music Man" is the story of a fast-talking conman, Harold Hill, who deceives the citizens of a small Iowa town by promising to organize a band for their kids while planning to skip town instead. Hill, played by Southern Virginia senior Caleb Dransfield, is stopped in his tracks when he falls for the beautiful town librarian, played by alumna Amaree Cluff, and risks getting caught in his deception to win her.
"This is one of my favorite musicals from childhood," said director Robert Stoddard, associate professor of theatre at Southern Virginia. "It's a slice of Americana that looks nostalgically at small-town life in the beginning of the 20th Century, but it's also a sharp, witty commentary on human behavior."
The musical features such well-known songs as "76 Trombones," "Till there was You," "Lida Rose" and "Gary Indiana."
Cast member Heidi Glauser loves being able to pay tribute to "one of the golden age" musicals. "What distinguishes Southern Virginia theatre productions is the level of enthusiasm and dedication the cast and crew bring to the work," Glauser said. "It's always fun to do a classic and I think the community will enjoy it."
In addition to Stoddard, the production staff includes music director Dr. La Rae Carter, set designer Professor Brett Hansen and three alumnae — lighting designer and stage manager Kat Gardner ('17), costumer Amaree Cluff ('08) and choreographer Jessie Jolley ('15). Professor Mark Taylor will conduct the pit orchestra.
Tickets for "The Music Man" are $10 for the general public and $8 for Southern Virginia students, faculty and staff. They can be purchased in advance at svu.edu/box-office or by calling 540–261–8464. For more information, visit facebook.com/SVUtheatre or follow the Southern Virginia theatre program on Instagram @svutheatre.