News Release
Southern Virginia University Holds 2017 Commencement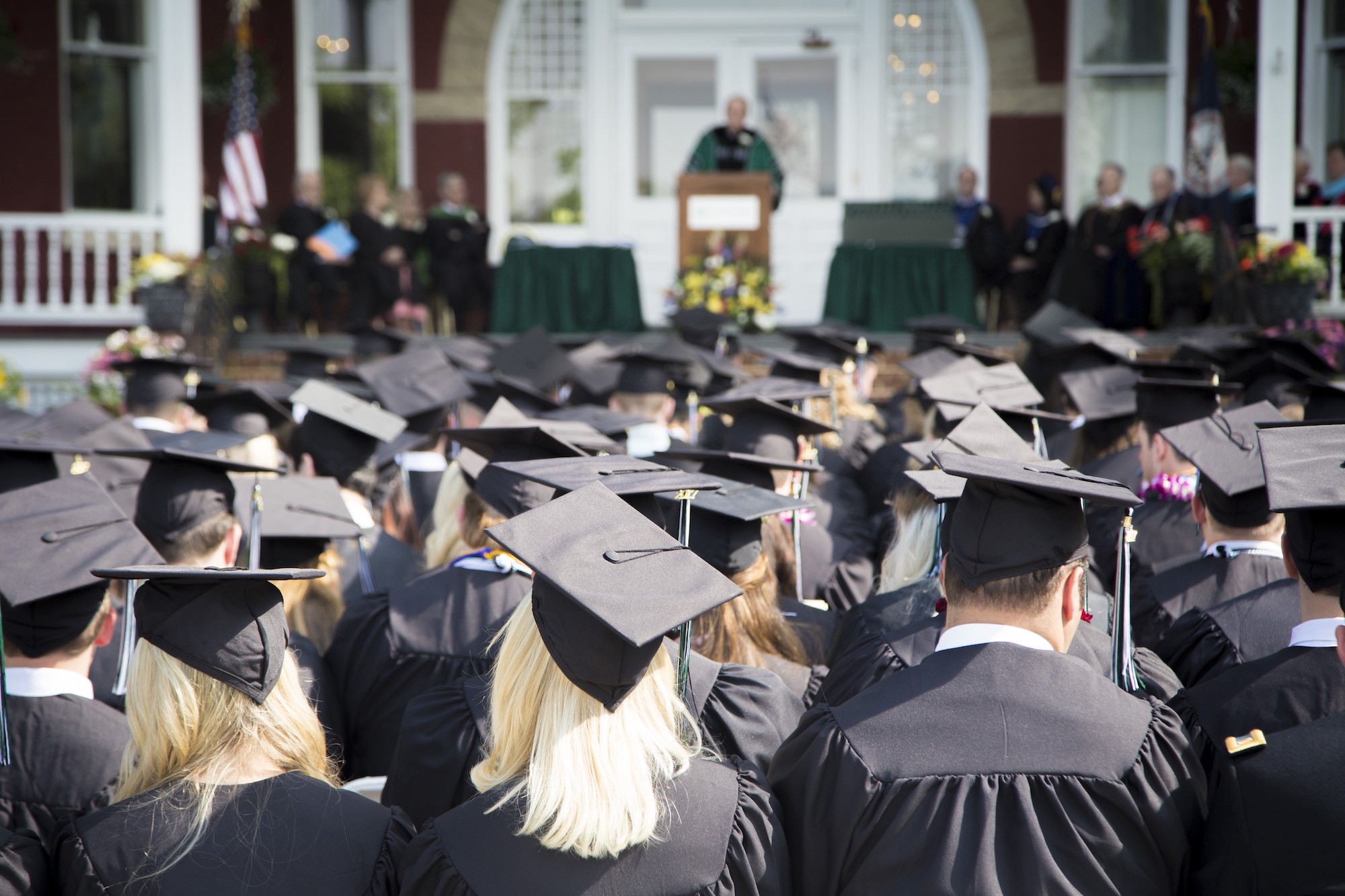 More than 1,000 alumni, students, faculty, staff, community members, graduates and their families gathered in front of historic Main Hall on Saturday for Southern Virginia University's 149th Commencement exercises.
The keynote speaker of the ceremony was Bruce L. Olsen, former global Managing Director of Public Affairs for The Church of Jesus Christ of Latter-day Saints, accompanied by his wife Christine. Southern Virginia President Reed N. Wilcox, Chairman Dane McBride and Provost Scott Dransfield presented Olsen with an honorary doctorate of humane letters, commending him for his "tireless efforts on behalf of the Lord, the Church and the university."
President Wilcox said of Olsen, "Bruce is an exceptional leader and friend who embodies the light and example of our very best friend who is Jesus Christ." Likewise, Christine Olsen, when introducing her husband, spoke of a lifetime of "serving the one" and encouraged graduates to emulate Olsen's example.
In his address titled, "The Tailored Life," Olsen counseled nearly 120 graduating seniors on how to center their goals to attain not only temporal success but also eternal blessings. He outlined three points to consider as they set about tailoring their lives: you have a personal destiny, you will need to keep "spiritually shod" and the Lord promises to lead you along.
"You were sent specifically to accomplish assigned tasks while on the earth," Olsen said. "Some of these you see clearly, some appear through a glass darkly, and others may be revealed to you as the decades of your own life unfold." He illustrated this point with the story of Stella Oaks, mother of LDS Apostle Dallin H. Oaks, who withstood heartbreaking trials to accomplish the assignments sent by Heavenly Father.
Olsen observed that just like Stella, graduates would be able to overcome trials and succeed in tailoring their lives by faith if they strived to remain spiritually shod. "For you to be spiritually shod is to be in tune with the Lord and His servants at any one moment. … Remaining spiritually shod after you see Buena Vista in your rearview mirror will take work on your part," he said.
By being spiritually shod, Olsen promised, graduates could rely on the guidance of God. "God never takes away your agency," he said. "Some of life's toughest decisions must be made in the quiet of your soul."
Olsen concluded his speech by congratulating the graduates on their work and praising the education they have received in becoming leader-servants. He said that the most important way they could treasure this education is in the way they chose to live.
"As you work and serve, as you mentor and lift, as you create and build, as you offer stability and exercise faith, you will receive the gift of good judgment and the guidance of the Holy Ghost," Olsen said. "You will be tailoring your life. Day by day, you will be preparing for life eternal."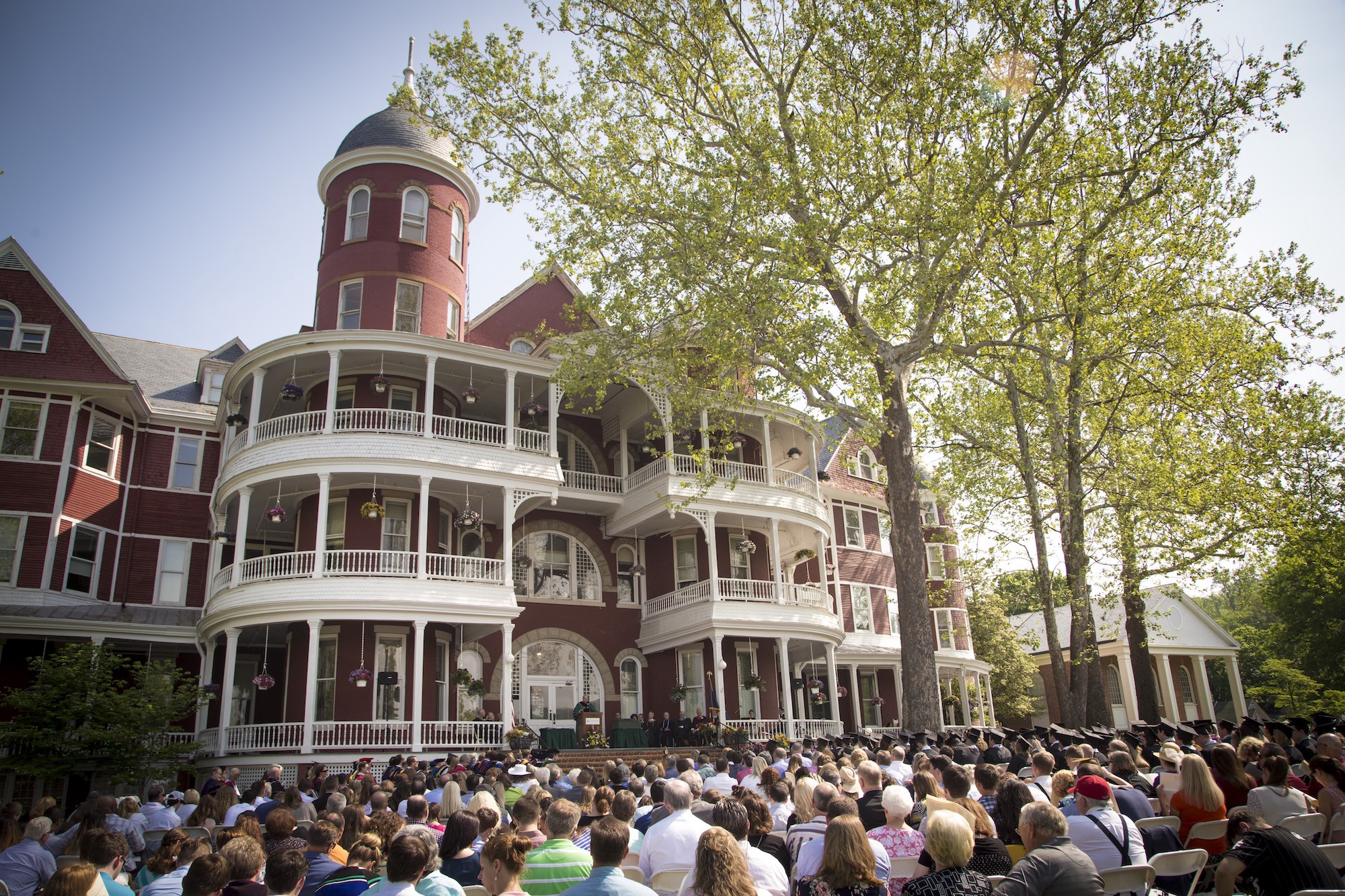 This year, several Southern Virginia students graduated with a perfect 4.0 GPA. The university declared three of the students — Jared Attridge, Brigham Doxey, and Uzoma Nwobi — co-valedictorians and invited them to speak at the Commencement ceremony.
Attridge, who majored in Spanish, spoke about how love has been a motivating force in his studies at Southern Virginia. He based his remarks on a quotation from President Dieter F. Uchtdorf, a member of the Quorum of the Twelve Apostles in the LDS church, who said, "What you love determines what you seek, what you seek determines what you will think and do, what you think and do determines who you are and what you will become."
Attridge asked graduates to think about what they love and how that love led them to this moment. "Never lose that love or desire because when you do, it will be harder and harder to become who you truly want to become and reach your full potential," Attridge said. "Do not deceive yourself into thinking that you can only achieve so much, your potential is always more than you perceive it to be."
Doxey, a business major with a minor in creative writing, gave a heartfelt speech on the liberating aspect of a Southern Virginia education. In his estimation, such an education is challenging but attainable because of hardworking and caring professors. "For some like myself, natural ability has never been something with which you would label yourselves," he said. "Success in the classroom, on the field, on the stage, in the studio, or in the home has only come because of hard work, diligence and an incredible support system. That support system is here."
Doxey said that the products of his experience at Southern Virginia have been an increase of knowledge, a widening of his perspective, an abundance of opportunities and a better appreciation of the value of service.
Nwobi, who double majored in politics and history, praised the sense of community at Southern Virginia, which allowed her to grow both academically and personally. "I think my experience shows that no matter who you are or where you come from, you can find a place at Southern Virginia University," she said.
Nwobi observed that when people of diverse backgrounds come together, they create a healthier and more vibrant community. Yet, when people neglect to live their truest selves, they unwittingly reduce the community. "Today, I want to wholeheartedly advocate a new policy of honesty in our presentation of self," Nwobi said. "It is my hope that as we leave this university, that we do not retreat into 'normality' but that we will go forward into the world with pride in our differences and with a commitment to finding common ground with others."
The ceremony concluded with the traditional performance of "Shenandoah" by the university's Concert Chorale and alumni.