Spotlight
Scholarship Recipients, Seniors and Missionaries Recognized at End-of-year Forum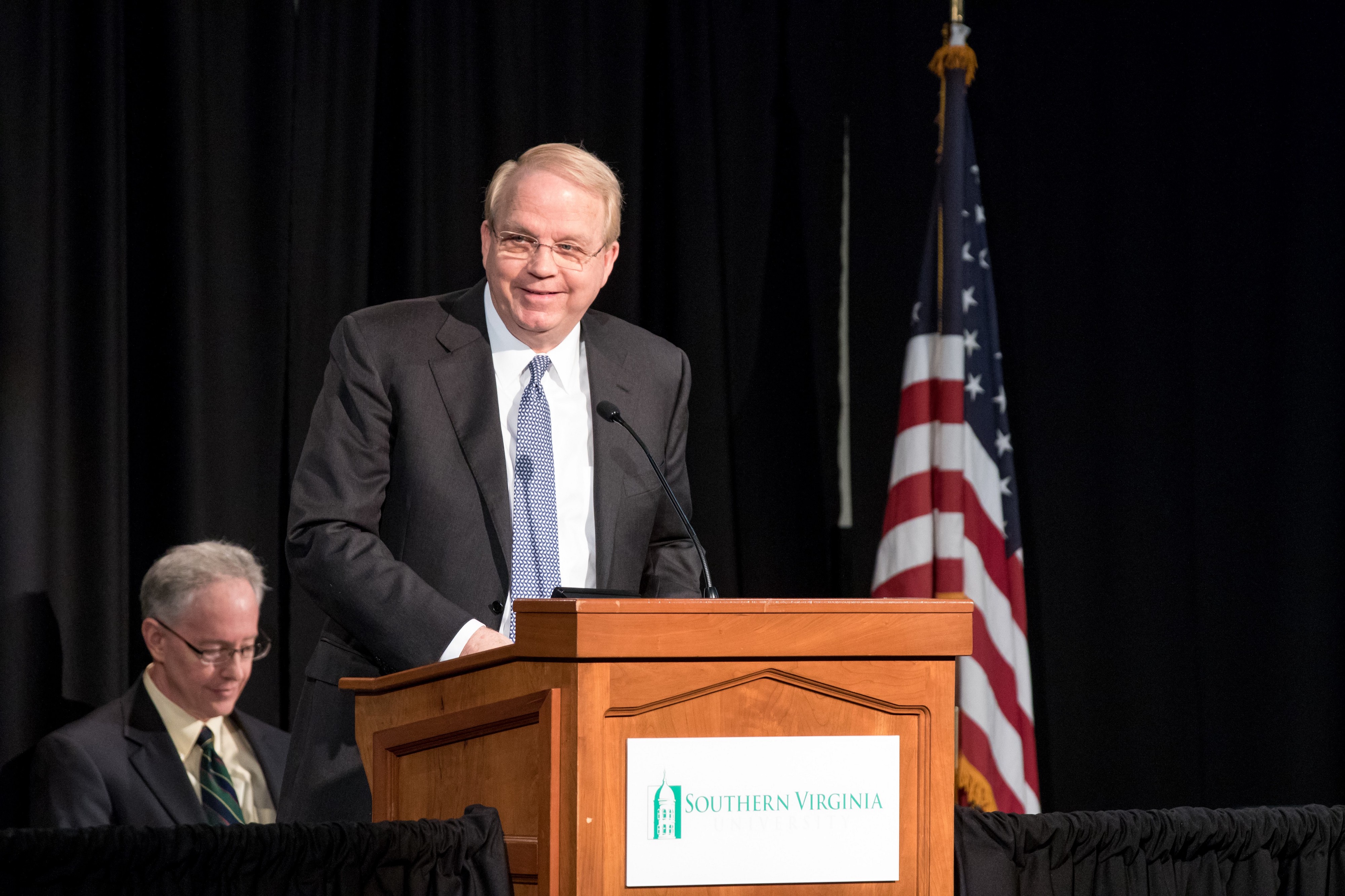 At the final forum of the 2016- 2017 academic year, this year's scholarship recipients, graduating seniors and missionaries were recognized for their outstanding achievement. President Reed N. Wilcox also delivered a devotional address that highlighted what students should retain from this year.
Scholarships awarded at forum included the Provost's Travel Study Scholarship, the John B. Matheson Jr. Kindness Scholarship, the Virginia Collegium Scholarship, the Margret Durham Robey Scholarship, the J.L. Racey Scholarship, the J. Thomas Smith Scholarship, the Teerlink Deserving Student Scholarship, the Nadine Teerlink New Parent Scholarship, the Cowboy Ethics Scholarship, the V. Pershing and Hattie J. Nelson Disciple Scholarship, the Donna Hadley Scholarship, the Pauline Mittle Scholarship and the Russell Entrepreneurial Scholarship. Graduating seniors and those planning to serve a mission in the upcoming year were also recognized.
This year's scholarship recipients have displayed both academic and moral excellence. These students have demonstrated their willingness to uphold Southern Virginia's values and live by its mission. Their hard work and sacrifice, both on campus and in the community, has led them to success in their experiences at Southern Virginia.
After congratulating scholarship recipients, President Wilcox addressed all who were in attendance. He shared a personal story of an event that occurred just weeks prior to leaving for a mission to France with his wife and children. In his account, he described slipping on ice, which resulted in broken bones that would require urgent surgery. However, after a healing priesthood blessing from a spiritual, yet inexperienced home teacher, Wilcox was able to serve his mission as planned and depart on the scheduled day without the need for an operation.
President Wilcox stated that this example of the healing power of the priesthood was a testament to the reality of Christ. As he served his mission, Christ's infinite love for all mankind became a tangible reality for Wilcox. At the conclusion of his address, he implored those in attendance to always remember that Christ is personally involved in each of their lives, and that His love for mankind is as infinite and tangible for them as it was for him.
"If you remember anything from this year, remember this: Jesus is your best and truest friend," Wilcox counseled. "He will always be true to you. He is real. And the reason these things happened is because he is real. This is true. He always keeps his promises."