Speeches
Olivia Ekberg and Bethany Anderson Share Experiences at Annual Honor Forum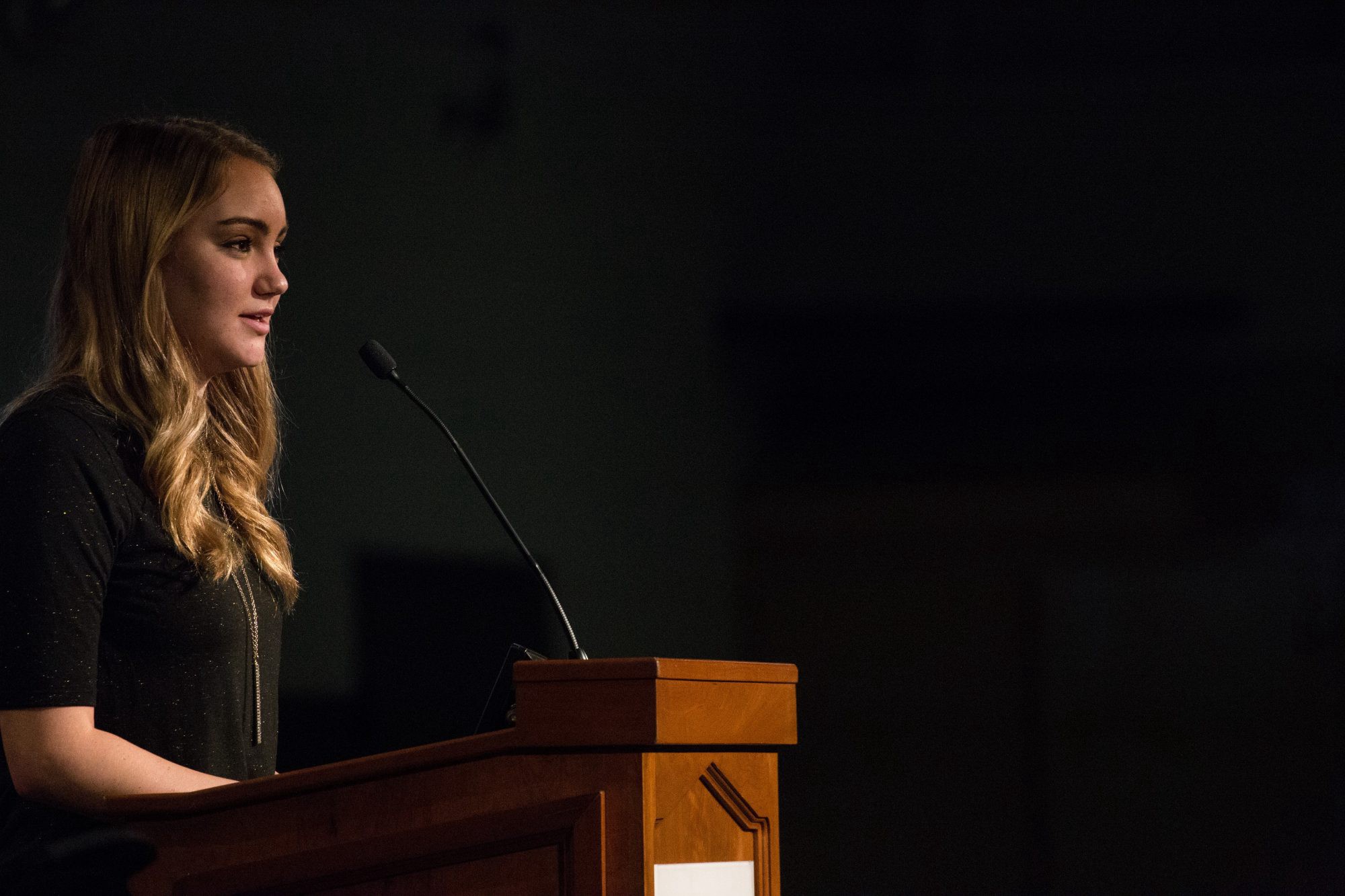 Southern Virginia University's annual Honor Forum was delivered by current student Olivia Ekberg, a freshman who qualified for the Rio Olympic Games in synchronized swimming, and alumna Bethany Anderson, an '07 graduate and licensed clinical social worker.
Ekberg's remarks focused on finding strength through the trials as she recounted her personal story of being forced to withdraw from the Rio Games due to illness. Through that experience, Ekberg explained, she learned what the word "honor" meant to her.
"I believe honor is learning to begin again each day," Ekberg stated.
After withdrawing from her internationally successful swimming team, Ekberg said that she was unable to find peace and progress until she once again welcomed God into her life.
"Even if you shake, even if your voice trembles," Ekberg concluded, "Get up and move forward!"
Following Ekberg's remarks, Anderson spoke on how her experiences as a student at Southern Virginia shaped her into someone who loves helping others succeed.
"Living at Southern Virginia, you learn that life will not be handed to you on a silver platter." Anderson remarked, "You have the ingredients. Go make the gourmet meal yourself."
Anderson currently works at the ANASAZI Foundation — the oldest operating wilderness therapy program for troubled teens and adults — and utilizes the knowledge and skills she acquired as a student to help troubled youth learn to find joy in accomplishing difficult tasks. As the individuals with whom she works begin to follow the rules, Anderson explained, they gain the freedom to succeed.
"We are under no obligations to be the same person we were five minutes ago," Anderson said. "With the precious gift of choice, we can have new beginnings each day."