Speeches
Emmy-Award Winning Screenwriter Delivers Personal Insight on Career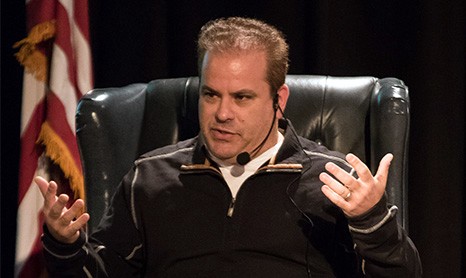 Emmy-Award winning screenwriter, Adam Mazer, spoke to Southern Virginia University students, faculty, and staff during a special interview-style forum conducted by Jeff Benedict, New York Times best-selling author and Director of the Institute for Writing and Mass Media.
Those in attendance had the opportunity to view the trailers from two of Mazer's most notable screenplays: "You Don't Know Jack," an HBO Productions film, and "Breach," a major motion picture based on the life of a soviet spy living in the United States.
In order to more fully develop the characters in his script, Mazer explained that he will often take time out of his schedule to meet individually with the subjects of his films. Mazer spoke of one such experience in which he was able to meet for several hours with the infamous Dr. Jack Kevorkian — the subject of "You Don't Know Jack" — to get a better sense of who he is as a person.
Mazer described how his method will often uncover previously unknown aspects of a character's personality that are crucial to character development during the script writing process. For example, through their conversations, Mazer was able to understand Dr. Kevorkian on a deeper level, which allowed him to create a more complex, three-dimensional character on the screen.
"I began to see there was a lot to this guy that the world doesn't really know," Mazer commented. "There's a complexity to (Jack) that I thought was really interesting. To be able to spend time with someone like that is really so important."
Although he has achieved success in a glamorous industry, Mazer emphasized that the road to success is not easy and is often riddled with pitfalls and disappointments. Mazer began his professional life waiting tables. While this job lacked luster and recognition, Mazer noted that it enabled him to observe how people interact with one another in a natural setting. Eventually, Mazer was able to use what he learned about people when working normal jobs to write believable dialogue, which made him a better screenwriter.
"You will have a lot of disappointments," Mazer commented. "It is really important to believe in yourself, believe in what you believe and stay true to that."
Through trial and success in a demanding industry, Mazer has maintained a stable family life with his wife and children. Benedict mentioned that Mazer has been known to immediately answer phone calls from his children, whether late at night or on the road. Mazer explained that the foundation of a strong family life is one of the things that allows for happiness and balance in a stressful career.
"The foundation of family is so important" Mazer stated. "Regardless of what your career is, that is what you have to come home to."
Mazer concluded his address by stating that successful careers are available to students who persevere through trials and use the resources available to them.
"Perseverance is everything" Mazer concluded. "There will be obstacles, but follow your heart, follow your passions, believe in yourself, turn every 'No' into a 'Yes' somehow and you will find the success you are striving for.