Speeches
Dr. MacDonnell, Dr. Cox Deliver Civil-Rights Addresses at Forum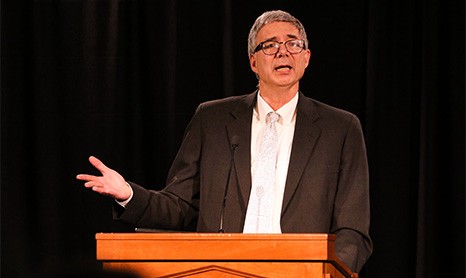 On Friday, Feb. 3, two distinguished Southern Virginia University's faculty members, Dr. Francis MacDonnell and Dr. David Cox, delivered addresses in honor of Black History Month outlining the heroism of the Civil Rights leaders Dr. Martin Luther King Jr. and Johnathon Daniels.
MacDonnell spoke on Dr. Martin Luther King Jr's religious convictions explaining how King's faith helped him find courage and strength in times of controversy and fear. Dr. King's amazing capacity to love and his affinity towards mankind, continued MacDonnell, helped to stamp out animosity and hatred throughout the country.
"When you rise to love on this level, you love every man, not because he is likeable, but because God loves him" Dr. MacDonnell said quoting Dr. King.
Following MacDonnell's address, Cox spoke on the life of Virginia Military Institute graduate and civil rights activist, Johnathon Daniels.
Daniels served as an influential participant in the Civil Rights movement, living with a black family and actively protesting segregation and oppression in the southern United States. Daniels lost his life for the cause after being shot during his release from jail.
"Never take the rights we have for granted," Dr. Cox concluded. "Our Heavenly Father prepares each of us for something. I pray that He may grant all of you a purposeful life."