News Release
Three Key Leaders to Speak at Forum March 18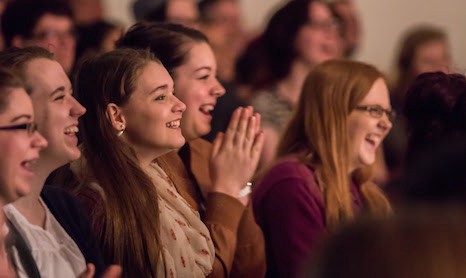 Three members of the Southern Virginia University faculty and staff — Carrie Brotherson, Cameron Crowther and Joe DuPaix — will speak at a forum at 11 a.m. on Friday, March 18, in the Stoddard Center.
Carrie Brotherson is the director of the travel study program and the first-year experience program at Southern Virginia. She joined the faculty in 1999. In addition to her duties as a program director, she also regularly teaches classes at the university.
She received both a bachelor's degree and a master's degree in English from Brigham Young University. She has taught English at BYU, Utah Valley University, Long Island University and Piedmont Virginia Community College. In addition to teaching English composition, she has also taught developmental English, introduction to literature, and research writing, among other courses.
She and her husband, Todd, have three daughters and live in Buena Vista, Va.
Cameron Crowther is the director of student professional development at Southern Virginia. He recently began working at the university after graduating with a juris doctorate from the Washington and Lee University School of Law in 2015. While in law school he was the submissions editor of the German Law Journal, recipient of the H Crim Peck Memorial Scholarship, president of the W&L J. Reuben Clark Law Society and president of the Humanitarian Law Society.
He was raised in Las Vegas and served a full-time mission for The Church of Jesus Christ of Latter-day Saints in Costa Rica. He and his wife, Marissa, have two children.
Joe DuPaix is the head coach of football at Southern Virginia. He was the running backs coach and recruiting coordinator at BYU from 2011 to 2012. During his time at BYU, the Cougars compiled an 18–8 overall record, including back-to-back bowl wins and a 10–3 season in 2011.
Before BYU, DuPaix coached the slot backs at the United States Naval Academy under current Navy head coach Ken Niumatalolo. During DuPaix's three years in Annapolis, the Midshipmen appeared in three consecutive bowl games, won two Commander-In-Chief trophies and ranked in the top-ten nationally for rushing offenses each season. He has also coached at University of Missouri-Rolla and California Polytechnic State University.
DuPaix served a full-time mission for The Church of Jesus Christ of Latter-day Saints in Barranquilla, Colombia. He and his wife, Monica, have seven children.