News Release
'The Secret Garden' Takes the Stage Feb. 12-13, 18-20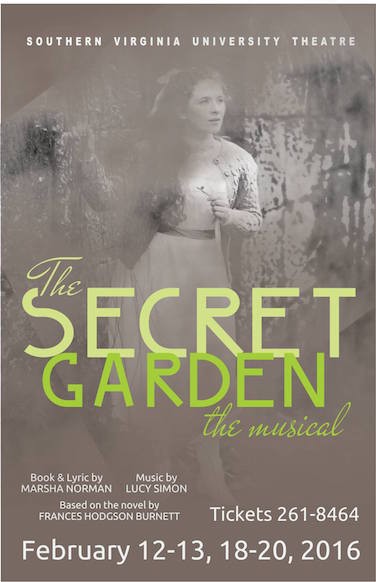 The Southern Virginia University Theatre Program will present the musical "The Secret Garden" on Feb. 12–13 and 18–20 at 7:30 p.m. in Chandler Hall.
The musical — with music by Lucy Simon and lyrics and book by Pulitzer Prize-winning playwright Marsha Norman — is based on the classic novel of the same name by Frances Hodgson Burnett.
The plot revolves around Mary Lennox, a young orphan who goes to live with her uncle, Archibald Craven, and discovers a hidden, forgotten garden.
"According to Norman, the musical is not only interested in telling the classic story everyone is familiar with, but also 'in finding a compelling way of dramatizing the spiritual forces at work in Mary's world … [and] … to speak bravely and directly about the healing power of love, not an easy thing to do in this age of easy cynicism and doubt,'" said Robert Stoddard, associate professor of theatre and the musical's director. "The eventual success of their collaboration has become something truly special in the history of the Broadway musical."
The cast features an ensemble of students, community members and alumni. Dr. Eric Hanson, an accomplished tenor who recently began teaching music at Southern Virginia, will guest star in the role of Archibald Craven. Additionally, several theatre majors are completing their senior projects through involvement with the production. For their senior projects, Ben Ansted is serving as set designer, Justine Lykins is serving as stage manager, and Madeleine Rex is serving as associate director.
"I never expected that as my senior project I'd be able to work on something so grand," said Rex, who is majoring in theatre, English and liberal arts. "We've spent a lot of time preparing and hopefully when it all comes together it will be a really impressive performance. It will be rich musically, visually and emotionally all at once."
Rex said that she enjoyed working with the cast because of the "sense of comradery" among them at rehearsals.
"I think that the warmth that [the cast members] feel for one another in real life will be visible in their characters as well," she said. "'The Secret Garden' has its elements of mysticism, but overall it's a story about healing, family and relationships, the importance of the people in our lives, and of knowing how to properly cherish those we love. And of course it has those beautiful undertones of the power of nature and faith. I think that it's a musical that can leave people with a greater appreciation of the people in their lives. … It makes you want to stop and consider what it is that you have."
Tickets for "The Secret Garden" are $10 for the general public and $7 for children, senior citizens, and Southern Virginia students, faculty and staff. Tickets can be purchased in advance at Student Financial Services or by calling 540–261–8464, or at the door prior to each performance.