Spotlight
Student Association President to Attend Top Health Administration Program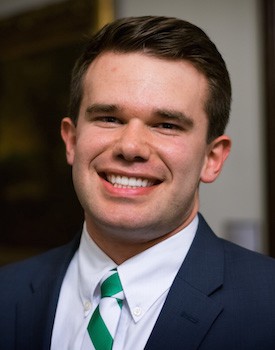 Following his graduation next month, James David "JD" Drasbek, president of the Student Association at Southern Virginia University, plans to attend Virginia Commonwealth University's Health Administration Program — which is ranked third nationally by U.S. News and World Report.
Drasbek said that the program director at VCU was specifically looking for dedicated "servant-leaders" in the program. For this reason, Drasbek was particularly grateful for the leadership experiences and service opportunities at Southern Virginia that have prepared him to go to graduate school and study health care management.
"I feel 100-percent prepared for graduate school," Drasbek said. "I really do think that the way in which [Southern Virginia] prepared me was by giving me experiences in which I could grow. The experiences that I had here at [Southern Virginia] and the leaders that I worked with have really brought me out of my comfort zone and prepared me for graduate school."
Through a career in health care management, Drasbek hopes to have many opportunities to serve those around him. When he began attending Southern Virginia in 2010, the university's service emphasis became very important to him. His passion for service grew during his two-year LDS mission to California.
"I saw a great need for healthcare among the underserved communities," he said. "I wanted to help, so I thought that I would either become a doctor or a dentist."
When he returned to Southern Virginia following his mission, he added the university's pre-health track to his philosophy major. Throughout the next several years as he worked closely with university leaders through his roles in the Student Association, he realized that he would be particularly well-suited for a career in health care management. He said that along with service, leadership is one of his passions because he "find[s] unifying people and bringing them together for a just cause in the service of others to be exhilarating."
Drasbek said that in addition to his experiences with leadership and service, he also feels equipped to succeed in graduate school because of his major studies in philosophy,
"A philosophy major has prepared me to think clearly and to problem solve in the business world," he said. "I'm able to present my proposals in a clear manner. And when creating proposals, I'm able to look at things objectively. … My philosophy major has helped me to recognize problems, weigh the pros and cons, and come up with a solution. I think philosophy is a great major because it helps you learn to think clearly and to communicate clearly, which is arguably one of the most important fundamentals in business. Majoring in philosophy has done that for me."
Dean of Students Joseph Bouchelle said that he is excited for Drasbek's future graduate studies and career.
"JD works hard," Bouchelle said. "He just has so much enthusiasm and is willing to sacrifice his own personal time and effort to make something happen. … I've worked with a lot of student body presidents and I've loved them all. JD is exceptionally devoted. I respect him so much for his willingness to go the extra mile. I'm excited for his graduate studies, too. He's going to go far and do very well."
In addition to his service within the Student Association, Drasbek is also one of the 10 graduating seniors to earn the Leader-Servant Graduation Distinction this year. In order to qualify for the distinction, students perform and document a total of 75 hours of service and complete a capstone service project. For his capstone project this semester, Drasbek led a group of students in refinishing the tables in the university's Dining Hall. Together, they refinished more than 20 oak tables with the goal to beautify the university and benefit future students.
"Service is what makes the world go around," he said. "It brings happiness to both sides — those performing the service and those that you're serving. I think that one of the purposes of life is to have joy, and service brings a pure joy that's hard to get elsewhere."
Drasbek said that he hopes even more students will become involved in service projects and the many other opportunities available at Southern Virginia.
"Be all in," he said. "Really take advantage of the opportunities here at [Southern Virginia]. If you do that, then the university will help you to not only become a leader-servant, but also to take leaps and bounds to reach your potential and become the person that you're meant to be. Don't let good opportunities pass by. … Challenge yourself. Don't spread yourself too thin, but pick a couple things and be the best at them and the sky's the limit."