News Release
Southern Virginia Presents "The Impossible Dream: 20 Years of Performing Arts" on Sept. 14, 15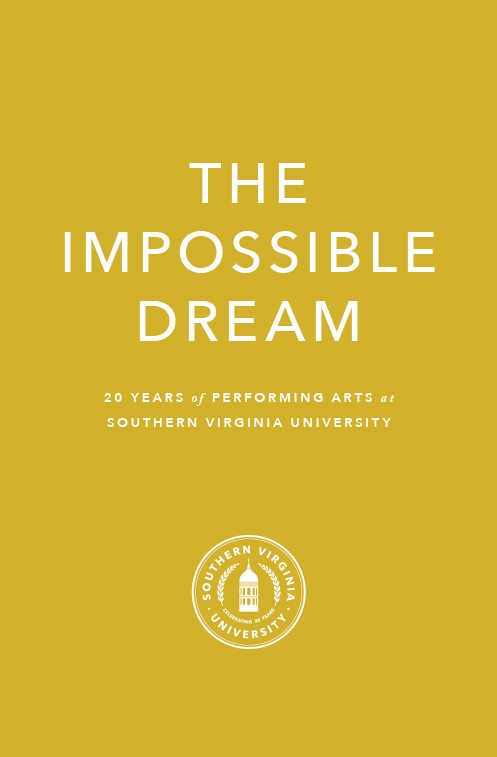 Southern Virginia University will present "The Impossible Dream: 20 Years of Performing Arts" on Sept. 14 and 15 at 7:30pm in Chandler Hall.
The concert is a musical celebration in honor of the school's 20th Anniversary Commemoration and Inauguration of its new president, Reed N. Wilcox.
"The show promises to be a real crowd pleaser, featuring some of the favorite choral, theatrical and instrumental performances we've presented through the years," says Robert Stoddard, director of the event.
Several fine arts alumni have been invited to join current music and theatre students to reprise some songs and scenes from past productions and concerts, including selections from "Joseph and the Technicolor Dreamcoat," "Beauty and the Beast" and "Fiddler on the Roof." Popular singer Nate Pence appears following a successful year singing with the famous male vocal group "Chanticleer." Other alumni participating in the event include actor and singer Thomas Petrungaro and recent graduates Jasmine Anderson and Reva Rogers.
"I'm really excited to come back to my beautiful home town of Buena Vista and make music again at my beloved Alma Mater," Pence said.
"The Impossible Dream" will also include performances by several fine arts faculty, including tenor Eric Hanson, actress Amaree Cluff, violinist Mark Taylor, and concert pianist Keenan Reesor. The Concert Chorale and the newly formed Men's Chorus will also be featured.
"We hope the show will pay tribute to all those who have sacrificed together during the past twenty years to make the Southern Virginia University dream a reality," Stoddard said.
Tickets for "The Impossible Dream" are $8 for the general public and $6 for Southern Virginia students, faculty and staff. Tickets can be purchased online, by calling 540–261–8464, or at the door prior to each performance. For more information, visit facebook.com/svutheatre.