News Release
Southern Virginia Theatre Presents "Steel Magnolias" Nov. 4-5, 11-12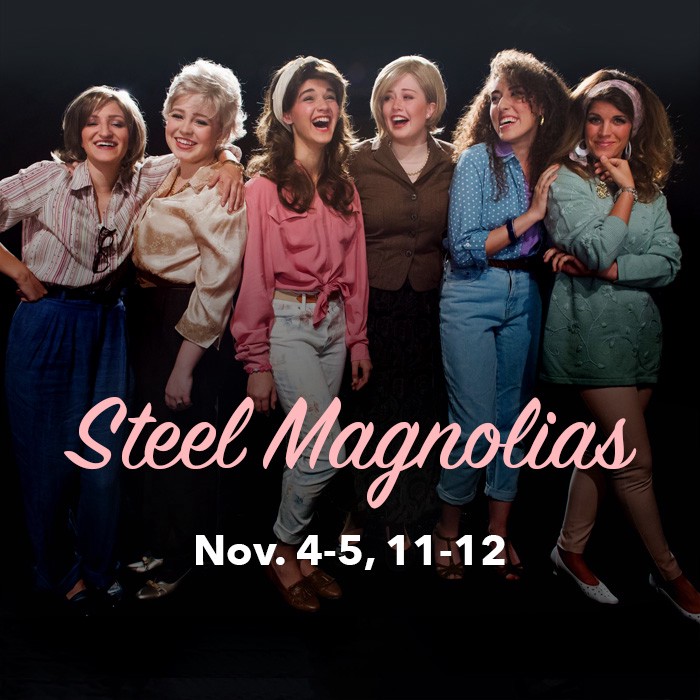 The Southern Virginia University Theatre Program will present Robert Harling's Broadway and movie favorite, "Steel Magnolias" on November 4–5 and 11–12 at 7:30 p.m. in the Performing Arts Center.
The play, which takes place in a beauty shop in a small-town southern community, revolves around Shelby Eatenton Latcherie, a young woman diagnosed with a unique type of diabetes, and how her delicate health affects her wedding, her chance at motherhood, and her biological and extended family.
"Harling apparently wrote the play in order to come to terms with his sister's death from the same disease," Robert Stoddard, the play's director, said. "But instead of writing something tragic, he crafted a script that crackles with laugh-out-loud humor and endearing characters that leave audiences both laughing and crying by the show's end."
The play features an all-female cast made up of Southern Virginia students Tara Brown, Clairanne Moncur, Heidi Glauser, Kailey Simmons, Kamilla Fuentes and Mattie Morrison.
Stoddard noted that it's rare in dramatic literature to find a piece that features such a cast.
"It would be a good thing if more playwrights like Harling would write great parts for women," Stoddard said. "The students playing these roles in our production are excited to sink their teeth into something so rewarding."
Moncur, a junior, is thrilled to share the play with the Southern Virginia community.
"This show has been such a blessing in my life," Moncur said. "I can't wait for people to see what we've all put a lot of hard work into."
In addition to Stoddard, the production crew for "Steel Magnolias" includes set designer and theatre professor Brent Hanson, costumer and Southern Virginia alumna Amaree Cluff ('08), and two students — Kat Gardner and Brady Tuttle — as lighting designers.
Tickets for the play are $8 for the general public and $6 for Southern Virginia faculty, staff and students. Advanced tickets can be purchased online at www.svu.edu/box-office, or by calling 540–261–8464. For more information, visit facebook.com/SVUtheatre or follow the Southern Virginia theatre program on Instagram @svutheatre.