News Release
Southern Virginia Theatre Presents "Oliver!" June 3-4, 9-11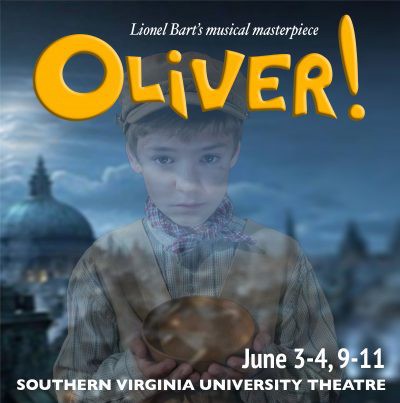 The Southern Virginia University Theatre Program will present Lionel Bart's award-winning musical "Oliver!" on June 3–4 and 9–11 at 7:30 p.m. in the Performing Arts Center.
"Oliver!" is a musical adaptation of Charles Dickens' classic novel "Oliver Twist." The story follows Oliver Twist, a young orphan who joins a gang of pickpockets on the streets of London after being forced to leave the workhouse where he grew up. Jonah Rasmussen, a 13-year-old member of the local community, will play the title role of Oliver. The cast includes a total of 25 students, community members and local children.
"It's been a genuine pleasure to work on this musical," said Robert Stoddard, associate professor of theatre and the production's director. "It's particularly fun to work with these amazing children and watch their delight when they learn a complicated musical number and realize they've succeeded in doing something really hard."
The musical features a number of popular songs including "Who Will Buy?" "Consider Yourself," "As Long As He Needs Me," "Where is Love?" and "I'd Do Anything." Cast member Heidi Glauser, a junior majoring in theatre at Southern Virginia, said that she appreciates the opportunity to participate in putting on "a classic that people know and grew up with."
In addition to Stoddard, the crew includes music director Dr. La Rae Carter, two students — set designer Ben Ansted and lighting designer Kat Gardner — and two alumnae — costumer Amaree Cluff ('08) and choreographer Jessie Jolley ('15). Mark Taylor will conduct the pit orchestra.
Jolley said that she has loved having the chance to give back to the program that helped shape her.
"The entire cast is really good about jumping in and trying all the weird or difficult steps I have them do at any given point," she said.
Tickets for "Oliver!" are $10 for the general public and $7 for Southern Virginia students, faculty and staff. Tickets can be purchased in advance at svu.edu/box-office or by calling 540–261–8464. For more information about the upcoming production, visit facebook.com/svutheatre or follow the Southern Virginia Theatre Program on Instagram @svutheatre.