Spotlight
Senior Takes First Place at History Honor Society Conference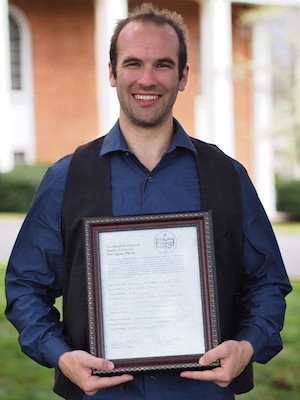 Rex Winslow, a graduating senior at Southern Virginia University, recently took first place at a regional conference of Phi Alpha Theta, an American history honor society with more than 350,000 members.
Winslow was one of seven Southern Virginia students to present at the conference this year. This is the fifth year in a row that one or more Southern Virginia students have received top prizes at the annual conference. Students from a dozen different Virginia and North Carolina universities — including the University of Virginia and Liberty University — participated in the regional conference this year.
Winslow's paper, titled "OPERATION SUSSEX: Your Worst Enemy is Your Ally," placed first in the conference's European history category — one of only three paper categories at the conference. In his paper, Winslow explored the effects of the allied and axis powers on a World War II intelligence operation.
"He told a story about a discreet intelligence operation in a complicated way, and his prose style is tight and pithy," said Dr. Francis MacDonnell, professor of history at Southern Virginia. "When he submitted his paper to Phi Alpha Theta, he took this deep knowledge about the secondary literature and [placed] it in the footnotes so his story is sleek and lean, but any historian reading it sees the deep wells of knowledge that he has on the topic."
Winslow, who is majoring in computer science and liberal arts, began working on the paper when he took a class on the history of spies and subversion from MacDonnell.
"Professor MacDonnell really steered me in a good direction," said Winslow. "He was such a great help in keeping me on the right path. He'd help me keep the scope appropriate and sufficiently narrow like a good paper should be."
After Winslow expressed that he wanted to research a topic related to World War II and D-day, MacDonnell introduced him to a research specialist at the nearby George C. Marshall Museum, who supplied Winslow with information on Operation Sussex. After writing the paper for the class, Winslow decided to develop and expand it further as his senior paper project.
"I was shocked [when they read my name]," Winslow said. "I sat there for what felt like a minute thinking, 'Wait, did they really say my name?' We'd sat through rounds of presentations and I got to listen to other papers and they were really good, so I was shocked."
Winslow plans to pursue a master's degree in Islamic and Middle Eastern studies at the University of Edinburgh this fall.
MacDonnell said that Winslow is the type of student that Southern Virginia University hopes for.
"He's been a football quarterback, involved in student government, in the plays, and an extraordinary student," MacDonnell said.
In addition to Winslow, MacDonnell praised the other six students who presented their research at the conference.
"Our students did extremely well," he said. "They had wonderful, original, primary-research driven essays. … We have amazing students. These students are serious about it and they all go through a really rigorous drafting process. They practice in front of faculty … and as a group they reinforce each other."
Lauren Hafen, a senior and history major at Southern Virginia, presented a paper titled "The Conservative Cadet: The Role of Conservatism at Virginia Military Institute in the 1960s" at the conference.
"The one-on-one direction and tutelage from professors was really beneficial," Hafen said. "The history department even set aside time to listen to the presentation of each student attending the conference and provide feedback. They definitely go the extra mile for us, and it helped me feel more confident in my work and in my presentation at the conference."
Matthew Zalar — who presented a paper titled "True Americanism: How a Jewish Chaplain and the American Jewish Committee Combated Antisemitism in America in the Aftermath of the Great War" — said that one of the highlights of the conference was hearing from keynote speaker Robin von Seldeneck, CEO of the Woodrow Wilson Presidential Library Foundation.
"[Other highlights included] being with fellow students who love history and love to learn, getting feedback from knowledgeable teachers and students, [and] seeing and hearing the hard work of other students from around the region," said Zalar.
According to Uzoma Nwobi — who researched the Irish Republican Brotherhood for her paper, "Defending Manhood in the Easter Rising" — Southern Virginia students stood out at the conference for their "thesis-driven" papers.
"My favorite part of the conference was listening to other students from other schools present their papers," Nwobi said. "They all did a good job and there were some outstanding papers, but I think that our students were distinguished by the fact that all our papers were thesis-driven and added to the historiography of the respective topics."
The other student presenters from Southern Virginia included Kaytlyn Dewey, who wrote a paper titled "The Great Mouse Manipulators: How Hoover and Disney Manipulated the World and Each Other"; Casie Jarvie, whose paper was titled "Will the Real McCloy Please Stand Up? John J. McCloy and the Internment of Japanese Americans"; and Melora Ward, who wrote a paper titled "The Ku Klux Klan: True Americanism in 1920s Cartoons."