Speeches
Forum with Executive Editors at Sports Illustrated, Houghton Mifflin Harcourt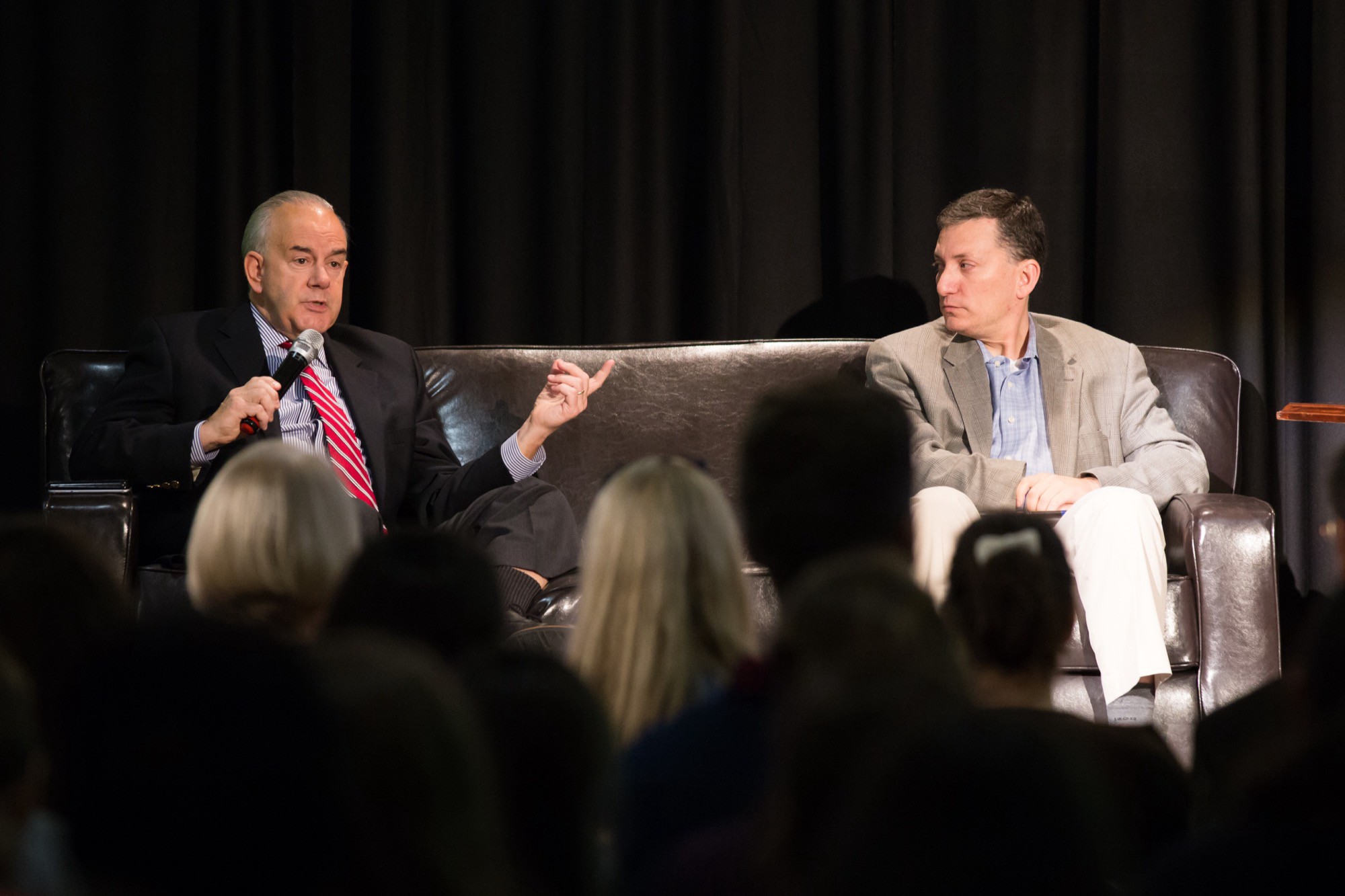 BUENA VISTA, Va. — Jeff Benedict, Director of the Institute for Writing and Mass Media at Southern Virginia University, conducted an interview-style forum with special guests B.J. Schecter, Executive Editor at Sports Illustrated, and Rick Wolff, Senior Executive Editor at Houghton Mifflin Harcourt Publishing, in front of an audience of students, faculty and staff gathered in the Stoddard Center.
The interview, which consisted mostly of student-submitted questions, touched on a wide range of current issues including the media ethics, politics, sports and women's equality.
"Part of a rich college experience is hearing different viewpoints that broaden our peripheral vision and deepen our understanding of the issues of the day," Benedict said. "The chance for our students to listen in on what was essentially a conversation with two members of the national media talking about topical subjects — a candidate for president, concussions in football, and violence against women on college campuses — was a rich experience."
Schecter, who has been with Sports Illustrated for over twenty years, echoed these sentiments and encouraged students to use their time at school to ask difficult questions.
"Never be scared to ask a question," he said before answering a student-submitted question about the portrayal of women in the media and the possible link to violent crime against women. "You'll never know the answers to the questions you don't ask. … You are all in a wonderful academic learning environment — ask questions of everybody."
Responding to a question about his impression of Mormonism, Wolff, who is not a member of The Church of Jesus Christ of Latter-day Saints but has published multiple books profiling prominent Latter-day Saints, said, "It's an extraordinary religion. … It's hard to find any downside to [Mormonism]. It's pretty impressive."
In addition to their forum interview on Southern Virginia's campus, Schecter and Wolff, along with university alumnus J.J. Feinauer, also led a workshop with a group of students interested in journalism and media the previous evening.
The Institute for Writing and Mass Media will hold its next workshop on Nov. 17 and 18 featuring guests John Kramer, vice president of communications at the Institute for Justice, and Carolyn Lumsden, editor of the Hartford Courant editorial page.