News Release
New Walnut Avenue Apartments Open for Spring Semester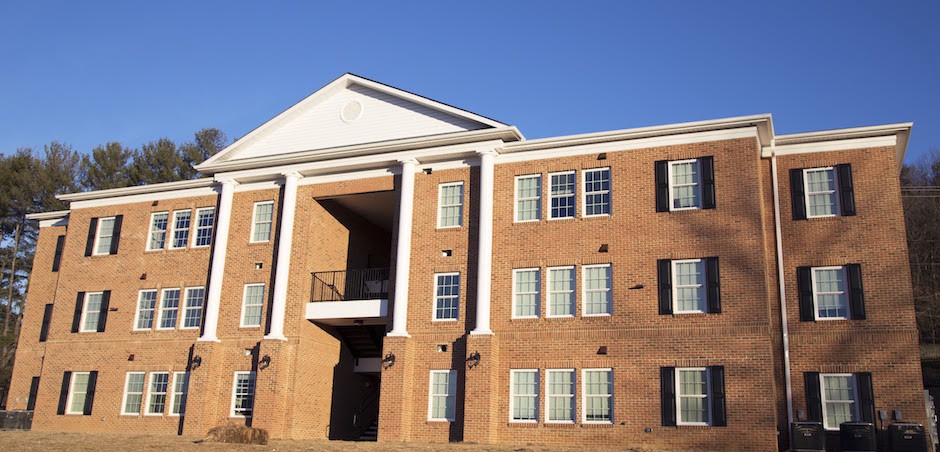 When Southern Virginia University students arrived on campus for the Spring semester last month, a number of them had the opportunity to move into the university's newly-completed Walnut Avenue Apartments.
The apartment building is 23,000 square feet in total and contains 12 apartment-style suites. Each suite includes kitchen and dining areas, laundry facilities, three bathrooms and three bedrooms — with two students per bedroom. The new apartments primarily house juniors and seniors this semester and have separate suites for male and female students. Unlike other residential living areas on campus, which are managed by a team of resident advisors and head resident advisors, the apartments are overseen by an apartment manager.
James David Drasbek, president of the Student Association and a senior who lives in the apartment building, said that the new accommodations exceeded expectations.
"It's an amazing place to live and it has an excellent, professional atmosphere," Drasbek said. "It's a wonderful and comfortable place to stay and has an environment conducive to getting schoolwork done as well as other business, such as church callings or Student Association business."
"I think that having this new apartment building also shows that Knights are doers and we have a leader who gets things done," Drasbek said. "President Wilcox is definitely bringing the culture of being doers and he's giving us an example. Seeing this goal accomplished so quickly benefits the student body by showing that we need to be doers to achieve our full potential."
The apartment building is located adjacent to the Buena Vista Institute of Religion and down the hill from The Lofts, a 51,000 square-foot residence hall built in 2008. It is one of many planned improvements to the university's campus that President Reed N. Wilcox has announced in the past year. Future capital projects include a new stadium, a state-of-the-art academics center and a performing arts center.
"We're grateful to those who worked tirelessly to ensure that the Walnut Avenue Apartments were ready to accommodate students during this semester," said President Wilcox. "We also express tremendous gratitude for the donors who have made this and other phenomenal improvements possible. We feel privileged to be a part of the university during this period of growth and excitement."