Speeches
Forum Speakers on Finding Beauty, Seizing Opportunity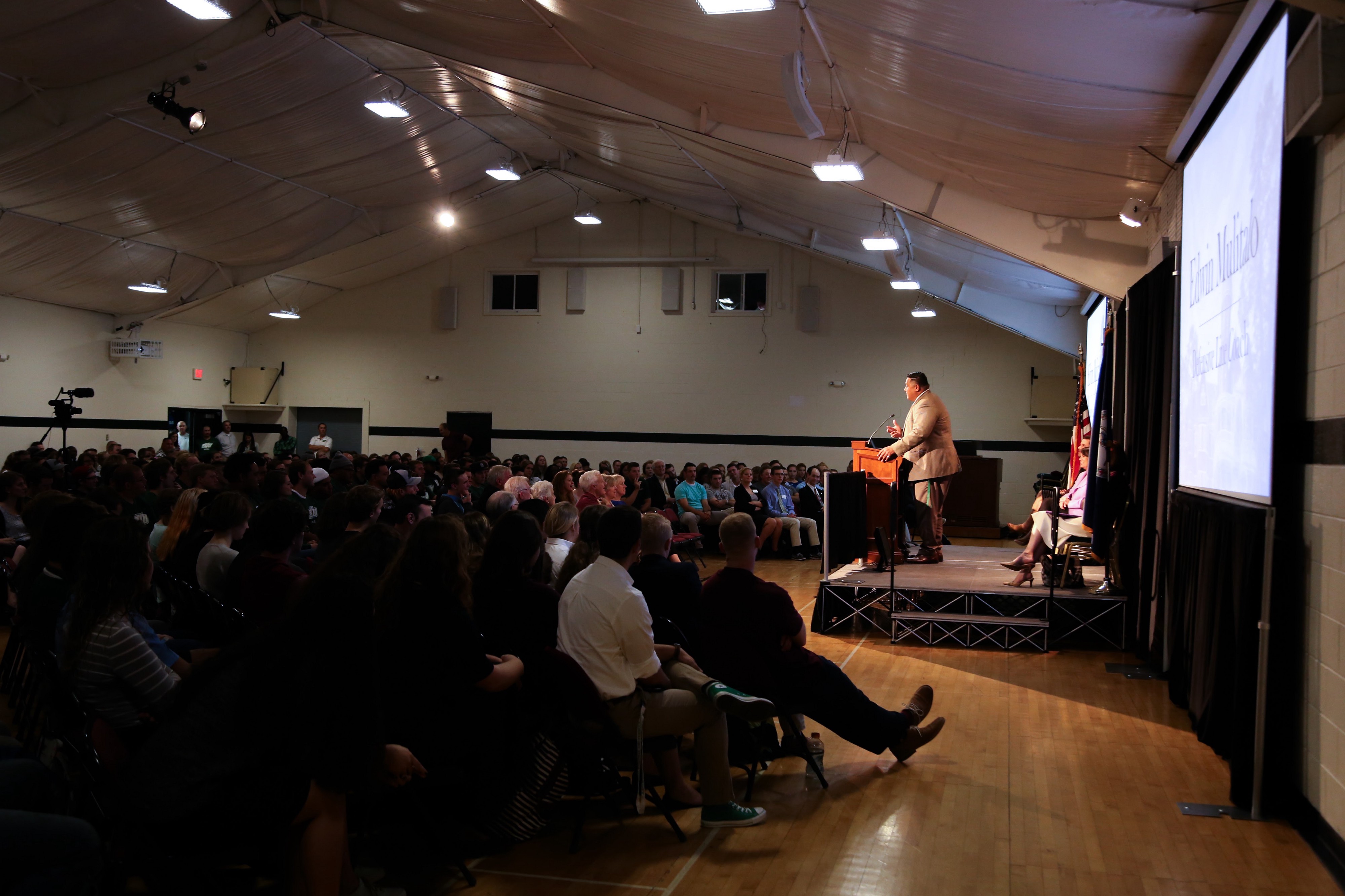 James Lambert, assistant professor of English and the director of the Writing Center, and Edwin Mulitalo, defensive line coach for the football team, addressed students, faculty and staff gathered in the Stoddard Center on Friday, Nov. 4, about the value of education, serving others, and seizing opportunities.
Lambert, who taught English as a professor at the American University in Kuwait for four years before coming to Southern Virginia, opened his address with thoughts on finding beauty in whatever circumstances and locations life places us.
"The richness of life is not to be found by how beautiful the landscape is, or how exotic the geography can be or how foreign your surroundings are," he said. "But rather when you allow your eyes to be a little like God's, to designate the foreign, the exotic, the beautiful richness of your everyday experience at once both universal and utterly astonishingly unique."
Transitioning his thoughts to serving others, Lambert then commented on how recognizing beauty wherever you are can lead to giving service to the people around you — a characteristic central to an education at Southern Virginia.
"That experience of education, that injunction to help someone in need has no geographical grounds," Lambert said. "Nor does it require exotic experience."
Following Lambert, Mulitalo, a Super Bowl champion football player with the Baltimore Ravens, shared lessons he learned from his first game in the NFL after filling in, unexpectedly, for a starting player sitting out because of an injury.
"This is your chance," he recalled saying to himself as he walked nervously onto the field. After explaining how he made the most of this moment by performing well and winning a starting spot for the next ten years of his career, Mulitalo delivered his main message to Southern Virginia students by saying, "When opportunity happens, step up and be ready."