News Release
Joe DuPaix Named Head Football Coach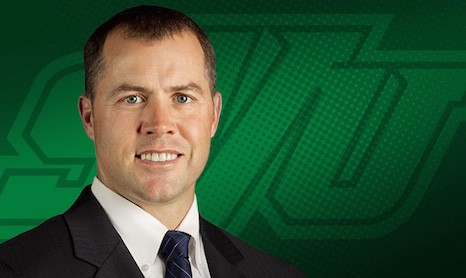 Southern Virginia University Director of Athletics Jason Lamb today named former Navy and BYU assistant Joe DuPaix as the Knights' next head football coach.
"We are thrilled to announce the hire of Coach DuPaix as our head football coach," said Lamb. "He comes highly recommended from prominent coaches throughout the country and has tremendous experience building successful football programs. He helped create a blueprint that we can model here at Southern Virginia University. "
DuPaix (Due-PAY) was the running backs coach and recruiting coordinator at BYU from 2011–12. During his time at BYU, the Cougars compiled an 18–8 overall record, including back-to-back bowl wins and a 10–3 season in 2011.
Before BYU, DuPaix coached the slot backs at the United States Naval Academy under current Navy head coach Ken Niumatalolo. During DuPaix's three years in Annapolis, the Midshipmen appeared in three consecutive bowl games, won two Commander-In-Chief trophies and ranked in the top ten nationally for rushing offenses each season. DuPaix was also part of Navy's 10-win season in 2009, which culminated in a 35–13 rout of the University of Missouri in the Texas Bowl.
Niumatalolo, who hired and mentored DuPaix at Navy, said, "Joe DuPaix is a perfect fit for Southern Virginia football. He is a great football coach and a wonderful leader of men. He and his wife are wonderful examples of the Gospel of Jesus Christ and I know that the program will flourish under his leadership."
DuPaix's collegiate coaching career began in 1998 as an offensive coach at NCAA Division II University of Missouri-Rolla, before becoming the offensive coordinator at NCAA Division I-AA California Polytechnic State University in 2007.
As a player, DuPaix was the starting quarterback and team captain for two years at Southern Utah University, where he set an NCAA Division I-AA individual rushing record during the 1996 season for yards by a quarterback (1,246 yards). The following season, DuPaix's senior year, he helped the Thunderbirds finish second in the nation while earning I-AA Independent Player of the Week honors with 218 yards rushing against the University of California, Davis.
DuPaix transferred to SUU from Snow College, where he was also the starting quarterback and team captain for two years. As a sophomore at Snow, DuPaix was named an Honorable Mention Junior College All-American and the MVP of the1995 Real Dairy Bowl finishing the year with 2,482 passing yards and 832 rushing yards.
The Salt Lake City native played his high-school football at Skyline High School for his father and legendary Skyline coach Roger DuPaix, who led the Eagles to eight state titles before retiring in 2011. As a senior at Skyline, DuPaix was the 1990 Utah State MVP (Class 4A) while guiding the Eagles to their first state title of the 1990s.
After serving a full-time mission for The Church of Jesus Christ of Latter-day Saints in Barranquilla, Colombia, DuPaix married Monica Taylor. They have seven children together.
"We are excited to welcome Joe DuPaix to our university family," President Wilcox said. "He is a natural leader with the motivation and talent to build a successful, winning football program at Southern Virginia focused on developing well-rounded young men."