News Release
2016 Commencement Marks University's 20th Year Since Renewal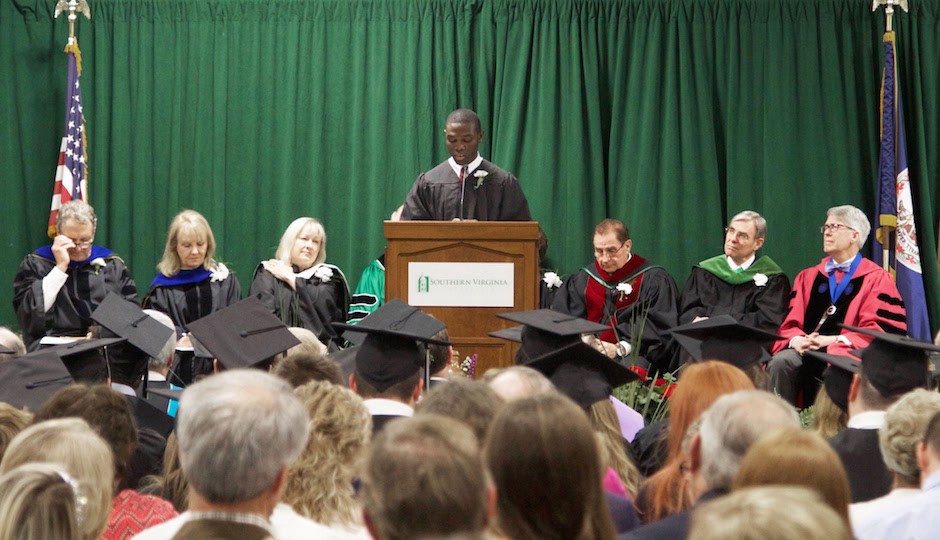 Nearly 1,000 alumni, students, faculty, staff, graduates and their families, and community members gathered at Southern Virginia University's 148th Commencement exercises to celebrate the accomplishments of 100 graduating seniors last week.
"This ceremony marks the conclusion of the 20th year that this university has provided the finest undergraduate liberal arts education in a Latter-day Saint environment," said Reed N. Wilcox, president of the university.
Because of heavy rainfall and cold temperatures, Commencement was held in the Knight Sports Arena instead of on the lawn in front of historic Main Hall. As President Wilcox opened the Commencement exercises, he commented on how Glade Knight, founding chairman of the university, visited that very building 20 years before. It was because of this visit that Southern Virginia was renewed as a liberal arts college in a Latter-day Saint environment.
"That process began from a visit that started in this room," President Wilcox said. "It's appropriate in a way that weather forecasts welcomed us into this room where it all started."
Dr. Dave Ulrich, "the father of modern HR," and Dr. Wendy Ulrich, a psychologist and bestselling author, addressed the graduates and guests as keynote speakers.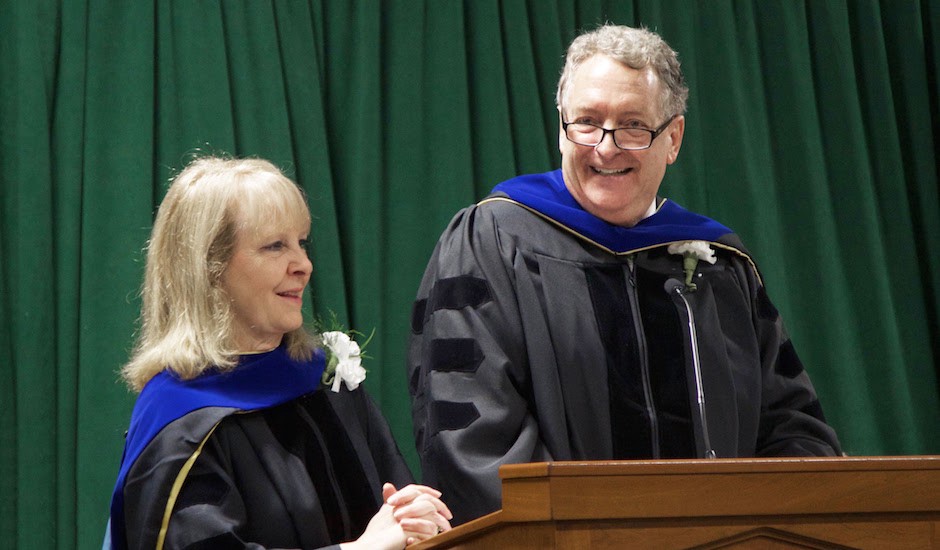 Dave Ulrich has been named in Thinkers 50 as a management thought leader, ranked №1 most influential international thought leader in HR by HR Magazine, named in the Top 100 Thought Leaders in Trustworthy Leadership Behavior, and ranked №1 management educator and guru by Business Week. Wendy Ulrich has been a licensed psychologist for more than 25 years. She co-founded Sixteen Stones Center for Growth, and has previously served as president of the Association of Mormon Counselors and Psychotherapists.
Together, they presented four questions for the graduating seniors to consider as they begin the next chapters of their lives: What do you want? How will you build? Whom will you serve? Will you believe?
They compared these questions to the biblical account of Adam and Eve, in which God asks questions of Adam and Eve as a means to teach them — not because He lacks the answers.
"From the very beginning, people have wanted their lives to make a difference for good in the world," Wendy Ulrich said. "On this important day, where are you? Where are you going? … Good questions start us on a quest, and although Christ posed over 100 questions during his ministry, we want to highlight four questions that God might ask you to help you figure out, today, where you are and where you're going."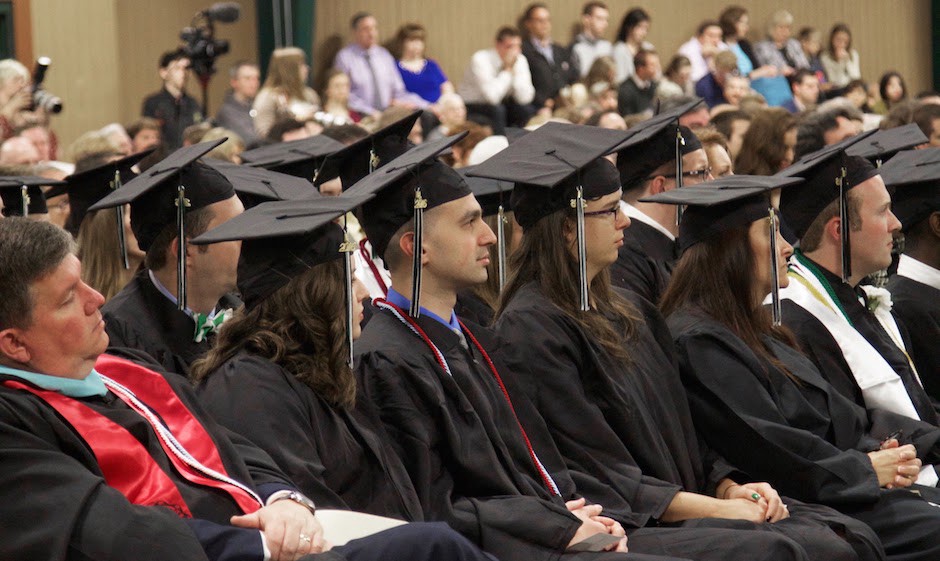 Dave Ulrich said that people often lose happiness because they sacrifice what they want most for what they want now, quoting statements from Gordon B. Hinckley, a past president of The Church of Jesus Christ of Latter-day Saints.
"To know what we want most, we have to think about our desires, our values, our strengths," Dave Ulrich said. "Define what you want by pondering what you want to be known for. When you know what you want, life is a little less scary."
On the topic of communities and team success, Dave Ulrich said that it is important to build each other up because "organizations are more important than individuals."
Wendy Ulrich asked the graduates to consider the most trying and painful experiences of their lives. Then she asked what they had learned from those experiences. The answers included patience, hard work, humility, love and forgiveness.
"Do we get it?" Wendy Ulrich asked, in response. "This is the gold that God spins from the straw of our mortal experience. This is what we came here to learn, and what makes us more like Him."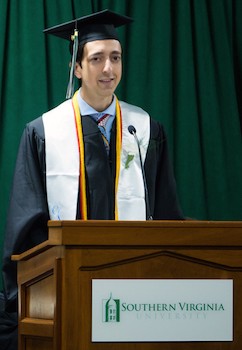 The two graduating seniors with the highest academic standing — Valedictorian Nathanael Rodriguez and Salutatorian Dan Cline — and Roosevelt Kpainay, who auditioned for the opportunity to represent his graduating class, also addressed the assembly.
Rodriguez, who double-majored in Spanish and biology, talked about the benefits he personally gained through a liberal arts education. He described how he was able to pursue studies in a variety of subjects, many of which were new to him.
"These opportunities and others, as they have added up over the course of my education, have increased [my] love of discovery and learning … adding richness to my perception of the world and a deeper appreciation for the interconnectedness of all knowledge," Rodriguez said.
Rodriguez commented on how his view of the world has developed in conjunction with "the culture of spirituality" at Southern Virginia and the ideas he has come into contact with and learned to internalize. He offered a special note of thanks to university donors and "all those who've made this place a reality," and extended this thanks specifically to Dr. Beth Schramm, professor of biology, who completed her final year at Southern Virginia this semester, along with his other professors.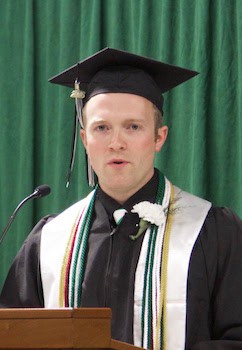 "From their example I've learned what motivation looks like, as they've created an environment where it's normal for all my teachers to know my name and go above and beyond to volunteer their time to help me and my classmates succeed."
Cline compared his experiences at Southern Virginia to his coursework at two other colleges. Early on during his time at Southern Virginia, he performed poorly on an exam and received an email from his professor asking what had gone wrong for him.
"This wasn't the first time I had struggled with a class, but it was the first time I had had a professor reach out to me individually," Cline said. "I came here and people cared about me. They knew when I was struggling. They knew when I did well. And because of them, I worked harder."
Cline also described the rigor of his coursework at Southern Virginia, including writing over 350 pages of academic assignments in three years of coursework.
"We have to work here, and that's normal here," he said. "We study. We write. We serve. We pray. And sometimes we sleep. But it pays off."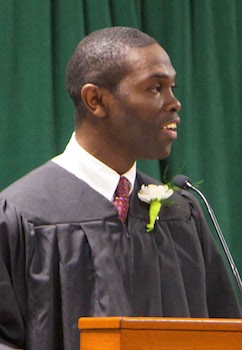 This fall Cline will begin medical school at the Kansas City University of Medicine and Biosciences.
Kpainay related his experience of arriving in the United States as a refugee. He and his family fled from a state of civil war in Liberia, ultimately coming to live in a low-income neighborhood in Maryland. As the first member of his family ever to attend college, Kpainay initially doubted his own ability to complete his bachelor's degree. However, the support he found from his professors, friends, church leaders and teammates encouraged him to stay his course.
"My associates at Southern Virginia University saw qualities and potential in me which I hadn't been able to see in myself," Kpainay said. "Each of us has the potential to become magnificent, but we need the help of others to make this happen. This is the essence of Southern Virginia University."
The Commencement ceremony ended with the traditional performance of "Shenandoah" by the university's Concert Chorale and alumni.