News Release
U.S. Naval Academy Coach Ken Niumatalolo to Speak at Forum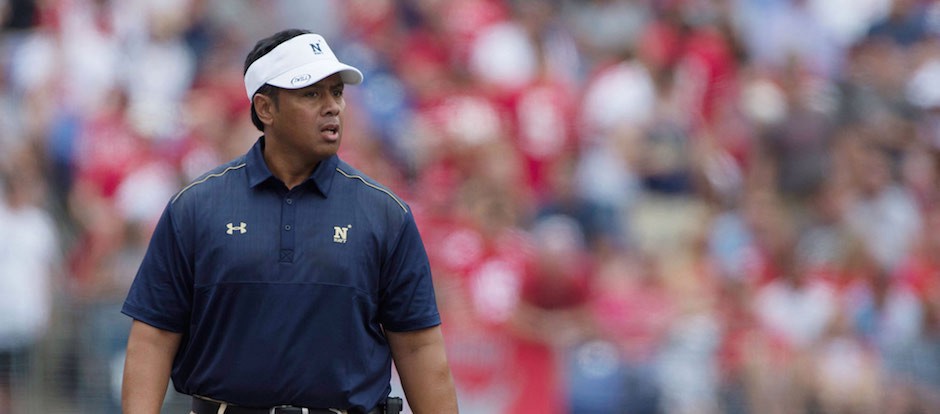 Ken Niumatalolo, head football coach at the United States Naval Academy who was featured in the 2014 documentary, "Meet the Mormons," will deliver the final forum address of Southern Virginia University's 2015–2016 academic year on Friday, April 22, at 11 a.m. in the Stoddard Center.
"We are thrilled to have Coach Niumatalolo visit campus and deliver the final forum address of the academic year," said Southern Virginia's President Reed N. Wilcox. "Personally, I am a fan of his football philosophy, as well as his leadership style and the interest he shows in his players and coaches."
An active member of The Church of Jesus Christ of Latter-day Saints, Niumatalolo — known by most as "Coach Ken" — is one of just a handful of LDS head coaches in all of NCAA Division I football. He has served the LDS Church in a number of capacities, including as a full-time missionary in California.
Niumatalolo is also the first ethnic Samoan collegiate head coach and only the second person of Polynesian descent to be named head coach of an NCAA Division I college football program.
Since becoming Navy's head coach in 2007, Niumatalolo has led the Midshipmen to seven winning seasons, including a program record 11 wins in 2015, and eight bowl game appearances with three straight wins from 2013 to 2015.
"Coach Niumatalolo is one of the best coaches in the country and an even better man," said current Southern Virginia Head Football Coach Joe DuPaix, who coached slot backs at Navy under Niumatalolo for three seasons from 2008 to 2010. "We are very fortunate to have him speak on our campus to our students."
During DuPaix's time with Niumatalolo in Annapolis, Navy appeared in three consecutive bowl games, won two Commander-In-Chief trophies and ranked in the top ten nationally for rushing offenses each season. DuPaix was also part of Navy's 10-win season in 2009, which culminated in a 35–13 rout of the University of Missouri in the Texas Bowl.
Niumatalolo will also meet with the Southern Virginia coaching staff and football team during his visit to help inspire the Knights for their upcoming 2016 season.
"We are excited about the direction our football program is headed and thankful for Coach Niumatalolo's willingness to mentor our coaches and players," DuPaix said. "We have an incredible staff, two of which have a combined 16 years in the NFL and a Super Bowl ring, who bring so much energy and experience to the program."
DuPaix said that he also appreciates the support of the entire campus community as he works to advance the university's football program.
"We are grateful for the commitment of President Wilcox and the university to the football program, and we are excited to break ground on a new stadium this summer," DuPaix said. "We are building our team one day at a time and looking forward to competing in one of the most elite conferences in NCAA Division III."
Community members and Southern Virginia faculty, staff and students are invited to attend Niumatalolo's forum address on Friday, April 22, at 11 a.m. in the Stoddard Center. Recordings of past forum and devotional speeches may be accessed online.