Spotlight
Alumna Balances Life as Dual-Immersion School Teacher, Musician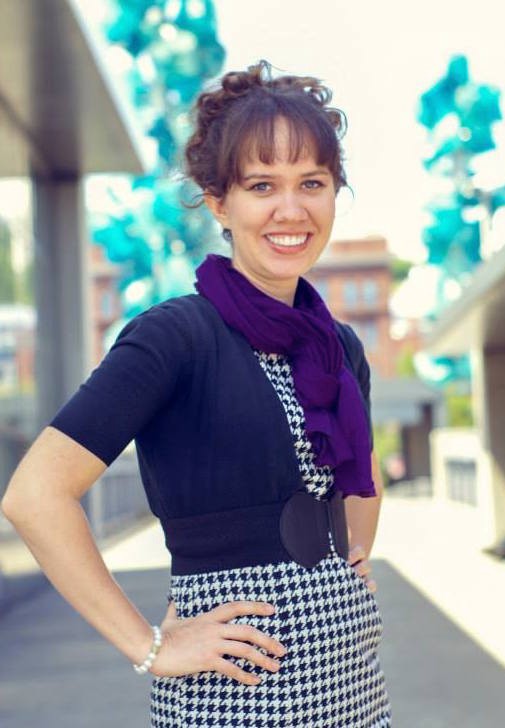 Running a robotics club, planning school assemblies, assembling third-grade units in two languages and adjudicating at Washington All-State harp auditions are normal parts of the day for alumna Julie Jarvis ('08), a teacher at Jing Mei Elementary School.
When she was a student at Southern Virginia University, Jarvis began the preparation to become a teacher. At that time, Southern Virginia did not offer a teaching licensure program, so Jarvis pursued a minor in early childhood education and took several courses from Kim Kearney, assistant professor of education, preparing to earn a teaching license after she graduated.
"Julie and I talked about her plans several times," said Kearney. "Even then, with only a minor in education, she gained some teaching practicum experiences, and she was able to teach in several elementary classrooms."
In addition to her education minor, Jarvis majored in music with an emphasis in harp performance.
"As a student, and even a little before, I had thought about being a teacher," Jarvis said. "My mom was a teacher and home-schooled [me and my siblings], so I was very aware of what went into teaching. That interest grew into a confident, 'I need and can teach' [attitude] once I started taking education classes."
After graduating from Southern Virginia, she earned a Master of Education as well as elementary education, special education, and English language learners endorsements from the University of Washington Tacoma. The ELL endorsement was particularly important to her because of experiences she gained as an undergraduate, teaching music in Kosovo during a travel study trip. During the trip, Jarvis took a crash course in Albanian so she could teach children in their native language.
"I am a firm believer in dual language instruction and believe that it does not hamper a child's acquisition of another language, but actually can enhance it," Jarvis said. "I believe that each child's language and culture is an asset, not a hindrance to the classroom."
Jarvis's interest in language, including her studies in French, Spanish, Italian and Albanian, was part of what attracted her to teach at Jing Mei, a dual-immersion elementary school in Bellevue, Wash. Students at Jing Mei spend half the day studying math, language arts and science in Mandarin, and half studying the same subjects in English. Some challenges unique to Jarvis's job are to coordinate closely with her Mandarin co-teacher to ensure that students meet learning standards in both Mandarin and English, and that the ideas and skills they teach transfer between languages.
Despite her long-term plans for a teaching career, music occupied most of Jarvis's time as an undergraduate. She performed regularly with the Southern Virginia University Orchestra and Concert Chorale. She also played the harp in several performances with the Rockbridge Symphony and the semi-professional University-Shenandoah Symphony Orchestra. She also performed frequently at faculty dinners, art galas, weddings, and Southern Virginia education conferences.
Her musical involvement continued when she returned to her home state of Washington after graduating from Southern Virginia. Jarvis earned a seat as principal harpist with the Ensign Symphony, has played with the South Sound Strings Harp ensemble for 5 years, adjudicates harp performances in Washington All-State competitions, teaches private harp lessons and continues to perform at weddings and other events.
"I didn't ever picture myself as a full-time professional musician," Jarvis said, "[So] I am surprised that my musical opportunities have taken off, even more than when I was at school."
Jarvis's background in music also helped her pursue her goal to teach at an elementary school. Soon after she completed her music major at Southern Virginia she gained teaching experience with private harp students, and her performance experience strengthened her poise and prepared her to perform daily as a teacher.
"It wasn't until I started performing as a musician that I gained the confidence that a teacher needs to 'own it' in front of a classroom," Jarvis said. "The real turning point in 'I can do this' teaching was when I taught music in Kosovo."
Although Kearney said that most elementary teaching licensure track students at Southern Virginia pursue a liberal arts major, which offers great deal of preparation in a number of fields they will later teach, Kearney expressed her trust in Jarvis's ability to succeed as a teacher.
"[Julie] was very dedicated and hard-working, and often went the extra mile on assignments," Kearney said. "She was enthusiastic, and was always searching for a deeper understanding about the field of education."
Jarvis expressed gratitude for the variety of experiences at Southern Virginia that prepared her for a career in teaching.
"[I want] to remind people that you really can do a lot with your education," Jarvis said. "My early childhood education classes, my music performance classes and my travel study experiences helped me prepare for the career and life I have today of being a third-grade teacher and a musician."