Spotlight
The Fading Point Performs National Anthem at Yankees Game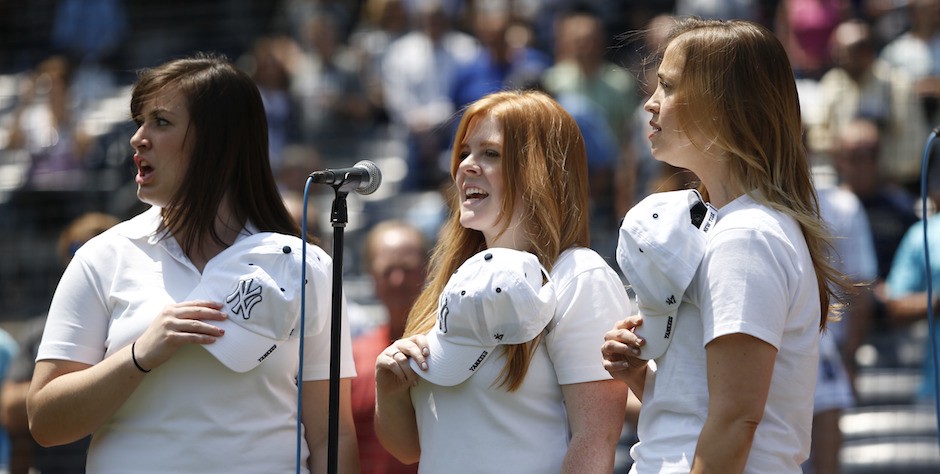 The Fading Point, Southern Virginia's premier a cappella group, performed the U.S. national anthem, "The Star-Spangled Banner," at a New York Yankees game at the Yankee Stadium May 27.
The Fading Point has previously toured both coastlines and performed at numerous firesides and events.
Kamberlynn Washburn, a junior from Abingdon, Md., who came to Southern Virginia and joined The Fading Point in the fall of 2013, said that the experience was unlike any other.
"[It] was completely awesome," she said. "I remember that as we walked onto the field, we kept saying to each other, 'This is the coolest thing I've ever done!' The day of the game, when we were lined up behind the mics, our school's green logo flashed all across the field as we were announced as 'The Fading Point from Southern Virginia University.' I felt so much pride in my university and I was overwhelmed with gratitude for the opportunity to represent the school."
Jane Blomfield, a member of The Fading Point from Cambridge, England, provided a unique perspective on the experience.
"The group was so patriotic when we were learning it," she said. "[When we sang] 'land of the free and home of the brave,' everyone [in the stadium] started cheering and screaming … and I was like 'Ah, don't mess up the lyrics!' … I felt like I was one of them even though I know I'm not. [I was] a British Canadian singing the national anthem, [but] that's just what America's about. They'll [accept] anyone."
In addition to numerous live performances, the group has recorded two albums, which are available on Spotify and iTunes as well as on CD. Their most recent EP album debuted last fall.
"[I've found] out that the group is about so much more than entertaining," Washburn said. "I traveled, prepared workshops, gave fireside talks, made lifelong friends, danced with youth, and talked to hundreds of people about the mission of Southern Virginia."
Both Washburn and Blomfield said that recruiting for Southern Virginia has been one of the most rewarding parts of being involved.
"I feel like if more people heard about it and knew that there was a school on the East Coast that catered to Mormon standards, they'd feel like there was somewhere where they belong," Blomfield said.
Washburn said that some of the things that strike her most about Southern Virginia are the value of "The Genius of Small" and the LDS environment.
"I love learning from the gospel perspective," Washburn said. "This was a big reason why I chose Southern Virginia. I also really connected with the leader-servant philosophy … and I wanted to be a part of a smaller campus where I knew I would have lots of opportunities to be involved and make a difference."