News Release
Southern Virginia Presents 'You Can't Take It with You' Nov. 6-7, 13-14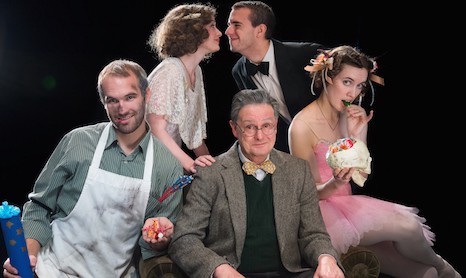 The Southern Virginia University Theatre Program will bring Moss Hart and George S. Kaufman's enduring comedy about the joys of individualism, love and family, "You Can't Take It with You," to the Performing Arts Center on Nov. 6–7 and 13–14 at 7:30 p.m.
"You can expect old-fashioned Broadway entertainment," said Robert Stoddard, the show's director. "It's that rare show that manages to be both genuinely funny and truly heartwarming."
"You Can't Take It with You" was first performed in 1936 during the Great Depression. The following year, the play won the 1937 Pulitzer Prize for Drama. A film adaptation of the play later received the Academy Award for Best Picture and Best Director.
"The plot is simple," said Stoddard. "Alice Sycamore is getting married, but she's worried that her fiancé's rich, straight-laced family won't approve of her own zany clan. A dinner is arranged, but fireworks ensue when the Kirbys show up on the wrong night and everything goes wrong. It's up to Grandpa to convince Mr. Kirby that life is fuller when you take time to have a little fun."
In addition to directing the play, Stoddard will also play the role of Martin Vanderhof, the grandfather.
"Grandpa quit his job one day and has spent most of his life 'relaxing' as he puts it," Stoddard said. "It's been wonderful to act on stage with the students and be reminded firsthand that what I ask of them as their director is often extremely demanding and challenging."
Brendan Whipple, a sophomore at Southern Virginia who will play the role of Boris Kolenkhov, said that he appreciates the unique opportunity to act alongside Stoddard onstage.
"It's really cool seeing this show go from a blank slate to a polished production," Whipple said. "I think [the audience] will be laughing most of the time. We're hoping that everyone will enjoy it a whole lot. It's a situational comedy so not only are the jokes funny, but the whole entire situation is humorous as well.
Amaree Cluff ('08), who recently received a Master of Fine Arts in acting from the University of Virginia and is now a theatre instructor at Southern Virginia, will play the role of Penny Sycamore. Cluff appears through the courtesy of Actors' Equity Association.
Tickets for the play are $8 for the general public and $6 for senior citizens, children, and Southern Virginia students, faculty and staff. Tickets can be purchased in advance by calling 540–261–8464, or at the door prior to each performance.