News Release
Professor Co-Writes, Directs Original Musical 'Mansfield Park' Feb. 13-14, 19-21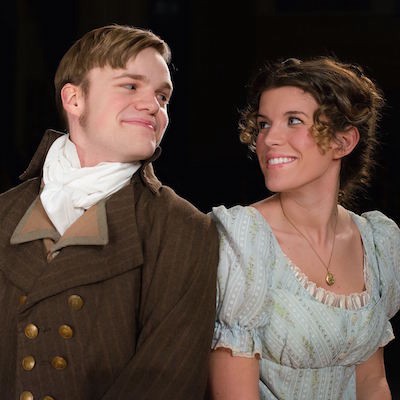 Southern Virginia University Professor Robert Stoddard and his daughter, Leigh Stoddard, co-wrote an original musical production of "Mansfield Park," which will be performed Feb. 13–14 and 19–21 at 7:30 p.m. in the Performing Arts Center at Southern Virginia.
The musical, which is based on Jane Austen's novel of the same name, follows the story of Fanny Price, a shy, insightful young woman who is sent to live with her aunt at Mansfield Park.
"My daughter and I were attracted to this lesser-known Austen book because of its message about following your conscience," said Robert Stoddard, who is also the show's director. "We've combined Austen's witty, ironic style with a lush, rhapsodic musical score. It will be a perfect Valentine's Day offering. Everyone can relate to a story full of romantic twists and turns about choosing unwisely in love."
Previously, Robert Stoddard and Leigh Stoddard have collaborated on two other projects: a stage adaptation of Austen's "Pride and Prejudice" and a new musical version of "Little Women." Each production has debuted at Southern Virginia. Robert Stoddard said that "Mansfield Park," which is the first of the three projects to include an orchestrated score, has been the most difficult to write.
"The songs are very romantic and cry out for the lush colors of the orchestral instruments," he said. "But orchestrating the score has added another set of jobs to my to-do list."
The cast includes 15 student actors as well as several community members. The lead characters, Fanny Price and Edmund Bertram, are played by Kailey Simmons and Spencer Franco, respectively.
"I like how Edmund grows throughout the show from being blind to being able to see what people are actually like past the persona that they put on," said Franco, a theatre major from Baltimore, Md. "[This musical] is very witty and fast-paced. The characters are really well developed in just a few words. … And on top of Jane Austen's characters, you have Professor Stoddard's music, which just really amplifies the quality of the show."
Robert Stoddard said that he is pleased as a director with how hard the cast has worked to make the show a success.
"They're so supportive of us and they go the extra mile," he said. "They're working really well and this music is not easy stuff. Everybody has been really at their best. As a director, I'm very happy."
Tickets for "Mansfield Park" are $10 for the general public and $7 for senior citizens and Southern Virginia students, faculty and staff. Tickets can be purchased in advance by calling 540–261–8464, or at the door prior to each performance.