Spotlight
Professor, Artist Barbara Crawford Receives Elton Award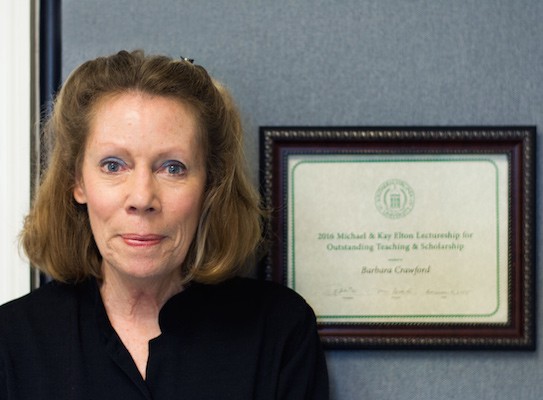 In the last forum of the semester, Southern Virginia University Provost Madison U. Sowell announced that Barbara Crawford, professor of art, is the recipient of the 2016 Michael and Kay Elton Lectureship for Outstanding Teaching and Scholarship.
Crawford has taught at Southern Virginia for more than 35 years. She teaches art history, studio art and multimedia design. She has led more than 30 travel study trips, teaching students about the art, culture and history of Italy.
The Elton award, established by Michael Elton, a member of the Board of Trustees at Southern Virginia, annually honors a member of the faculty who has demonstrated outstanding teaching and scholarship. As the recipient of the award, Crawford will deliver a formal address in a forum during the coming spring semester. In addition, the award carries with it a $5,000 stipend.
"[Professor Crawford] is an acclaimed artist who has exhibited in over 50 solo, invitational and juried shows, nationally and internationally," said Provost Sowell. "She has been a fellow at the Tyrone Guthrie Center for Creative Art in Ireland, the Virginia Foundation for the Humanities, the Virginia Center for Creative Arts, and the Scuola Internazionale di Grafica in Venice."
Most recently, Crawford was visiting artist at the American Academy in Rome earlier this year. Last year, she participated in a solo exhibit at Lexington's Keirnan Gallery, an exhibit at the Nelson Gallery, and a national juried show, "Adaptations," sponsored by the SCA Contemporary Art Gallery.
"In 2009, she was Cy Twombly's assistant for the creation of The Ceiling in the Louvre Museum in Paris," said Provost Sowell. "I extend heartfelt congratulations to our much-appreciated professor of art, Barbara Crawford."
The American Scholar detailed Crawford's experience painting The Ceiling at the Louvre with Twombly in an in-depth feature story.