News Release
President of Graceland University to Give Forum Sept. 25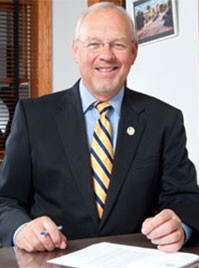 Dr. John Sellars, president of Graceland University, will give a forum address on Friday, Sept. 25, at 11 a.m. in the Stoddard Center at Southern Virginia University.
Sellars has served as president of Graceland since 2007. Prior to coming to Graceland, Sellars served as president of Drury University in Springfield, Mo. He has also served as both vice president for institutional advancement and as a professor at Graceland.
Sellars has also led institutional advancement teams at Michigan Technological University and Syracuse University. He received the Navy Unit Commendation and Vietnam Service medals for his service in the Navy during the Vietnam war. He has also held positions on the Cox Health Systems Board, the Iowa governor's Leadership Development Institute, the Michigan Governor's Economic Development Board, the New York Development Agency and the Southern Missouri Leadership Forum. He has been a volunteer fundraiser for the Boy Scouts of America, the United Way Appeal, Rotary Clubs, Lions' Clubs, the American Red Cross and numerous church efforts.
Sellars received a bachelor's degree from Central Missouri State University and both a master's degree in public administration and a doctorate from the University of Missouri, Kansas City. He also completed coursework at Harvard University's Institute for Educational Management, the Wharton School in Strategic Planning and Higher Education Marketing, and Harvard University's New Presidents' Seminar.
Sellars has served as a consultant to the University of Missouri, the Thompson Foundation, the India Institutes of Technology, Mankato State University and several national publications. He has also served the Community of Christ as a full-time bishop.
Community members and Southern Virginia faculty, staff and students are invited to hear forum and devotional speakers each Friday morning at 11 a.m. in the Stoddard Center. Recordings of past forum and devotional speeches may be accessed online.