Spotlight
New VP Brings His 'Service Orientation' to Student Life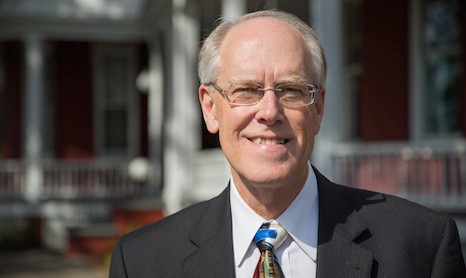 After nearly 40 years in academia, Dr. Charles E. Bowen's career has led him to serve at Southern Virginia University as vice president of student life.
He and his wife first came to Southern Virginia when their son was a first year student and baseball player in 2002.
"I remember the reaction my wife and I had when we first came to campus," he said. "[We thought] 'Oh, there's something very special about this place.'"
The Bowens returned for baseball games periodically and began attending the university's annual Education Conference. After meeting some of the university's leaders, including Provost Madison U. Sowell, Bowen eventually accepted a position at Southern Virginia earlier this year.
Bowen brings with him over 17 years of experience as a faculty member and 18 years of experience in student life. Previous to his work at Southern Virginia, Bowen was a professor of leadership and ethics at Georgia's Kennesaw State University. While there, he also worked in student life as dean of student success and as interim chair for the Department of Educational Leadership. He said that a number of people have told him that his career seems to have prepared him perfectly for his role at Southern Virginia.
"I know [President] Reed Wilcox said, 'Everything you've done in your career has led to you being at Southern Virginia in this place and at this time,'" Bowen said.
When he officially commenced his work at Southern Virginia this summer, he worked with resident advisors and head resident advisors as they prepared for the semester and was involved in training orientation leaders.
Bowen has joined a group of dedicated individuals in the Office of Student Life, including Joe Bouchelle, dean of students, who has served at the university in a variety of capacities since 1997.
"I think [Bouchelle] has done a tremendous job in developing the Office of Student Life," Bowen said. "He's devoted so much of his life, and is such a good person. I just admire his love for the students."
Bowen is currently working with Bouchelle and others to organize an area in student life dedicated to coordinating community service in Buena Vista. This will enable students, clubs and athletic teams to more readily serve in the community.
"We're all about leader-servants, we want to involve as many students in activities and leadership opportunities as we possibly can," he said.
He said that service has become a primary focus in his life and that he has "a very strong service orientation." He cites this orientation as being one of the integral factors in his decision to join The Church of Jesus Christ of Latter-day Saints, which he and his wife, Claire Bowen, joined together after they were married.
"What kind of got me was even before we became members, members were coming over to our house, helping [and serving us]," he said. "And I thought 'That's something that we would enjoy doing.'"
This service orientation is also one of the things that attracted him to Southern Virginia.
"Our students are amazing in their willingness to give up their time [and] to work with other students to accomplish their goals," he said. "Southern Virginia has probably around 90 percent [of its student body] engaged. … It's just incredible."
He said that being involved with these "amazing" students is what student life is all about.
"I like to think that in student life, we're aware of all the fabulous qualities and traits that our students have, and we build on those and we do everything we can to help them accomplish their goals," he said. "The only thing I'm disappointed in is that I haven't learned everyone's names."
With the majority of his tenure at Southern Virginia ahead of him, Bowen said that he considers his efforts and role here to be the climax of his long career in academia and agreed that his career has led him here.
"It was a combination of our son being here, falling in love with the place, and being influenced by some wonderful people to come here and have this be the culmination of a career [and] service," he said. "I want the students to know that I am very excited to be here for them."