News Release
Dr. Dane McBride Named Next Chair of Southern Virginia University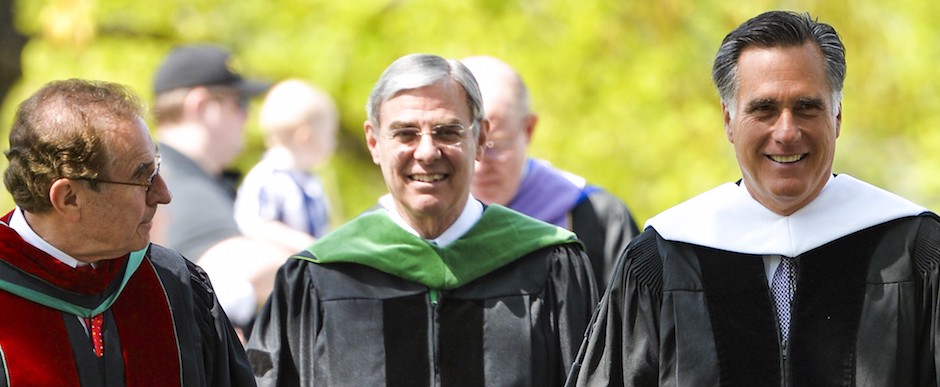 Southern Virginia University President Reed N. Wilcox today announced to assembled students, faculty and staff that the university's Board of Trustees has unanimously elected Dr. Dane McBride as its next chair effective July 1, 2015.
Chairman-elect McBride has served as a trustee on Southern Virginia's board since 2001 and as the board's vice-chair since Oct. 10, 2012.
"Dr. McBride's unanimous election as the next chair of our Board of Trustees is a testament to the maturation and strength of Southern Virginia University," President Wilcox told the gathered campus community. "Dr. McBride has been an advocate and supporter of Southern Virginia since its inception and he is perfectly prepared and situated to successfully lead our university and its accomplished Board of Trustees."
McBride's chairmanship will follow an 18-year term of service by Founding Chairman Glade M. Knight, who led the group of visionary philanthropists that renewed Southern Virginia in 1996 as a four-year, private college dedicated to providing the finest personalized educational experience available within an uplifting Latter-day Saint environment.
"There are insufficient words to express our gratitude for Chairman Knight and all that he and his wife Kathleen have accomplished and sacrificed in the building of this university," said President Wilcox. "Because of his vision, this university has blessed thousands of lives for good and will continue to bless countless more."
President Wilcox explained that Chairman Knight would continue serving in his current capacity through the university's present fiscal year, which ends on June 30, 2015, before rotating off the Board of Trustees. This transition, stated President Wilcox, is consistent with the policy of Southern Virginia's accreditation authority, the Southern Association of Colleges and Schools Commission on Colleges, which states that the chair of a university's board of trustees should rotate on a regular basis.
"Although SACS accreditation did not require a change in leadership this year, Chairman Knight chose the timing of this transition because of his confidence in the university's outstanding faculty and administration, and its exceptional trustees," President Wilcox continued. "Chairman Knight emphasized to me that he remains fully committed to the success of Southern Virginia. This transition will empower Dr. McBride and others to step forward to help the university in new ways."
In addition to serving on Southern Virginia's Board of Trustees for the past 15 years, McBride has also served by appointment from the Governor of Virginia on the Roanoke Higher Education Authority's Executive Committee since 2013.
McBride is a distinguished physician, Board certified in both pediatrics and allergy and clinical immunology. He has lived and practiced medicine in Roanoke, Va., for more than 30 years.
Currently, McBride serves as president of the Asthma and Allergy Society of Virginia. He has also served as clinical associate professor of medicine at the University of Virginia, teaching and training medical students and resident physicians in his clinical specialties.
He received a bachelor's degree in French from Brigham Young University and a Doctor of Medicine from Wayne State University. He also completed a pediatric residency in Honolulu, a clinical practice as a pediatrician, and fellowship training in allergy and clinical immunology. Additionally, he served in the U.S. Army Medical Corps for nine years.
A member of The Church of Jesus Christ of Latter-day Saints, he has served the Church in numerous capacities, including as a full-time missionary in France and president of the Roanoke Virginia Stake. Currently, he serves as director of public affairs for the seven-stake area of Western Virginia and West Virginia.
He and his wife, Karma McBride, have three children — two of whom met and married their spouses while attending Southern Virginia — and seven grandchildren.
"This is a major milestone in the history of Southern Virginia University," said President Wilcox. "We are embarking on a new era of development and growth, and Dr. McBride is uniquely qualified to help guide us forward."