News Release
Southern Virginia to Begin Construction on Knight Stadium

Southern Virginia University President Reed N. Wilcox recently announced that the university will begin construction on a new stadium at The Fields with the help of a generous donation from Glade Knight and his family.
The Southern Virginia University Knight Stadium will provide seating at athletic competitions for football, men's and women's soccer, and men's and women's lacrosse. Additionally, the new stadium can serve as a special events center and venue for outdoor concerts.
Construction designs for the new stadium are nearly complete and the necessary approval requests will be filed shortly. If approvals and permits develop as planned, site work and construction could begin as early as this spring.
"We're extremely grateful to the Knight family for anchoring this important project," said President Wilcox. "This is a statement of commitment to the future of athletics, and strong programs in football, soccer and lacrosse and all of our sports. We are building a great university, which includes a balance of great academics, great athletics, and great student experiences."
More than 40 percent of students at Southern Virginia compete in its NCAA Division III athletics program and more than 90 percent of the university's students are involved in at least one major extracurricular activity such as athletics, performing arts, clubs and student association leadership, compared to five to ten percent nationally.
"Our students are doers; they are the motivational elite," President Wilcox said. "We want to provide excellent facilities to help them excel in their respective sports and extracurricular programs. This new stadium will help us support our students' growth as individuals, team members, and leaders. It will also be a great gathering place for the university and the community."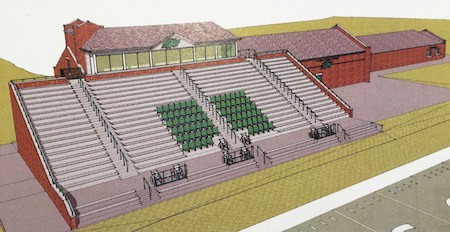 The stadium will initially seat about 1,000 spectators and will also feature locker rooms, restrooms, a press box, concessions space, a plaza area and a ticket booth.
"We are thankful beyond words to the Knight family and look forward to this stadium benefitting all students at Southern Virginia University," said Director of Athletics Jason Lamb. "We feel privileged to see this next phase of growth that will allow us to compete with any other program in Division III."
Southern Virginia currently sponsors 16 NCAA-level varsity sports teams, 15 of which compete in the Capital Athletic Conference. The Knights football team plays in the New Jersey Athletic Conference (football is not currently sponsored by the CAC).
In addition to announcing the new stadium, President Wilcox also discussed the university's priorities and plans for growth.
"We are working toward a state-of-the-art academics center and a performing arts center," he said. "As we complete the new Walnut Avenue Apartments and start construction on the Knight Stadium, we are going to work to raise the funding for these next two major university additions.
President Wilcox expressed gratitude for the donors who make capital projects possible.
"We are grateful for those who have so generously supported the university in the past and hope that many more will become involved in our mission as we move forward," said President Wilcox. "There is destiny at work here and we are all privileged to be a part of it. I'm grateful to be here with the exceptional students, faculty, and professional staff at this university."