News Release
Emeritus General Authority to Give Homecoming Devotional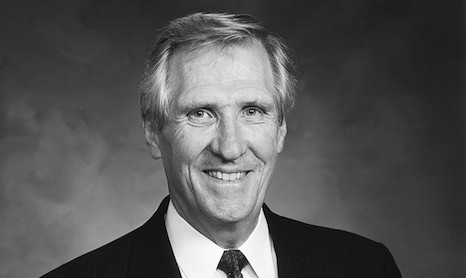 Elder Rex D. Pinegar, an emeritus general authority of The Church of Jesus Christ of Latter- Day Saints, will give a devotional address during Homecoming on Friday, Oct. 9, at 11 a.m. in the Stoddard Center at Southern Virginia University.
Elder Pinegar began serving on the First Council of the Seventy in 1972. He was later called to serve in the First Quorum of the Seventy when it was formed in 1976. Since then, he has served in the First Quorum of the Seventy, as a counselor in the Church's Young Men general presidency, as president of the Church's North America Southeast Area, and as a member of the Presidency of the Seventy. After he was designated as an emeritus general authority in 2001, he and his wife, Bonnie Lee, served as president and matron of the Church's Mt. Timpanagos Utah Temple for three years.
Prior to his service as a general authority, he served the Church in a variety of capacities, including as a mission president and as a member of the Sunday School general board.
Elder Pinegar also served his country as a member of the United States Navy for a term of four years. After his time in the Navy, he married his sweetheart and pursued a bachelor's degree from Brigham Young University. He went on to earn a master's degree from San Francisco State College and a doctorate in education from the University of Southern California.
Following his formal education, Elder Pinegar took a seat as a member of BYU's special education faculty and was later appointed chairman of educational psychology in the university's College of Education.
Community members and Southern Virginia faculty, staff and students are invited to hear forum and devotional speakers each Friday morning at 11 a.m. in the Stoddard Center. Recordings of past forum and devotional speeches may be accessed online.