News Release
Dean Bouchelle, Student Body President to Give Devotional Jan. 16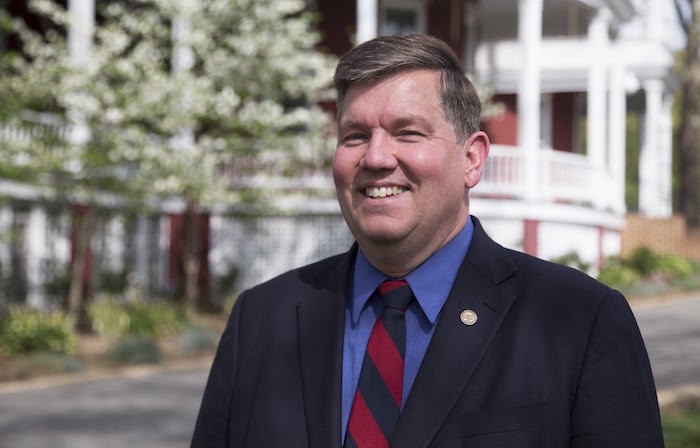 Joseph Bouchelle, dean of students at Southern Virginia University, and Kirsten Laurence, student body president, will give a devotional address on Friday, Jan. 16, at 11 a.m. in the Stoddard Center at Southern Virginia.
Bouchelle has worked at Southern Virginia since 1997. In addition to his current role as dean of students, he has served as an instructor of English and education, admissions officer, registrar, soccer coach, and advisor to the student comedy troupe "Shenanigans." He was named national coach of the year when he led the Southern Virginia women's soccer team to win the national small college championship in 1999.
A graduate of the Virginia Military Institute, Bouchelle served in the United States army for four years, attaining the rank of captain. In addition to serving his country, Bouchelle is active in serving his community and serves as a board member of "Celebrate Buena Vista!" a non-profit organization that promotes Buena Vista, Va.
He previously taught and coached for three years at the Seoul International School in South Korea. There, he was inducted into the honorary teaching fraternity, Phi Delta Kappa. He has also taught at Fork Union Military Academy, where he also served as the yearbook and newspaper advisor and coached soccer, basketball, and volleyball.
He received a bachelor's degree in English from the Virginia Military Institute and a master's degree in English education from the University of Virginia. He is currently pursuing a doctorate in higher education at the University of Virginia. His research interests include spirituality and leadership in higher education. He was a fellow at the Central Virginia Writing Project and he received the Lily Dabney Scholarship for the summer program in English Literature at Oxford University.
Laurence is a business management and leadership major from Bountiful, Utah. She is a music minor and regularly performs in the university's flute choir. She also plays on the Southern Virginia women's tennis team and enjoys volunteering at the Rockbridge SPCA.
Community members and Southern Virginia faculty, staff and students are invited to hear forum and devotional speakers each Friday morning at 11 a.m. in the Stoddard Center. Recordings of past forum and devotional speeches may be accessed online.