Spotlight
Concert Chorale Performs 'Requiem' with Roanoke Symphony

The Southern Virginia University Concert Chorale performed Gabriel Fauré's "Requiem" with the Roanoke Symphony Orchestra and Chorus and another guest choir at the Roanoke Performing Arts Theatre last week.
This is the fourth year the Concert Chorale has been invited to join the Roanoke Symphony Orchestra for one of its Masterworks concerts, having previously participated in performances of Leonard Bernstein's "Chichester Psalms" in 2012, Beethoven's "Symphony №7" and "Calm Sea and Prosperous Voyage" in 2013, and Sergei Prokofiev's "Alexander Nevsky Cantata" in 2014.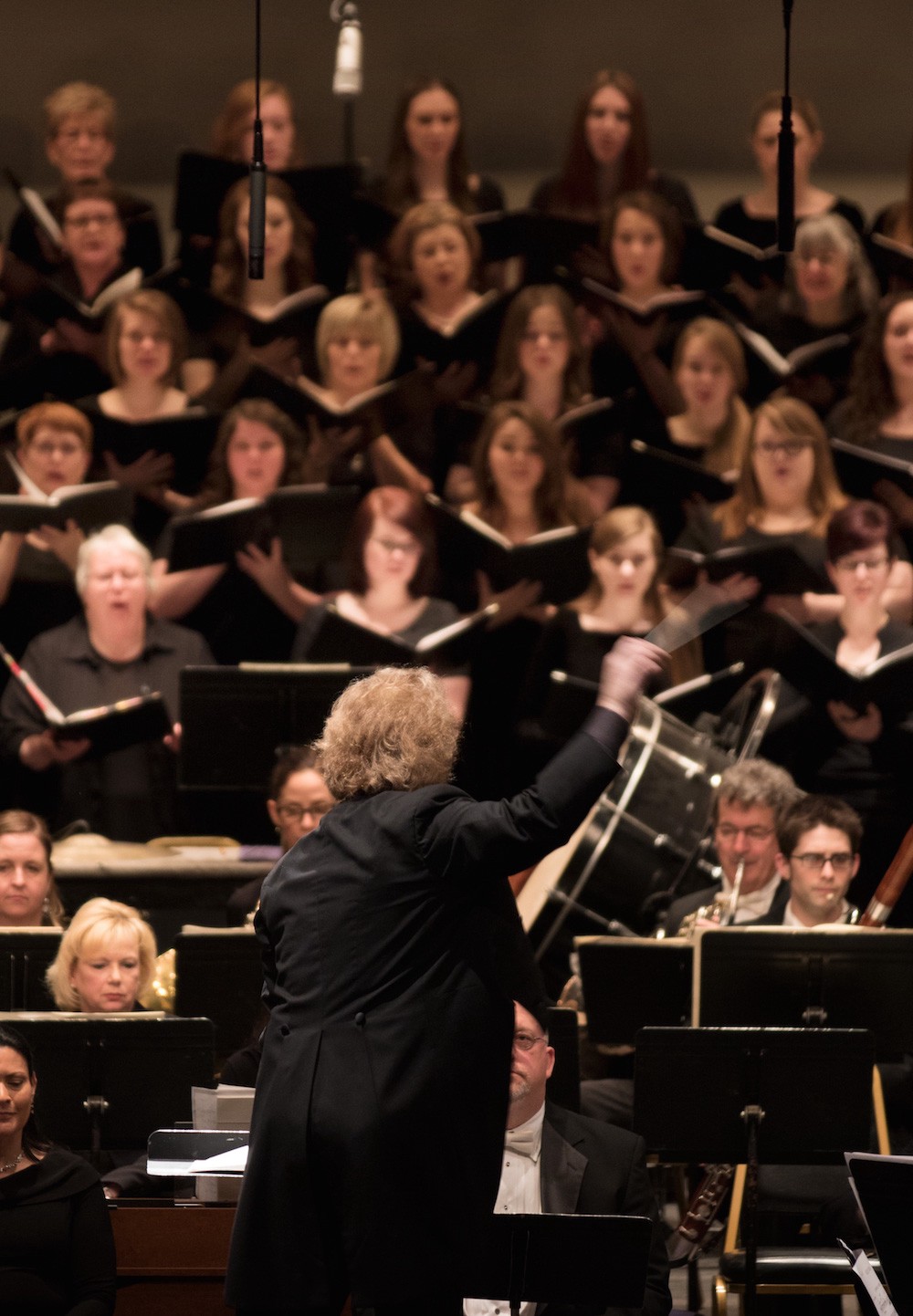 Dr. David Stewart Wiley, who serves as music director and conductor of both the Roanoke Symphony Orchestra and New York's Long Island Philharmonic, conducted the performance. Fauré's "Requiem" is a seven-movement work in Latin that includes parts of the Roman Catholic Mass of the Dead and tells a prayerful story of redemption and grace. In addition to the choirs and orchestra, two guest soloists, Leah Marer Wiley and Powell Leitch, performed in the "Requiem."
"The previous three years, we've sung very bright, energetic, full-voice kinds of compositions," said Dr. La Rae Carter, music program coordinator at Southern Virginia. "This year, when we did Fauré's 'Requiem,' it was subdued. It was more sacred, it was more sensitive — musically and in every other way — than any of the others. It's very spiritual."
The experience provides Southern Virginia students the opportunity to sing not only with a professional orchestra but also with Liberty University's Concert Choir and the Roanoke Symphony Chorus. The process included a rehearsal with Chorus Master John Hugo the week prior as well as a rigorous rehearsal with the combined choirs and orchestra the day before the performance.
"The collaboration with Liberty University is wonderful, [as is] working with their director, Dr. John Hugo," said Carter. "It's all-around a great experience."
Carter also expressed her appreciation for the opportunities for the choir to "perform these extraordinary works which you can't do on an ordinary scale" and to "sing with a professionally-directed orchestra."
Audra Bertagnole ('15), a senior at Southern Virginia who is majoring in both theatre and music, has participated in previous years' performances with the Roanoke Symphony, but this year she had the opportunity to direct the Concert Chorale for part of the rehearsal period.
"[I felt] more invested in it, and it meant more to me when we performed it so well," she said.
Bertagnole said that the most remarkable part of the experience was the opportunity to collaborate with the orchestra and other choirs.
"Dr. David Wiley is extremely talented and a gifted conductor, but so much fun to work with as well," Bertagnole said. "[And] we always love working with Dr. Hugo because he expects the best we can give. It's a delight to work with the other choirs as well."
Southern Virginia's Concert Chorale will perform Fauré's "Requiem" again at the university's spring choral concert on Friday, April 24, at 7:30 p.m. in Chandler Hall.