News Release
Chairman Glade Knight to Speak at Commencement May 7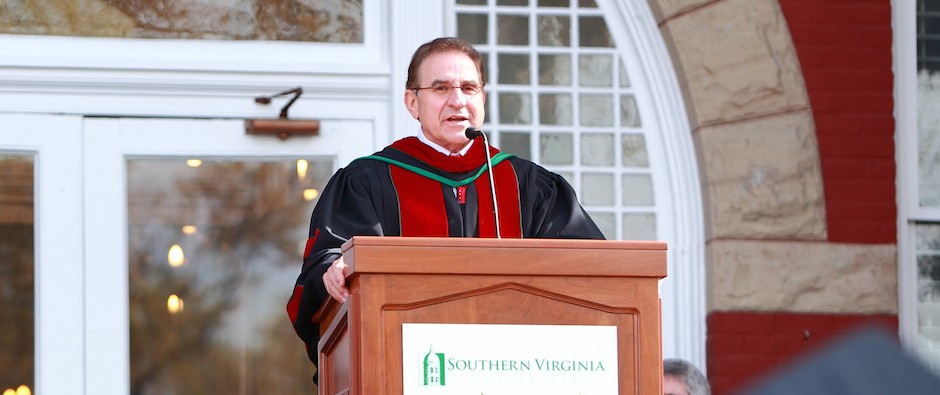 Glade Knight, chairman of the Southern Virginia University Board of Trustees and executive chairman of Apple Hospitality REIT, will speak at the university's 147th Commencement ceremony on Thursday, May 7, at 10 a.m. in front of Main Hall.
"Chairman Knight has faithfully served the university since 1996, when he and a group of others with a pioneering spirit revitalized it as a four-year college with a Latter-day Saint environment," said Southern Virginia President Reed N. Wilcox. "This will be his last Commencement as chairman of our Board of Trustees and we are thrilled to have the pleasure of hearing from him."
An entrepreneur, Chairman Knight founded and served as CEO of several real estate investment trusts — including Apple Ten, Apple Seven and Apple Eight — which were merged into one company, Apple Hospitality REIT, in 2014. He has also served as chairman and CEO of several other companies including Apple Six, Apple Five, Apple Two and Cornerstone Realty Income Trust, Inc.
He has also served as a trustee of Colonial Properties Trust and as a partner and CEO of Energy 11 GP, LLC. He has served on boards and councils including the Advisory Board to the Graduate School of Real Estate and Urban Land Development at Virginia Commonwealth University, the National Advisory Council for Brigham Young University, and the Board of Trustees of the First Freedom Center.
Chairman Knight attended BYU and received an honorary doctorate of humane letters from Southern Virginia. He also served in the U.S. Army from 1968 to 1971.
He founded two ranches, Slate River Ranch in Buckingham, Va., and Slate River Weatherford in Weatherford, Texas. Slate River Weatherford received the distinction of "Top Owner and Top Breeder, All Ages, All Divisions" in 2008 and 2010 and has received high honors at a number of competitive events. Together, the two ranches encompass more than 2,800 acres.
In honor of his father, Mac J. Knight, who was also an avid rancher, Chairman Knight founded the Cowboy/Cowgirl Ethics Scholarship at Southern Virginia in 2012. The scholarship annually awards one student with $1,000 in financial aid, an all-expenses paid trip to one of the Slate River ranches, and a pair of custom-made cowboy boots.
Chairman Knight has also contributed a number of significant donations to the university, including the multi-purpose turf field used for football, soccer and lacrosse at The Fields; The Lofts, a 51,000 square foot residence hall; and the Knight Statue.
His wife, Kathleen Knight, has also served the university in a number of ways, including by annually organizing an Education Conference at the university for the past 18 years. The 19th Education Conference will take place a month after Commencement, on June 12–13.
The Knights are both active members of The Church of Jesus Christ of Latter-day Saints. Chairman Knight has served the Church in numerous capacities including as a full-time missionary in England, as a bishop, as a stake president and as a patriarch. Kathleen Knight has served as an institute teacher for the Church Educational System for the past 10 years and also served as an early-morning seminary teacher for 14 years, teaching each of her children throughout four years of seminary.
The Knights have four children and 15 grandchildren.
Southern Virginia University is the only private liberal arts college that serves Latter-day Saints and those with similar values. Founded in 1867 as a school for women, Southern Virginia was renewed in 1996 as a four-year, coeducational institution with a code of honor based on the teachings and tenets of the Church.