News Release
Southern Virginia Presents 'Bells Are Ringing' June 5-6, 11-13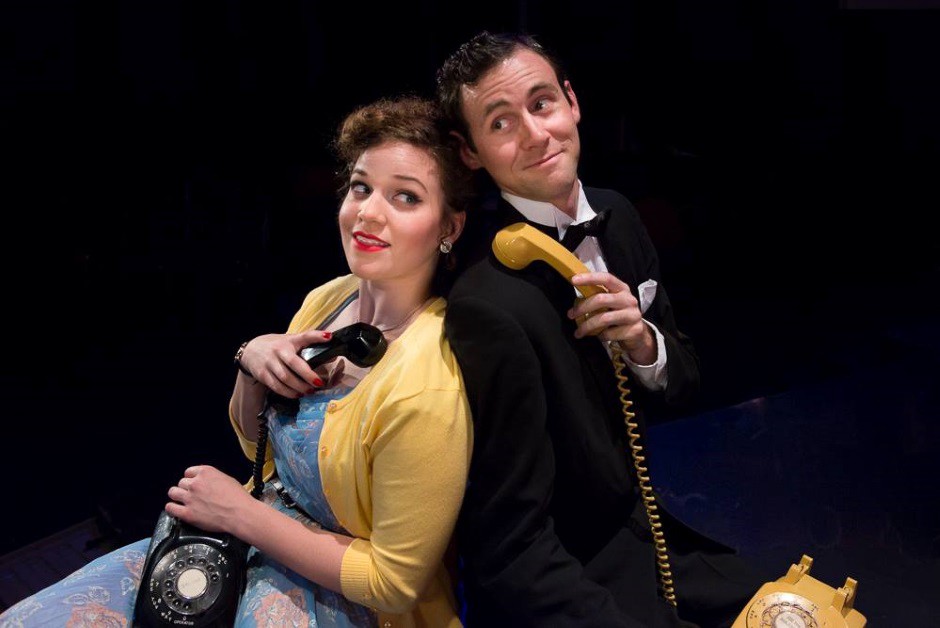 Southern Virginia University's theatre program will present the musical "Bells Are Ringing" June 5–6 and 11–13 at 7:30 p.m. in the Performing Arts Center.
The musical was originally written by Betty Comden and Adolph Green with star Judy Holliday in mind for the lead character, Ella Peterson. Dean Martin later played across from Holliday in the 1960 film adaptation. Southern Virginia's production will star recent graduates Jessie Jolley ('15) and Patrick Summers ('15) as Ella Peterson and Jeffrey Moss.
The musical tells the story of Ella, a young woman working at a telephone answering service who has a tendency to become involved in the lives of the people she speaks to. She eventually falls in love with Jeff, a playwright who is struggling with writer's block, and the story continues from there.
Robert Stoddard, associate professor of theatre at Southern Virginia, is directing the play with Audra Bertagnole ('15) as associate director. Stoddard said that "Bells Are Ringing" struck him as perfect for this summer's musical.
"It's been on my shortlist for a long time," he said. "I think it has all the right ingredients for a summer show. It's light, very, very clever and smart and tuneful. … All of the actors in the show are talking about how they go home every night with a different song stuck in their head because the music is so lighthearted and happy."
The musical requires one of Southern Virginia's largest casts with a total of 26 students, in addition to the number of students who are involved in the technical aspect of the show. Despite having to organize such a large body of people, Stoddard said that the experience of working with this cast has been a good one.
"I've really enjoyed working with this cast," he said. "Their attitudes have been so great — from the leads to the chorus members. There are lots of new people in this show, and … seeing what they do with [their parts] has been really fun [and] delightful."
Heidi Glauser, a junior and theatre major from Holladay, Utah, has been involved in the Southern Virginia theatre program since fall 2013. She said that one of the biggest charms of "Bells Are Ringing" is that it "will appeal to all sorts of people."
"It'll appeal to the older generations that actually remember Judy Holliday and Dean Martin and Vincent Minnelli, who directed the movie," she said. "And the younger generations, I think, will find it fun to see how they lived their lives back then and how technological changes have really changed the way people live. [This play is] so fun because it has the perfect amount of crime, the perfect amount of romance, the perfect amount of comedy."
Tickets for "Bells Are Ringing" are $10 for the general public and $7 for Southern Virginia faculty, staff and students. Tickets can be purchased in advance by calling 540–261–8464, or at the door prior to each performance.