Spotlight
Graduating Seniors Create, Display Art for Senior Show
This year's annual senior art show featured the work of 12 Southern Virginia University art majors and included an array of media including oil painting, printmaking, mixed-media, water-based media, charcoal and handcrafted apparel.
Doug Himes, assistant professor of art at Southern Virginia, described the show as an opportunity for the graduating art majors to display their competency and growth.
"It's a process of finding out what you have to say and how you prefer to say it visually," he said.
Himes said that one of the unique qualities of this year's show was the connectedness of the students and the intensity of their influence on one another.
"They know each other, they're friends, they support each other," Himes said. "You're going to see some very strong work due to that support for each other, that collegiality and friendship that has developed between them."
Cassidy and Mitch Mantle, both of whom graduated this month with bachelor's degrees in art, cited their friends and fellow art graduates as sources of inspiration.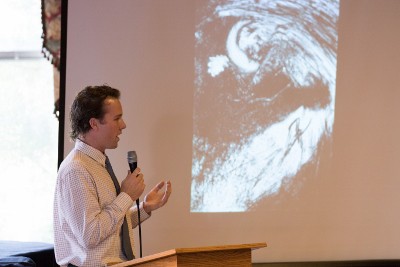 "Most of us are all friends, so it was easier for us to help each other and critique each other and also to push each other," said Mitch Mantle. "If I was in the studio, I felt like it pushed other people to be in the studio, and when other people were in the studio, I wanted to be in the studio. I am a little bit competitive, but it just showed me that I need to work harder."
He chose printmaking as his medium and worked nearly every day to produce 11 pieces this semester, eight of which were displayed in the show. His work was inspired by his father's life. He said that his close relationship with Himes, whom he calls his "mentor," encouraged him to incorporate elements of his life into his work.
Cassidy Mantle settled on an art major indirectly. Originally an English major, she said that she didn't seriously consider art until the summer she married Mitch Mantle, when she realized that none of the wedding dresses she could find in stores suited her.
"I just didn't like how any of them looked," she said. "I didn't like how they felt; they felt the same. So I got home from school, and I just decided to make my own. That was an experience in itself, and it made me realize what I could do. I could design and I could create and I could love it."
When she returned to Southern Virginia that fall, she began to study art and eventually declared it as her new major. She continued to pursue design and chose to handcraft three gowns for her senior show. The project required her to study the human figure, pattern-drafting, and sewing. She also said that her studies in English and other disciplines at Southern Virginia have affected her art and are represented in her work and the work of her peers.
"Since it is a liberal arts education, you learn so much here about everything," Cassidy Mantle said. "You can take what you've learned about English, from the literature we're reading, and apply it to whatever you're doing in life. I think that shows in all of our artwork."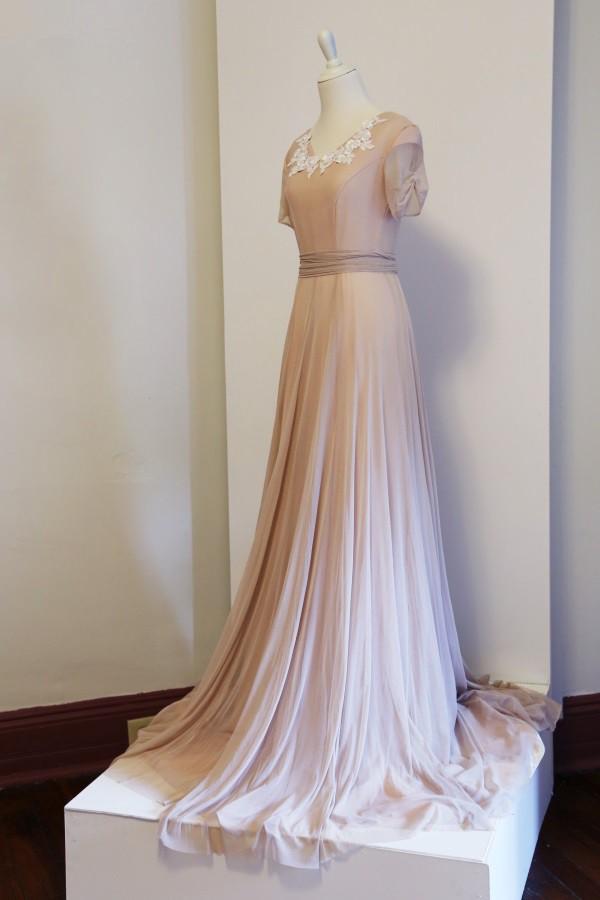 Himes said that the primary aim of the senior art show is to help students realize just what they can do as well as the importance of sharing their ideas with each other and the world.
"I want them to be confident, and that confidence is based on the knowledge that they can work hard, and that's what accomplishes everything," Himes said. "One of the accomplishments is allowing them to find their voice and allowing them to be good enough at art that they can create something articulately so that it's meaningful and profound to them as well as to all of us. The best artists are going to talk about what they know. It might be a little idiosyncratic, a little personal, but if they're good, what they say will also be universal and will resonate with me and with others."
This sense of universality and community is one that the Mantles said was an important part of their experience at Southern Virginia.
"It's kind of like this energy that's created by the smallness of it all," Cassidy Mantle said.
Many of this year's art graduates plan to pursue further education through graduate programs or careers in artistic fields. Mitch Mantle has been accepted to a graduate program at the University of Arizona that begins later this year. Tamsin Himes, who also chose printmaking as her medium, is pursuing work in art conservation at museum and gallery venues. Ben Patty, who completed his senior art show in 2014 and graduated in December, plans to pursue a master's degree at Virginia Commonwealth University. Corey Egbert has served as an illustrator for a number of children's books and has even more books featuring his illustrations coming out this year.
Cassidy Mantle said that Southern Virginia has taught her that there's never an end to your education.
"Southern Virginia has taught me that there's never a stopping point to your learning or your education," she said. "You can always move further no matter how old you are or what stage of life you're at. There's always room to keep moving, to keep learning, and that's what I plan to do."
A selection of the graduates' artwork is currently on display in the Corridor Gallery.