Spotlight
Alumnus Overcomes Challenges, Pursues Passion for Art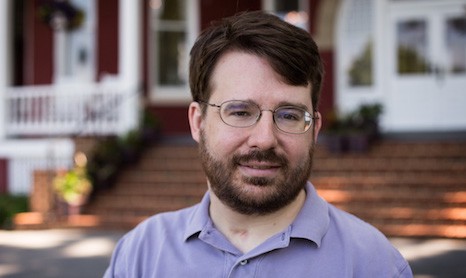 Some aspects of Jonathan Whitlock's life have changed since a fateful car accident 16 years ago today, but through it all, one thing has remained constant: his passion for creating art.
After being largely self-taught, Whitlock developed and honed his skill as an artist during his freshman year at what was then known as Southern Virginia College. He said that during that year he "basically lived" in the Tucson Art Studio.
"They gave me a key to the art building. I was touched," he said. "I would paint all night long [and sometimes] all weekend long."
At the end of his freshman year at Southern Virginia, he displayed his artwork in his first exhibition at the Nelson Gallery in Lexington, Va.
"There was something special [about Whitlock]," said Barbara Crawford, professor of art at Southern Virginia. "I saw potential and the personality to go with it. When I say personality, I mean a spirit that would follow through. … He was pretty determined and he wanted to try new things. My approach with some students is just to open the door and let them go where it takes them."
His mother, Annette Whitlock, said that he "exploded with his artwork" while attending Southern Virginia.
"His year here was extremely significant because it had such an effect on his future," said Annette Whitlock. "If he hadn't come here and had such free reign over the art building, I don't know that he would have been so prolific. … Before [he attended Southern Virginia] we had no idea just how wonderful his work was. Looking back over the last 16 years, coming here and being able to paint so much [made a] huge difference. In that one year's time it was amazing how much artwork he created."
After that academic year, he had planned to serve a mission for The Church of Jesus Christ of Latter-day Saints. In June 1999, however, he sustained a brain injury in a car accident that put him in a coma for the next five months.
"He went to this post acute rehab a year and a half after [the accident]," said Annette Whitlock. "It was there that they signed him up for an art class at a community college. And that's when we discovered that he could still do it, that he still had it in his head. It was just amazing."
Jonathan Whitlock, who had previously been left-handed, had to learn how to paint with his right hand because the accident had weakened his left side. He said that art gave him "something to reach for" during the recovery process.
"The art has been such an important part of his recovery," said Annette Whitlock. "After getting out of the coma, he could do some of his music, but he lost the ability to play the guitar and the drums. But he was still able to do his art. It gave him purpose after the accident."
Since then, he has exhibited his works at galleries including Red Raven Art Company, where he was featured as Emerging Artist, and Mulberry Art Studios. His work has been influenced by cubism and Picasso and some of his recent works reflect his recovery process. He has sold a number of his pieces and plans to continue to create, exhibit and sell his artwork.
Jonathan Whitlock said that he is grateful he attended Southern Virginia and would do it over again. He initially chose the college because of its small size and because of the spirit that he felt when visiting campus. He also expressed gratitude for Crawford's guidance as he advanced his artistic pursuits at the school and for her continued friendship and support.
Crawford said that Jonathan Whitlock — whose motto has been "Que sera, sera" — is "an inspiration" to her.
"You don't know what Jon has done for me," she said.