Spotlight
Students, Alumni Start Local Businesses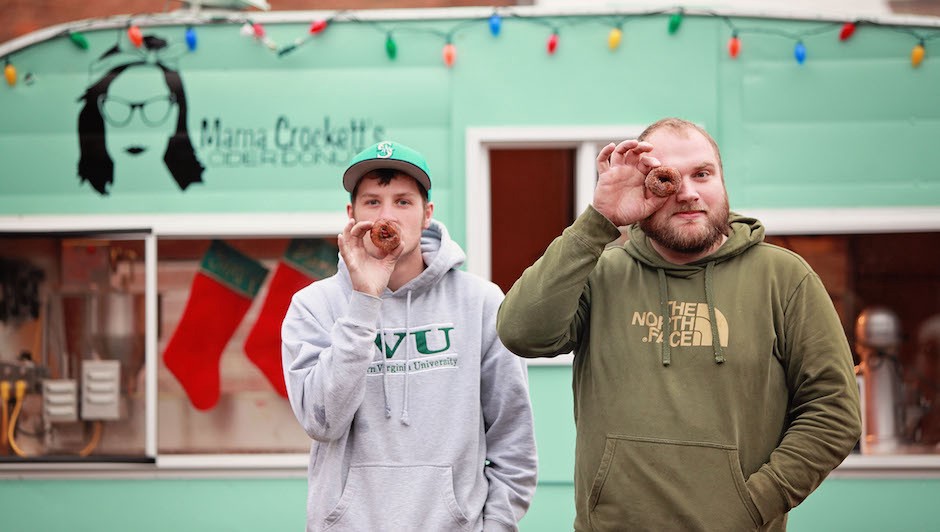 Southern Virginia University senior Coulter Sims gets up every morning at 4:30 a.m. to start work at his cider donuts trailer, the Shasta. After an hour of preparation, he is ready to fry fresh donuts for the first customers of the day. For Sims this is more than just a job. Mama Crockett's Cider Donuts is the newest addition to a business he cofounded last year, and which he plans to continue after graduating from Southern Virginia.
Last spring, Sims collaborated with Frederick "F.W." Willis ('08), an alumnus of Southern Virginia, to create the Shasta's predecessor, the Shaved Ice Shack. The Shaved Ice Shack was not the only business to be started by Southern Virginia students and alumni recently. During the previous summer, Southern Virginia students Stephen Lytle and Ryan Sloan teamed up with community entrepreneur Wayne Oyler to found O's Ark Printing. Both businesses have thrived in and around Buena Vista, Va., leading to a larger printing company purchasing O's Ark and paving the way for Sims and Willis to open Mama Crockett's Cider Donuts this autumn.
The idea for the Shaved Ice Shack came about when Sims and Willis were working together to build custom chicken coops. After a hot work day Sims began talking about an idea he'd had to own a shaved ice shack.
"Let's build one," Willis said.
With Sims's business plans and Willis's creative skills, they built the shack, designed merchandise, printed T-shirts, advertised and began to sell shaved ice. Though based in Buena Vista, the Shack frequently sold in nearby Lexington, and has sold at the Lynchburg Vintage Spring Market, Fairfield Day, Buchanan's Mountain Magic festival, Rockbridge Farm Day and other events in the surrounding area.
"We were taken back by how quickly and faithfully the community supported us," said Sims. "We didn't think we would do that well sitting on the side of the street, but [the community] loved what we were doing. There would be nights where we would have an hour wait because the line was so long."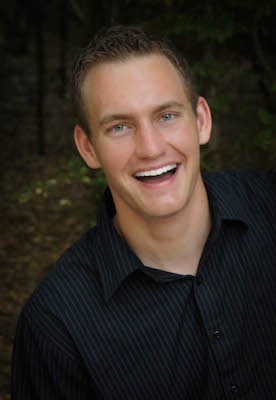 Lytle and Sloan were both in their senior year at Southern Virginia when they teamed up to start O's Ark Printing. Their co-founder, Wayne Oyler, approached the university about involving students in a startup business, and both Lytle and Sloan responded positively to the opportunity.
"It caught my attention," said Sloan "In part because I was in Dr. Matheson's entrepreneurship and small business class at the time, which already had me fascinated by those who are gutsy enough to go out on a limb and start their own business."
Mark Matheson, adjunct professor of business at Southern Virginia University, warned his students of the challenges of starting a business. He told them that it would take twice as long and cost twice as much as they anticipated, but he also encouraged students to launch their businesses as soon as they were ready.
"We're anxious to support students that have a good idea and want to start working on it right now in college instead of waiting until they graduate," Matheson said. "It's exciting that they have the experience, while they're here at [Southern Virginia], to run a business. That's real learning — hands-on experience that you're not going to get very easily elsewhere."
With Lytle and Sloan completing his founding team, Oyler involved them from the ground level up. They participated in everything from choosing a name for the company to painting their new office space. Lytle and Sloan also shouldered responsibility for the business's records, payroll, product-pricing and organization of supply chain, as well as dealing with the technical demands of the actual screen-printing.
"Treat it like it's your company," Oyler said. "If you assume ownership, you do a better job."
Sloan, who graduated as valedictorian of Southern Virginia's 2014 class, is now in his first year of study at the Texas A&M University Baylor College of Dentistry.
"We immediately started encountering hurdles," Sloan said. "None of us know a thing about [screen printing, but] we found some educational material and dove in. Stephen Lytle really led the way in learning the nuts and bolts of the process."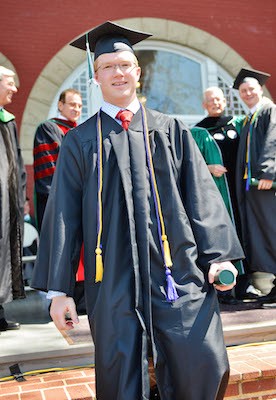 O's Ark has produced T-shirts, sports gear and other clothing items for Virginia Military Institute, the City of Buena Vista Police Department, the Shenandoah Academy of Dance, Parry McCluer High School and many other local vendors. The success of the company attracted the attention of James Allen Printing — a well-established company in Lexington, Va. — who bought the company this year.
"It could not have happened without those two young men," said Oyler. "They were instrumental in every aspect of it."
Lytle, who left O's Ark for a job with a fast-growing technology company in Alabama, expressed gratitude that he could participate in and sell O's Ark.
"I think it was great that someone was actually interested enough to buy [the company]," said Lytle. "It's not another business that went out of business."
Lytle said that the experience of co-founding a business was invaluable in his search for employment after graduation. His experience with O's Ark was the focus of every job interview he had, and gave him a great appreciation for the complexity of decision-making in the business world.
Sims, a business management and leadership major who also serves in the bishopric of a young single adult ward, will graduate from Southern Virginia in 2015. Next summer he plans to open an additional Shaved Ice Shack — possibly two — and to take his company all across Virginia. In the mean time, the Shack has closed for the winter and been replaced by a vintage 1961 Shasta Airflyte camper selling cider doughnuts.
"[Sims] has been a great example of how he's not only just had one idea, but he's had several ideas," said Matheson. "It's called a serial entrepreneur — from one idea to another idea to another idea. His business is doing so well that he's excited to just finish his school and get on to just running his business full time, and that's what you want in an entrepreneur."