Spotlight
Student Places Second in National History Society Conference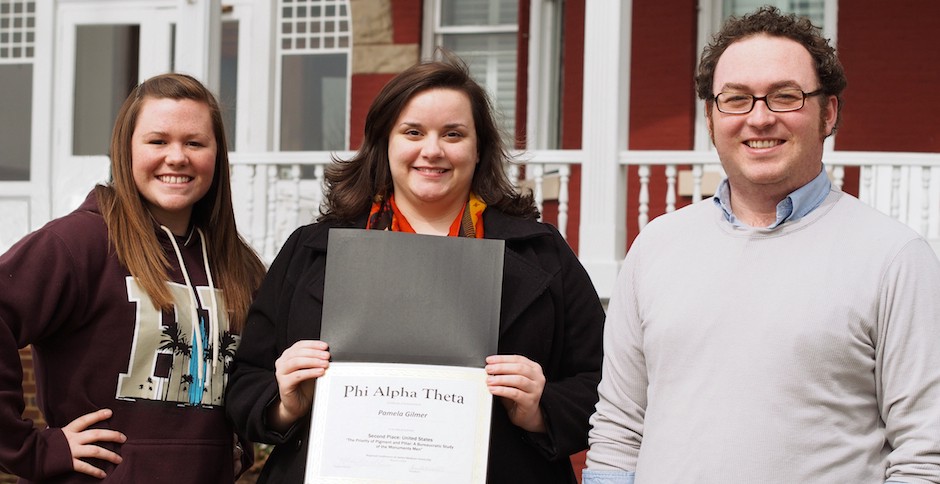 Southern Virginia University senior Pamela Gilmer received second place at a regional conference of the national history honor society Phi Alpha Theta last week — making 2014 the third year in a row that a Southern Virginia student has placed first or second at the conference.
Gilmer wrote and presented a paper that won second place in the United States history category — the largest category at the conference. Last year, two Southern Virginia students, JJ Feinauer ('13) and Lauren Hafen, received first place in United States history and second place in European history, respectively. In 2012, Eric Griffin ('12), who is now a Fulbright Scholar, placed second in his paper's category at the conference.
"Even though there were schools showing up with six or more students and we only had three students, one got a prize," said Randi Cline, a senior who presented a research paper at the Phi Alpha Theta conference in both 2013 and 2014. "Last year, we had only four students and two got a prize. … I think it shows that we're taught to think critically so we can go in there, argue our point and ask questions, and that the genius of small really works."
Gilmer's paper focused on the monuments men, a team of art specialists with the mission to preserve art that had been destroyed or looted during World War II. Gilmer said she chose the subject in part because it offered her a "fine arts connection with American foreign policy," allowing her to study a topic that related to both her history major and art minor.
"The paper had to be primary source driven, so that took me to the National Archives in College Park, Maryland, to look at the official records of the Monuments, Fine Arts and Archives section of the military's Reparations and Restitution Branch," said Gilmer. "I also used interlibrary loan to get microfilm of the war diary of George L. Stout, which I reviewed and used a lot."
Gilmer wrote her paper in a senior paper class taught by Dr. Francis MacDonnell, professor of history. Two other history professors — Dr. Lora Knight and Dr. Virginia Mosser, the current advisor for Southern Virginia's chapter of Phi Alpha Theta — also provided feedback to Gilmer.
"[My professors] were definitely always a constant source of support, always ready to be there to steer me in the right direction," Gilmer said. "Dr. MacDonnell pointed me to the reference sheets for sources at the National Archives, so I was able to know what microfilm I wanted."
MacDonnell said that though he initially discouraged her from studying the monuments men, Gilmer pursued the subject and found "really exciting material about the unsung failures of the monuments men."
"It's a delightfully quirky paper that shows instances where American troops were failing to protect art, recklessly damaging art, and occasionally even looting art," MacDonnell said. "[This paper] came out of her passion for art and her work with [Professor] Barbara Crawford. She's a history major who loves art and is even taking organic chemistry to try to understand the science of art."
MacDonnell said that all three students who presented at Phi Alpha Theta this year were well-rounded students who "developed their own topics through their own kind of intellectual curiosity."
Cody Shafer, a senior and politics major from Las Vegas, Nev., wrote a paper titled "Bitter Victor: Fredric Wertham's Crusade Against Comic Books" about Wertham's campaign to ban comic books. Cline's paper, titled "The Case of the Sinking of the 'I'm Alone,'" focused on a famous Canadian rum-running schooner that the United States sunk during the prohibition.
"For all three of them, you start them off and then they're off to the races and pursuing subjects that they care a lot about," said MacDonnell. "All of them went somewhere [to research]. Whether it was the George Marshall Research Archive for Randi, the Library of Congress for Cody, or the National Archives for Pam, they were all out doing active research."
Shafer wrote his paper as an independent study project after taking a class from MacDonnell on 20th century politics. He said that he wrote the paper because he wanted "to do a research project that was interesting and fun to work on, and take it to Phi Alpha Theta."
"The research part was fun because I went to the Library of Congress and that was exciting," said Shafer. "My wife and I went up there for an afternoon and spent four or five hours going through old documents, notes and letters. There were 200 boxes total in the whole collection and I whittled it down to eight boxes. Out of those, most of the resources I used came from one or two folders. I learned that if you want to research at the Library of Congress, it helps to know what you're looking for."
Cline said that she appreciated the personalized feedback she received from her professors while writing and preparing to present her paper.
"It's just amazing to get that kind of individual attention, and any student can go in for any class and get that kind of structure," Cline said. "Honestly, whether or not history is your major, I think experiences like Phi Alpha Theta — going in and presenting at a conference like this … spending a good chunk of your college life dedicated to this paper — are really the capstone of your college career."