News Release
Southern Virginia to Hold Honor Forum Jan. 31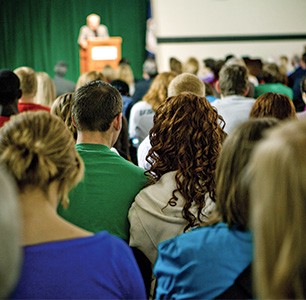 Southern Virginia University will hold its annual Honor Forum on Friday, Jan. 31, at 11 a.m. in the Stoddard Center.
Members of the student body including Dylan Hall, a senior and biology major from Redding, Calif., and Laura Baker, a first-year student from Erda, Utah, will speak about topics related to the university's Code of Honor.
Additionally, Deidra Dryden, who serves as senior women's athletics administrator, head women's tennis coach, and adjunct instructor of mathematics at Southern Virginia, will speak. Dryden began coaching at Southern Virginia in 1997 and helped recruit the university's first women's basketball, volleyball and soccer teams. She has led Southern Virginia's women's soccer, basketball and softball teams to national tournaments during her many years of service to the university. She and her husband, Brent, have five children and currently reside in Buena Vista, Va.
Community members and Southern Virginia faculty, staff and students are invited to hear forum and devotional speakers each Friday morning at 11 a.m. in the Stoddard Center. Recordings of past forum and devotional speeches may be accessed online.