News Release
Southern Virginia Presents 'Martin and Margaret and the MINDSWAP' Sept. 12-13, 19-20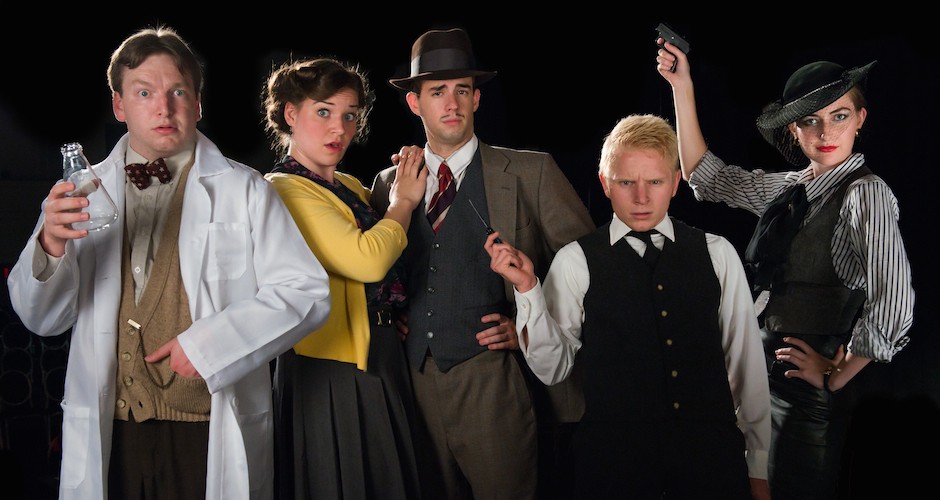 Southern Virginia University Theatre will present the original comedy "Martin and Margaret and the MINDSWAP" on Friday and Saturday, Sept. 12 and 13, and the following weekend, Sept. 19 and 20, at 7:30 p.m. in Chandler Hall.
The play takes place in Europe on the brink of World War II. The plot, which includes comedy resulting from chase scenes and mistaken identities, follows intelligence agent Martin Buchanan as he helps the plucky Margaret Henkel rescue her scientist grandfather from German spies.
The play's small cast includes Brigham Doxey, a sophomore at Southern Virginia. Doxey has participated in several other performances at Southern Virginia and became involved in "MINDSWAP" soon after returning from serving a mission in Edmonton, Canada, for The Church of Jesus Christ of Latter-day Saints. He had "[only] been back, like, three days" before Professor Stoddard contacted him regarding a part in the show. Doxey plays the British butler James and his evil twin Hans, a German sidekick, in "MINDSWAP."
Doxey considers the play's intensity one of the greatest challenges for the actors.
"It's short and intense," Doxey said. "And that's something that also takes work because you have to make it intense, always rolling and not lagging at all. [The rehearsals are] super fun. They get more fun as we get the style down. [It's] high energy."
Despite how challenging it has been, Doxey said the intensity is part of the play's appeal.
"It'll be short, it'll be funny and intense, and it'll literally be so confusing that you're laughing because you don't understand anything that's going on," he said. "It's like a very organized chaos that's going on onstage."
The play is co-written by Southern Virginia graduate Amaree Cluff ('08) and Mike Long. Cluff is an actress and playwright who recently graduated with a Master of Fine Arts from the University of Virginia. "Martin and Margaret and the MINDSWAP" was originally produced at UVA last year.
"I saw it last year at UVA, and I knew immediately that our audiences would really get a kick out of it," said Robert Stoddard, associate professor of theatre at Southern Virginia as well as the director of the play. "It's the perfect show to open our 2014–2015 season. The whole family will enjoy this fast-paced, fun-filled comedy."
Tickets for the play are $8 for the general public, $6 for Southern Virginia faculty, staff, and students, and $28 for families. Tickets can be purchased in advance by calling 540–261–8464, or at the door prior to each performance.