News Release
Southern Virginia Announces Continuing Ecclesiastical Endorsement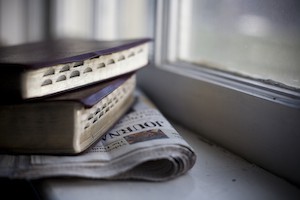 Southern Virginia University President Paul K. Sybrowsky today announced that the university has adopted a policy requiring all returning students to complete a Continuing Ecclesiastical Endorsement beginning fall 2014.
In the past, Southern Virginia applicants have only been required to submit an initial Ecclesiastical Endorsement prior to attending the university. Now, students will renew their endorsement with an ecclesiastical leader prior to each academic year in order to maintain continuing enrollment status.
"One of the university's five strategic goals is to 'deepen spiritual roots' and promote the university's core value of discipleship," said President Sybrowsky. "We feel that asking students annually to reaffirm their commitment to the Code of Honor will help us meet that goal. Additionally, this change will foster increased accountability — another one of our core values."
The deadline for students to submit their Continuing Ecclesiastical Endorsement for enrollment in the fall 2014 semester is August 1, 2014.
"We have considered and discussed this change for many years," said Scott Y. Doxey, vice president of operations and student services. "Following this year's update to our strategic plan, which included the goal to 'deepen spiritual roots,' as well as much counseling over the past months with local Church leaders in the Buena Vista YSA Stake that serves our campus, the President's Council felt strongly that it was the right time to implement this reoccurring endorsement."
As with the current Ecclesiastical Endorsement, members of The Church of Jesus Christ of Latter-day Saints will meet with their bishops to renew their endorsement. Members of other faiths may complete the endorsement with their respective ecclesiastical leaders, while students with no religious affiliation should contact the Office of Student Life for assistance.
"By implementing the Continuing Ecclesiastical Endorsement, we hope to promote communication and relationship-building between our students and their local Church leaders," Doxey explained. "Our goal is to encourage open dialogue and increase the amount of moral and spiritual support that we offer our students."
The President's Council and the Student Executive Council have created a list of frequently asked questions to provide answers to questions that current students may have about the change in policy.
"We feel that the Continuing Ecclesiastical Endorsement will further enhance our already spiritual campus environment and ameliorate the overall experience for all students," said Provost Madison U. Sowell. "Additionally, we hope that this policy will foster deeper spiritual roots and a stronger commitment to the Code of Honor for individual students and the campus community as a whole."