News Release
Remote Area Medical Clinic Returns to Southern Virginia University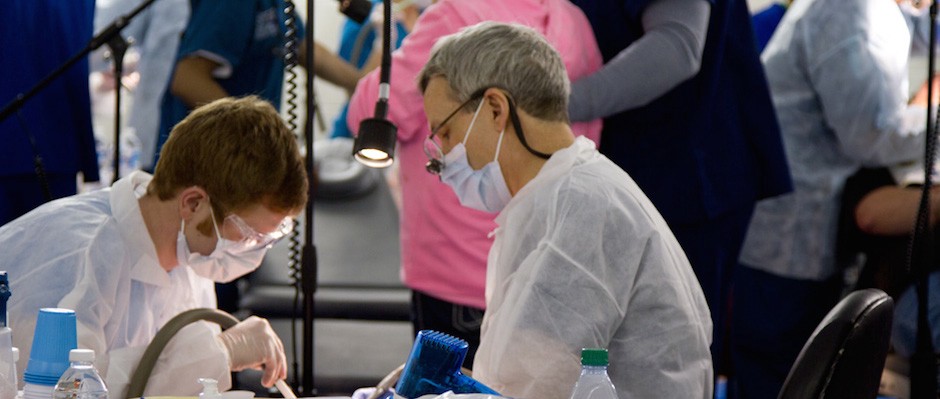 Remote Area Medical will return to Southern Virginia University for a two-day clinic on March 1–2, offering free medical, dental, and vision care to patients in the surrounding area.
This will be the third time the clinic has been held biennially at the university. The clinic opens at 6 a.m. on both March 1 and 2. Patients are encouraged to arrive early, around 3 a.m., to make sure they can receive medical care.
No insurance plans or proof of income are required. Instead, the clinic is staffed by volunteers and professionals who donate their time and resources to assisting those in need.
Dental services available include cleaning, fillings, and extractions. Eye exams are also available. Additionally, the clinic provides a pair of eyeglasses made onsite from a selection of donated frames.
Southern Virginia last hosted RAM In 2012. About 250 volunteers, including doctors, dentists, and other medical professionals, staffed the event. Southern Virginia faculty, students, and staff also volunteered their time to help the clinic run smoothly. Overall, the 2012 clinic served more than 600 patients. Ryan Sloan, a student heading up the RAM planning committee at Southern Virginia, said the clinic's goal this year is to see at least 800 patients, recruit 300 volunteers, and provide more than $275,000 worth of free medical care.
Sloan, a graduating senior on the pre-dental track who will be studying dentistry at Baylor University in the fall, was inspired to volunteer with RAM because of the service-oriented focus at Southern Virginia.
"This is one of the cool things about being at [Southern Virginia University]," he said. "Dr. [Barbara] van Kuiken lets us know about the different opportunities that are out there for us. She's been involved with Remote Area Medical for years and years now."
Sloan said that his interest in RAM grew after volunteering at a clinic on a service trip. He found the experience of serving communities while pursuing his passion for dentistry very rewarding. After participating in numerous clinics nearby, van Kuiken offered Sloan the opportunity to be more involved in the upcoming clinic.
"It's an opportunity for service and experience," Sloan said. "You get to see how great the need is in lots of communities. Dental, vision, and medical are all high need areas and there are lots of people that get helped with this program."
For more information, visit ramusa.org, or contact Ryan Sloan at bvsvuclinic@gmail.com.